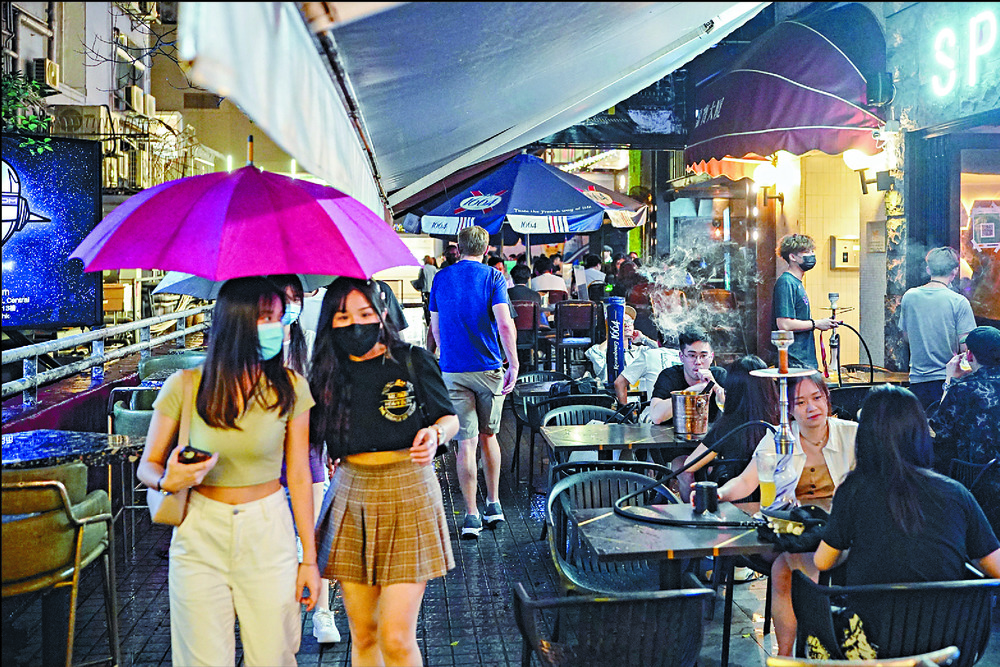 Bar hoppers give clubs a skip
People have canceled bookings at bars and nightclubs, operators say, ahead of a new measure requiring them to present a negative rapid test result taken within 24 hours, which takes effect today.
Ben Leung Lap-yan, charter president of the Licensed Bar and Club Association of Hong Kong, said the requirement poses an inconvenience to customers, and as authorities step up inspections at night venues, customers will switch to drinking at restaurants, which offer dine-in services until midnight.

"We [bars] can only open for two more hours, why would they choose to drink here instead of restaurants?" he said.

"Many bookings have been canceled because of the new measure as people said it's less troublesome to drink in restaurants."

He criticized authorities for failing to consult the bar industry before implementing the measure, adding they have not received clear guidelines on executing the new conditions. Bars will also have heavier workloads as staff will need to check the rapid test results and determine whether they are genuine, Leung said.

Infectious disease expert Ho Pak-leung also pointed out that the authorities' requirement is unclear as bar operators can hardly distinguish whether customers' tests are authentic and whether they were taken within the past 24 hours.

He called on authorities to introduce an online platform for people to upload their negative results, or to require them to take the rapid test at designated areas of the bars covered by surveillance cameras.

Ho said there is no evidence so far that shows the bar clusters have caused second or third generations of transmission and believes the new measure will not have a significant impact in suppressing infections.

Legislative Council member Edward Leung Hei said we should reference practices in Singapore, where bars have designated areas for rapid tests.

Secretary for Food and Health Sophia Chan Siu-chee said authorities hope the measure can slow the spread of the virus. "[Those who attend] large-scale events, students, elderly care home staff, as well as medical workers are taking the rapid test every day."

Chan said the measure also applies to restaurants that operate as bars, adding authorities will announce more details soon.