Banksy has confirmed 10 pieces of street art that have appeared along the east coast of England are by him.
People have flocked to see the pieces that began appearing a week ago in Great Yarmouth, Gorleston and Cromer, Norfolk; and Lowestoft and Oulton Broad in Suffolk.

While many believed they were by Banksy, the famously secretive artist remained silent.

However, he has now claimed responsibility via his Instagram page.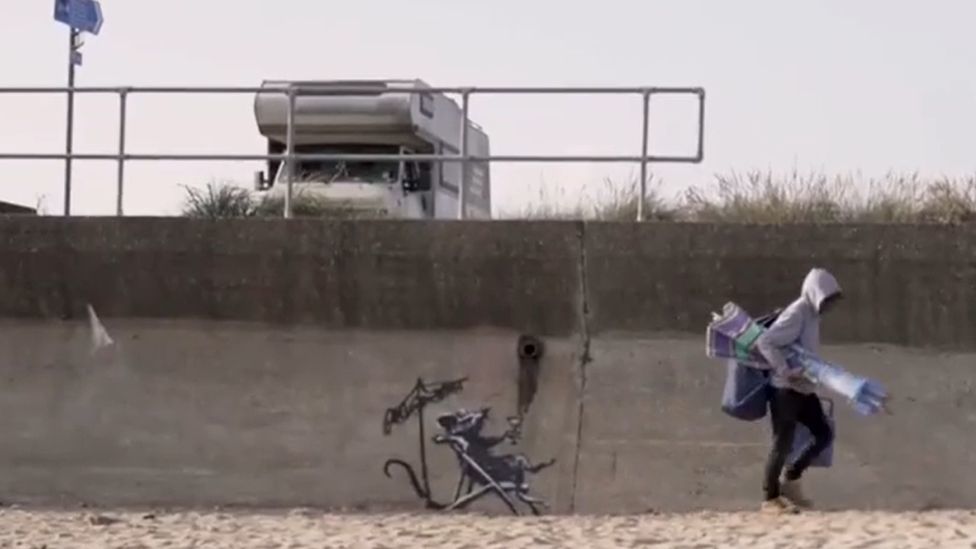 The first of the murals - a couple appearing to dance atop a bus shelter, accompanied by a man playing an accordion - came to light in Admiralty Road, Great Yarmouth, quickly followed by an arcade-style toy-grabbing crane in Gorleston, and a child holding a crowbar in Lowestoft.

Other suspected Banksy works showed three children in a boat in Oulton Broad, a giant gull scavenging "chips" from a skip and a cocktail-sipping rat reclining in a deckchair, both in Lowestoft, and a group of hermit crabs in Cromer.

Arguably the most unusual piece was discovered on Sunday morning at Merrivale Model Village in Great Yarmouth. A new model of a miniature stable appeared, featuring a stencilled rat character and the slogan "Go big or go home" and apparently signed by the artist.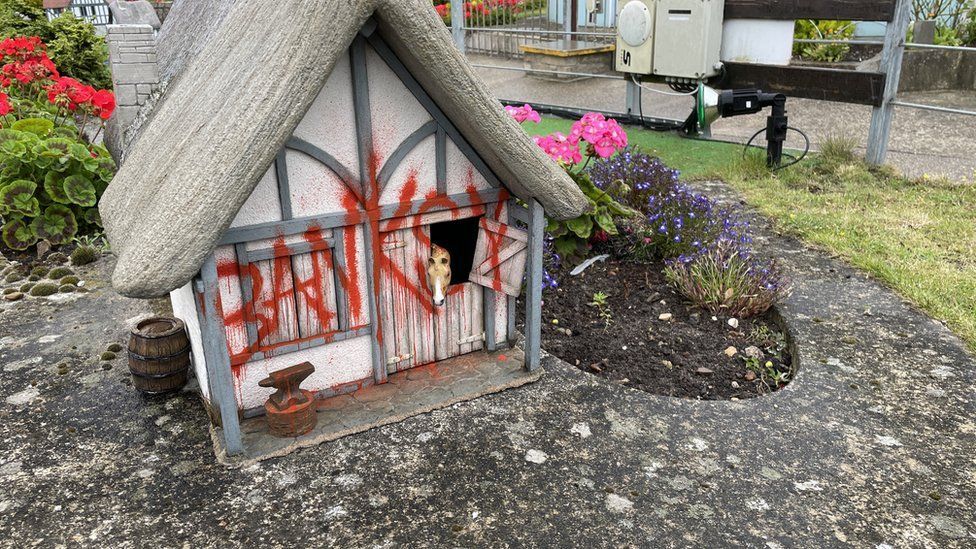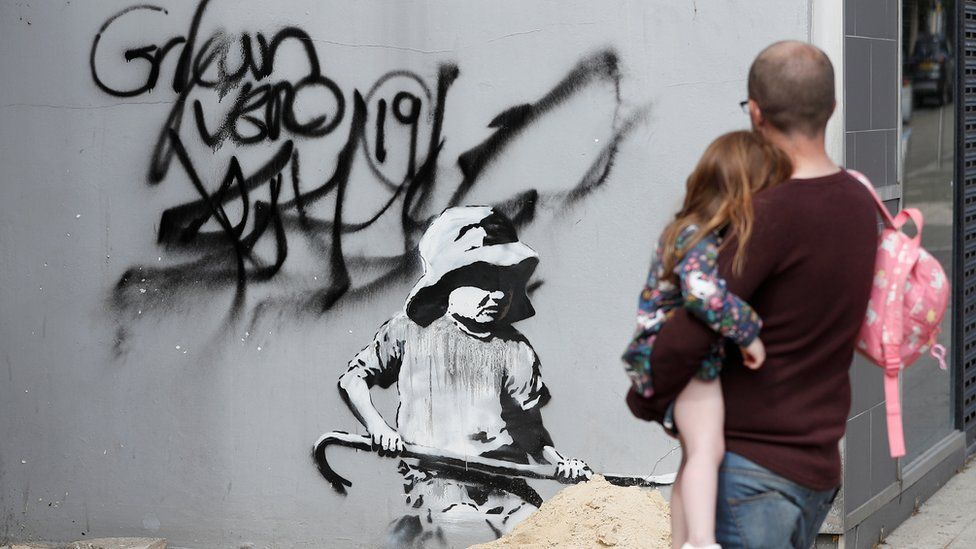 Banksy confirmed he was the creator of the murals by sharing a video on his Instagram page of him travelling to each site in a campervan, titled "A Great British Spraycation".

Walking along a beach with a cool box containing spray paint, the artist is first seen completing the mural of the cocktail-sipping rodent before venturing to the other locations.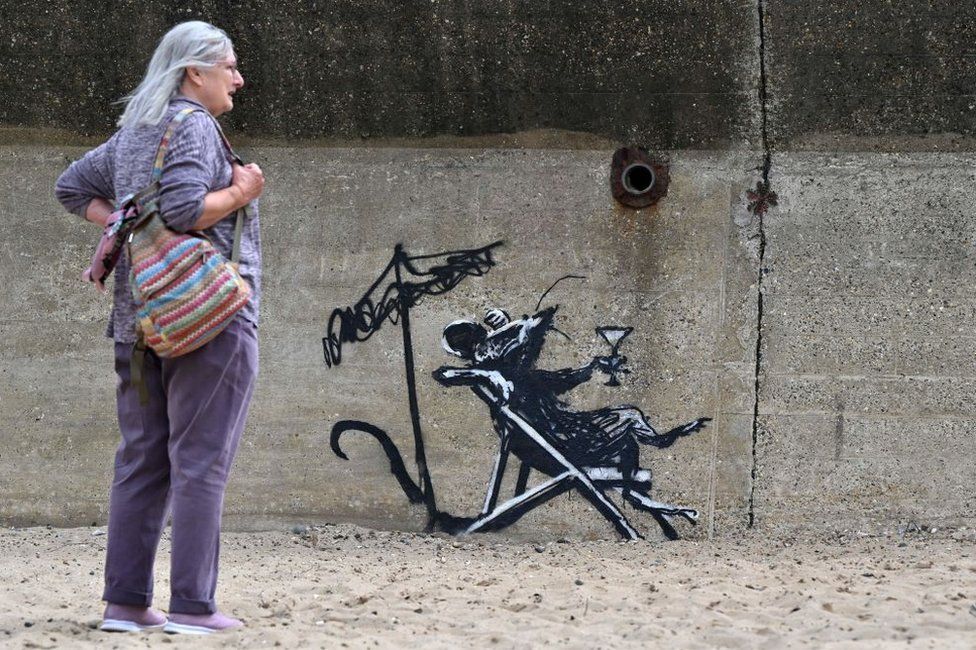 The video also features reactions from passers-by, with one woman describing the mural of

a girl building a sandcastle with a crowbar next to a broken paving slab as "mindless vandalism".

While some were not impressed by the new installations, one Instagram user commented on the video saying: "Thanks for your art in my hometown (Lowestoft), I went and enjoyed them all yesterday."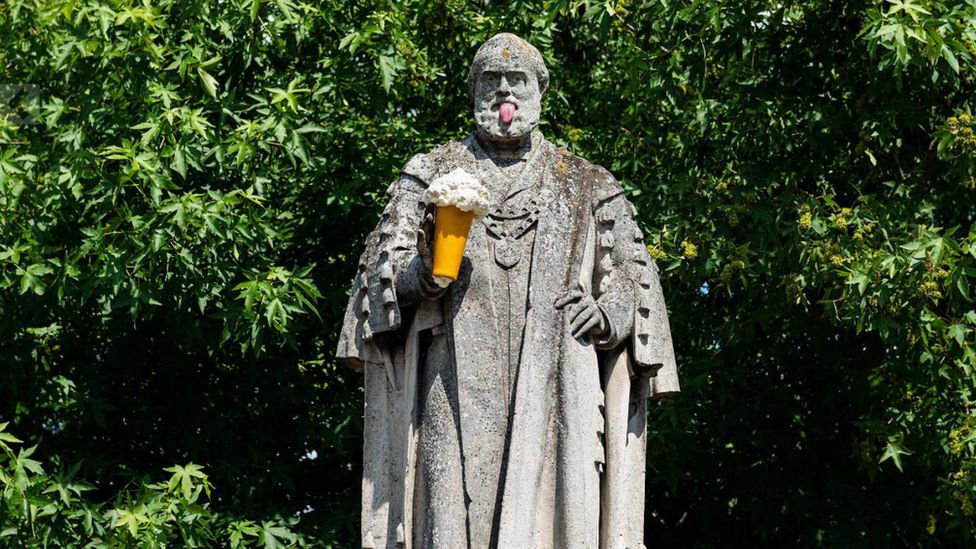 The pieces had been the talk of the town since appearing last Friday, but some of the artist's works had gone largely unnoticed until the video and a list on Banksy's website was released.

A fake ice cream cone and tongue were added to the statue of Frederick Savage, the mayor of King's Lynn between 1889 and 1890, which stands on Guanock Place.

A mural of two children being flung into the air in an inflatable boat as an adult pumps it up while drinking was also part of Banksy's "spraycation". It was painted at Gorleston's model boat pond.
Banksy listed this mural on his website as part of his "Great British Spraycation"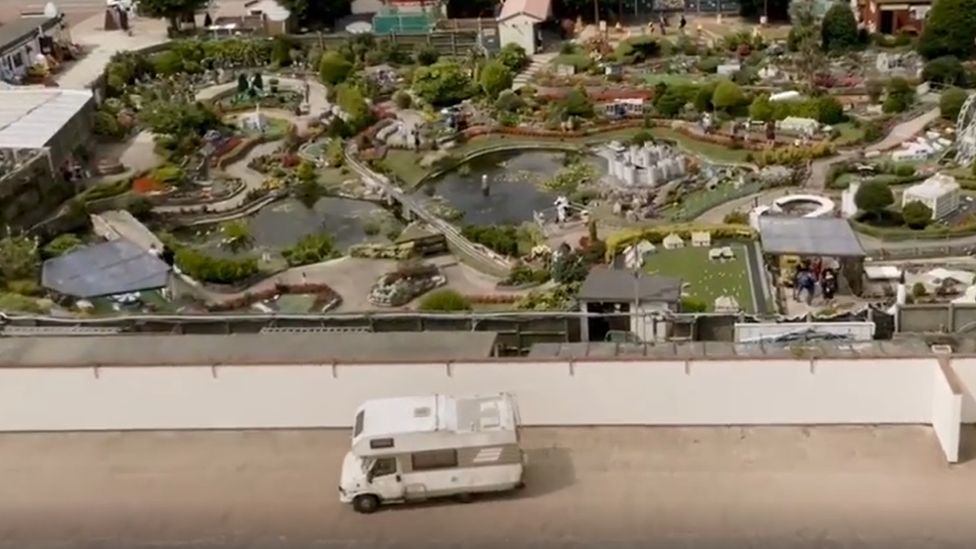 In the final shot of a video on Bansky's Instagram page, a motorhome can be seen driving away from Merrivale Model Village