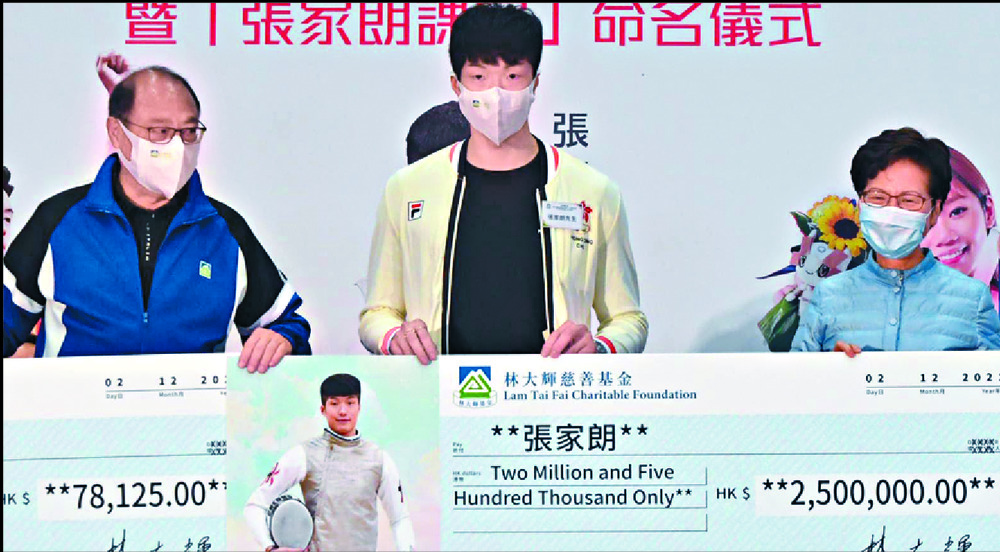 Back to school for Cheung with $2.5m
Olympic gold medal fencer Edgar Cheung Ka-long has pocketed a cash prize of HK$2.5 million and the naming right of a classroom at his alma mater, Lam Tai Fai College, yesterday.
Cheung returned to the Sha Tin school for the prize presentation and the opening ceremony of the Cheung Ka Long classroom.

Another classroom was named after Grace Lau Mo-sheung, a student who received the bronze medal in the Karate Women's Kata at the Tokyo Olympics.

Other Hong Kong athletes, including fencer Yeung Chi-ka, cyclist Ceci Lee Sze-wing and rower Winne Hung Wing-yan, all past students of the school, were also awarded cash prizes.

Chief Executive Carrie Lam Cheng Yuet-ngor, Secretary for Home Affairs Caspar Tsui Ying-wai and the school's founder, Hong Kong Sports Institute chairman Lam Tai-fai, officiated at the ceremony.

The prize dates back to 2018 when Cheung returned to Lam Tai Fai College. On that occasion, founder Lam had promised Cheung and other elite athletes in his class: "If you get an Olympics medal, I promise to make you homeowners. You have my word." Three years later, almost immediately after Cheung won gold, netizens reminded Lam to keep his promise.

Lam is not one to back down, announcing that he would give Cheung HK$2.5 million. He noted that this sum, in addition to the HK$5 million awarded by the government to gold medalists, will be sufficient.

He said: "Although property prices are high, he still stands a chance to be a homeowner with HK$7.5 million."

One netizen commented: "Come on! Do you expect our fencing boy to live in a studio flat?"

Separately, the Education University received an HK$2 million donation from the Friends of Hong Kong Association yesterday in support of its Elite Athlete Friendly University Fund.

EdUHK council chairman David Wong Yau-kar said the donation can help the university promote learning and the diversified development of local athletes.