Operators say they are struggling with 'hastily distributed' information from authorities and a rushed Covid-19 vaccination app.
Hong Kong's bars crawled to life on Thursday night in a muted comeback after a five-month closure, with many operators struggling to cope with what they said was hastily distributed information from the authorities and a rushed Covid-19 vaccination app.

As a so-called vaccine bubble kicked in, with conditions for businesses tied to inoculation statuses of patrons and staff, bars without restaurant licences were finally allowed to welcome guests again. The terms included requirements for staff and customers to have had at least one vaccine jab, and guests to use the government's "Leave Home Safe" risk-exposure app.

At nightlife district Lan Kwai Fong in Central, the scene was still far quieter than usual. At around 7pm, bar workers tried to lure passers-by with shouts of "happy hour" promotions. Some pubs had more than a dozen guests, but most were only entertaining fewer than 10 customers.

Apart from asking guests to scan the "Leave Home Safe" app, frontline staff at bars without restaurant licences also had to verify people's vaccination records through another app.

Anthea Cheung, director of the Lan Kwai Fong Association, estimated only about half of the bars without a restaurant licence in the area resumed business on Thursday as some operators still needed more time to arrange their manpower under the new vaccination requirement.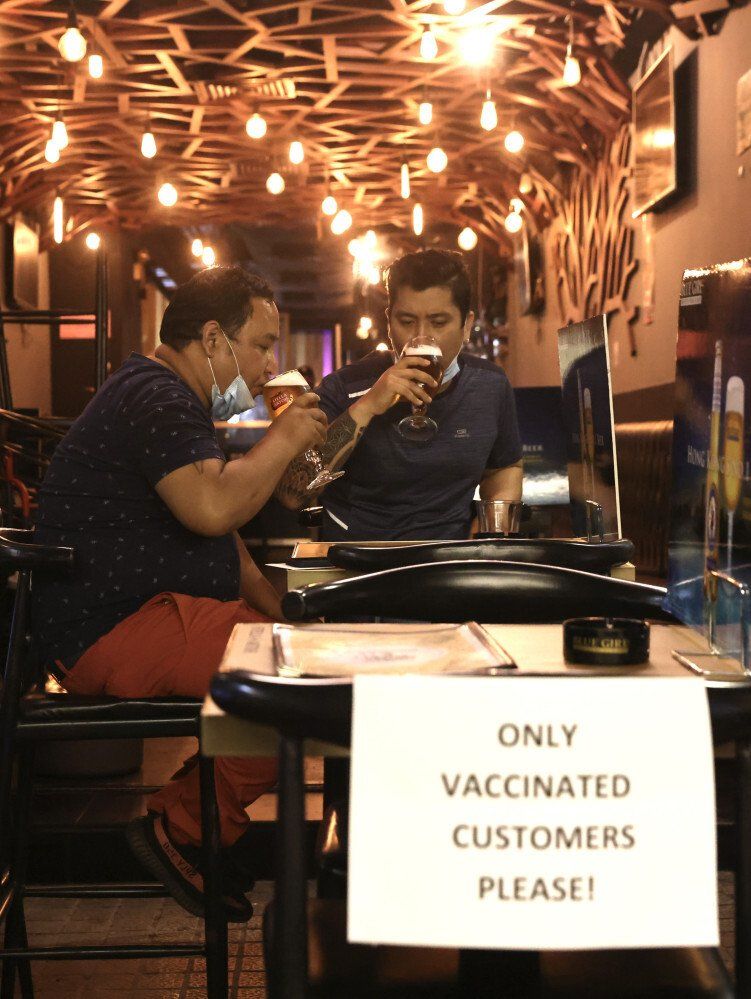 A bar at Tsim Sha Tsui puts up a notice inviting only vaccinated customers after reopening following five months of closure.

Cheung noted that those reopening businesses had to prepare their operations for Thursday in a hurry because the link for downloading the app was only distributed to them around lunchtime. The app was only available for the Android system but not iPhones for now, she added.

"It's very rushed. The details 'fly' to us one after another," she said.

Bar owner Ghale Birbahadur at Gurkha was happy to see his outlet, which has a restaurant licence, being allowed to operate beyond 10pm under the eased rules, but he still found the new norms complicated.

Ghale only learned about how to download the app to check guests' vaccination records from a Post reporter.

"I will need an extra staffer to check the records. It's difficult for us to operate," he said.

Some customers in Lan Kwai Fong felt the area was more crowded than they had expected, but they still had privacy concerns about the new app.

Andre Lok, 32, who works in the banking sector, said the scan did not show his personal details, but it still felt uneasy to have his vaccination records reviewed.

"I feel like I have disclosed my personal information or the location I visited," he said.

The bar industry was one of the hardest-hit after the fourth wave of coronavirus infections emerged in Hong Kong in late November last year. All bars were forced to close from November 26.

Under the relaxed restrictions, they can now run at half-capacity until 2am, with seating capped at two persons per table.

Wing Chin Chun-wing, president of the Hong Kong Bar and Club Association, noted pub owners were still split on whether to reopen on Thursday, as they were trying to encourage staff to get vaccinated.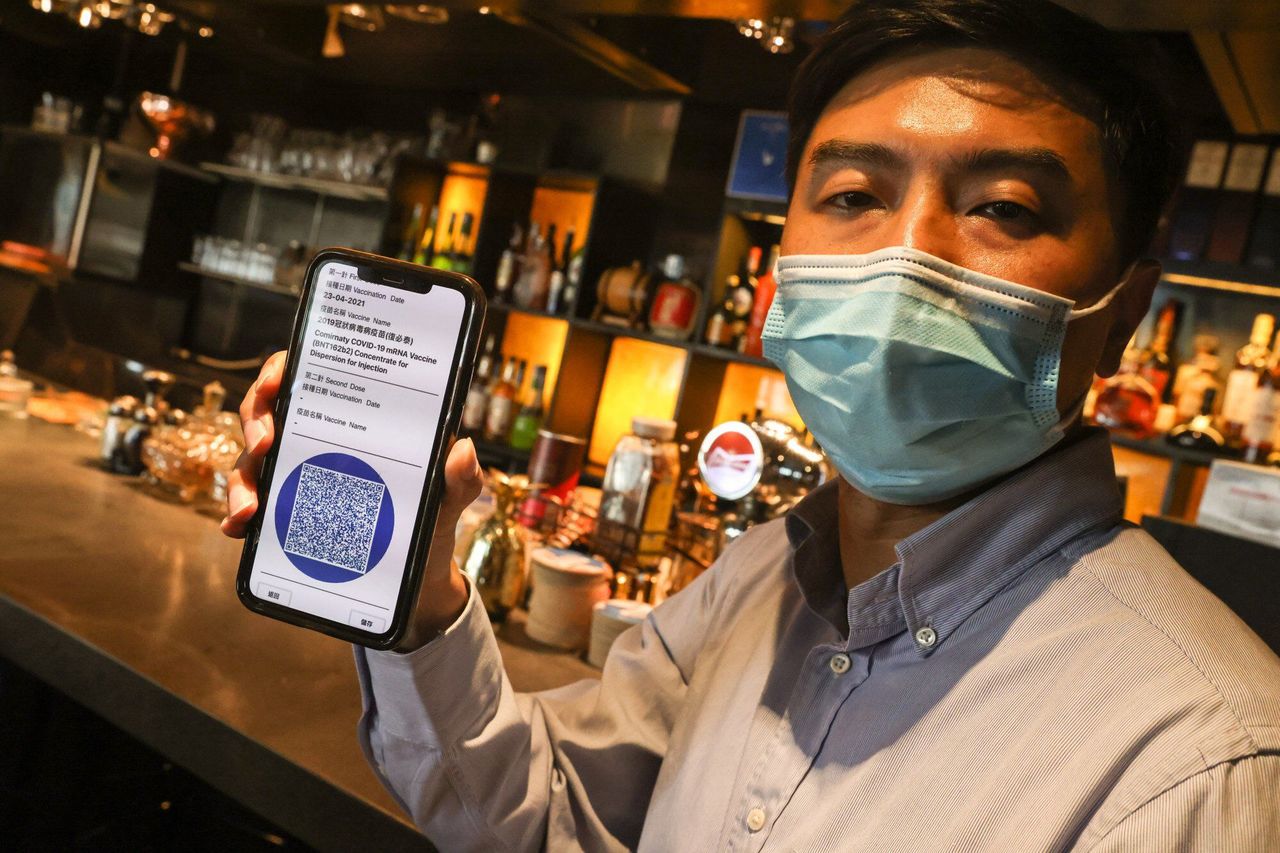 Wing Chin, president of the Hong Kong Bar and Club Association.

Chin estimated that only about half of the some 10,000 industry workers had received at least one vaccine shot, with another 20 per cent having made an appointment for inoculation. But about 30 per cent of workers were still hesitant to get the jabs.

"We really want to reopen but the government has imposed so many rules which limit the number of customers we can serve and also affect our staffing," Chin said.

He added an estimated 300 bars had already closed down amid the pandemic, with about 1,100 others struggling to survive.

In Tsim Sha Tsui, Joe Chan Hing, director of Sonder, said his bars would only be ready for business on Friday as a handful of employees were still in the queue to get vaccinated.

Only eight out of some 20 of his staff across two branches in Tsim Sha Tsui and another location in Causeway Bay have booked a vaccine appointment to date.

Chan said his company had tried to incentivise the employees to get vaccinated, such as letting them take up more shifts or giving them a HK$1,000 cash reward, but the response had remained cold.

"In the end, people have the choice on whether they want to get vaccinated. But it also puts bar managers in a tight spot on whether we should let go of staff who don't want to get vaccinated."

Along Lockhart Road in Wan Chai, around half of the bars had opened. While most only had patrons at one or two tables, a few that organised quiz nights were busy.

Karen Mayrina, 35, assistant manager at Coyote Bar and Grill, said she had been excited about Thursday but fewer customers than expected were around. All three staff on duty had been vaccinated.

"We've rejected three customers because they could not show us their vaccine record, we felt really sorry to do that," she said. "And the news about the mutant case today really worried us too."

Nearby, at Churchill's pub, a customer surnamed Ireland was enjoying a drink but complained about the vaccine bubble rules. "The government rules are very confusing, too complicated," the catering industry worker said.

Most of the bars along the street closed at midnight, but a few kept trading with some customers drinking inside.