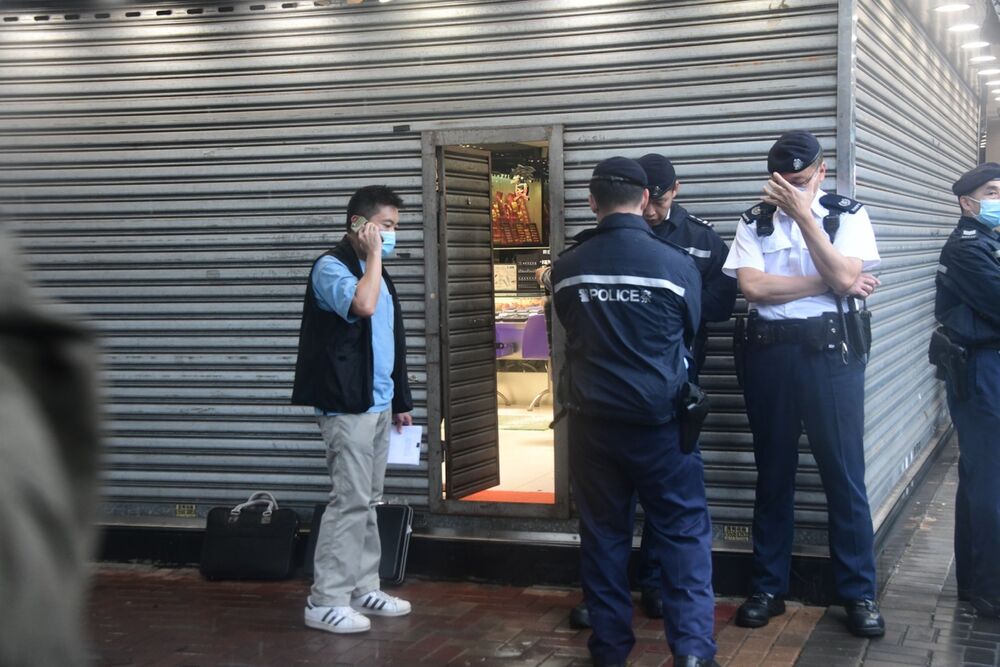 Ax gang hunted after $15m watches snatch
Police have launched a citywide manhunt for a gang of four burglars, armed with an ax, knife and hammer, who snatched 120 high-end watches worth about HK$15 million in broad daylight from a Tuen Mun shop yesterday.
Surveillance camera footage shows three men wearing black shirts, masks, gloves and hats, aged between 30 and 40 years old, bursting into the shop on Kai Fai Path at 11.35am and threatening the staffers with their weapons.

The burglars then swung into action, smashing two display cabinets to clear 120 luxury watches from the shelves into a large white bag before they fled in a silver getaway car driven by a fourth member waiting outside.

It is understood that there were four employees in the shop, however no one was injured in the incident.

The shop has been closed for further investigation and the police have been searching for evidence under the flyover, where the robbers boarded the car, and in the bushes opposite the shop.

After initial investigation, the police learned that the robbers drove along Tuen Mun Road towards Yuen Long.

Officers seized a hammer left at the crime scene and are scouring through the surveillance video footage to trace the burglars whereabouts.

In a separate case, last Friday, a 46-year-old security guard surnamed Chan turned himself in, after he robbed a jewelry shop on Mut Wah Street in Kwun Tong. He had stolen a seven-gram gold wedding bracelet.

He immediately took the bracelet to a pawn shop and pawned it for about HK$5,700. The police said Chan committed the robbery to pay off a debt of HK$100,000 from gambling on football and horse racing.

Officers said they received a report at 1.30pm about Chan, armed with a hammer and an air gun, bursting into the shop. He smashed a display cabinet with the hammer and grabbed a gold wedding bracelet.

The store owner approached Chan and grabbed his backpack before he fled the scene.

The police identified Chan by his identification documents left in his backpack and found that he had returned to his home in Ngau Tau Kok to change clothes and flee.

They interrogated Chan's family and colleagues about his whereabouts, before he turned himself in at the Ngau Tau Kok Police Station at around 10pm.

Chan had pawned the stolen bracelet for HK$5,714, which the officers were able to recover. Officers seized a hammer, an air gun and about HK$3,000 in cash from his home.

Chan was arrested for conspiracy to rob and for the possession of imitation firearms and has been detained for investigation.

One of the store employees sustained injuries to the face from glass fragments, but did not require hospitalization after being treated by paramedics.