Vehicle overturned on Shing Wan Road in Tai Wai shortly before midnight.
One person was killed and 11 others injured after a KMB double-decker bus overturned in Hong Kong just before midnight on Thursday.

The 58-year-old bus driver has been arrested for dangerous driving causing death and grievous bodily harm.

Police responded to the incident after a female passenger called to say the bus, the 88k route from Fo Tan, had overturned on Shing Wan Road in Wai Tai and that she had sustained injuries to her hands.

Superintendent Lam Chuen, of the New Territories South traffic division, said the bus driver was suspected to have driven into the wrong lane before hitting a barrier and overturning.

"The force will investigate the incident on multiple fronts, including the driver's mental state, driving speed and the road situation," he told a press conference in the early hours of Friday.

"At least one passenger was certified dead at the scene."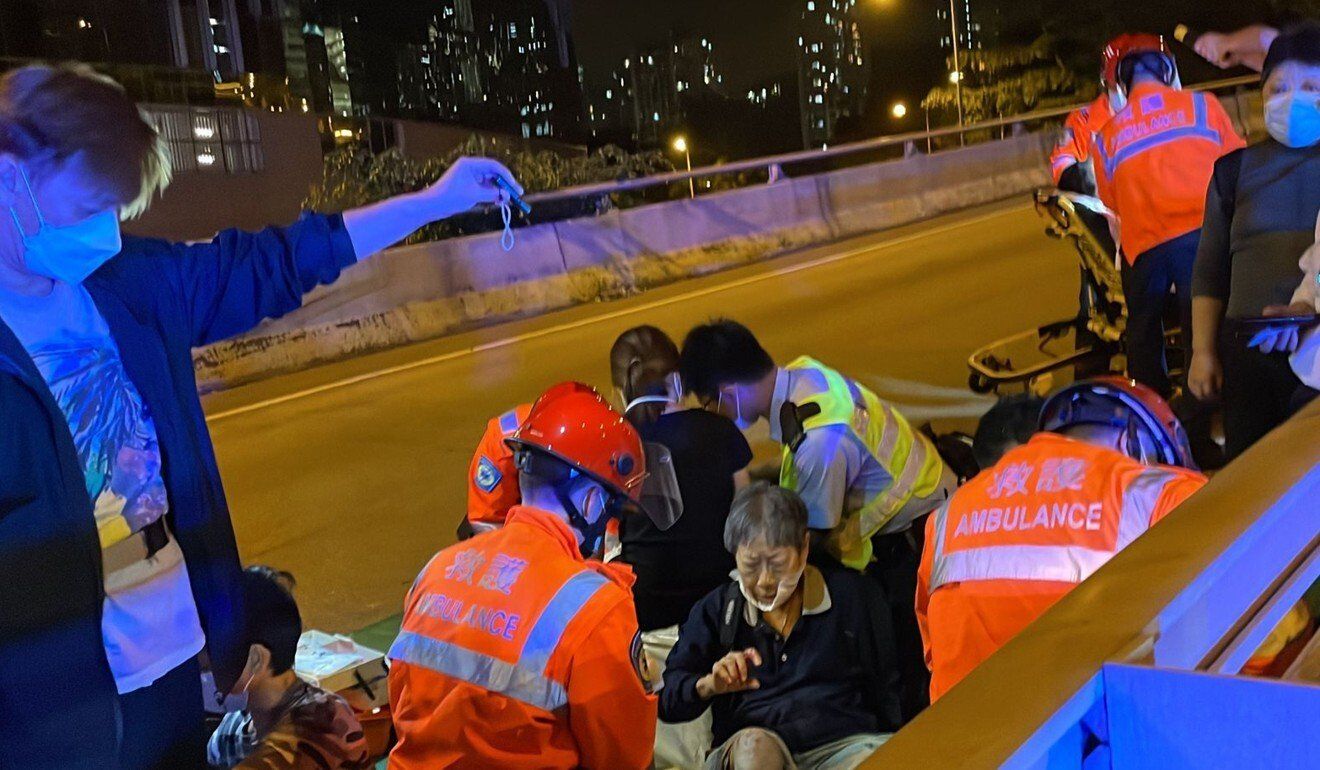 Injured passengers are attended to after a KMB bus overturned just before midnight on Thursday.

Lam added the site was not a traffic "black spot" prone to accidents and that officers would look at footage from car cameras and the bus' black box.

Two passengers were in a severe condition on Friday morning, while the seven others injured were said to be stable.

Two people were trapped in the bus in the immediate aftermath of the incident, including the 37-year-old deceased, who sat on the left side of the upper deck and sustained a serious head injury, and a woman who sat towards the back on the same deck.

KMB operations director Kwan Chi-wai said the bus driver had been with the company for 18 years and driving the same route since 2015.

He was working the 4pm to 1am shift when the accident happened, Kwan said, adding the driver had not worked the day prior and his shift was not an ad hoc arrangement.

The involved bus had been in service for six years and passed an inspection on November 3, he said.

The company's safety director, Rachel Kwan Chui-lan, said the driver had an "ordinary" driving record, and was involved in a minor crash with a light truck earlier this year after which he received supplementary training.

The driver was involved in one or two minor accidents a year over the past three years, she added, but the company's investigation showed the driver had not always been at fault.

In August, a bus driver, 63, was killed as his Citybus route 962B double-decker, heading from Tuen Mun to Causeway Bay, collided with a broken-down delivery van on a slip road near Ting Kau Bridge.

The 10 bus passengers were unharmed, but the driver reportedly suffered a serious head injury when his vehicle slammed into the van's open back door.