Police say the vast majority of the victims were expatriates, and most were drinking in watering holes around Luard Road when they were robbed.
At least 25 Hong Kong pubgoers have been robbed of more than HK$1.9 million (US$243,600) in cash and valuables this year after falling prey to women targeting drunken expats in Wan Chai nightspots, according to police.

About half of the men had their credit cards stolen while they were drinking in the bar district near Luard Road, according to Inspector Chan King-lok of the Wan Chai district intelligence section.

"These thieves used their cards to spend at nearby bars or buy point cards for online games at convenience stores," he said on Tuesday. "The victims lost HK$900,000 in total to this tactic."

In another ruse, the women were believed to have peeked at their targets' PINs as they were making payments or taking out cash. "They then stole the cards and withdrew cash from nearby ATMs," Chan said.

About one third of the victims were robbed in such a fashion, he added, losing a total of about HK$560,000.

Perpetrators also employed a third scheme in which they became acquainted with their drunken targets in bars or on the street and offered sexual services at the victims' home or hotel, according to the inspector.

"When the victims fell asleep, they stole valuables and cash," Chan said, adding that just under a fifth of the victims had lost a total of HK$420,000 to the tactic.

In addition to cash, watches were among the valuables commonly stolen, he said.

"These women used wigs to hide their identities, and also moved around between their friends' homes in an effort to make our investigation difficult," Chan said.

He said more than 80 per cent of the 25 victims were expatriate men, aged 31 to 50, including British, Australian and Indian nationals.

The largest case involved losses of some HK$480,000 in valuables and cash.

Chan said there had been four victims in the first quarter of the year, 12 in the second and nine in the third.

He attributed the uptick in cases to the relaxation of pandemic-related social-distancing measures, which allowed pubs to reopen and extend their operating hours.

After identifying some of the suspects, officers from the Wan Chai police district arrested 12 women, aged 29 to 52.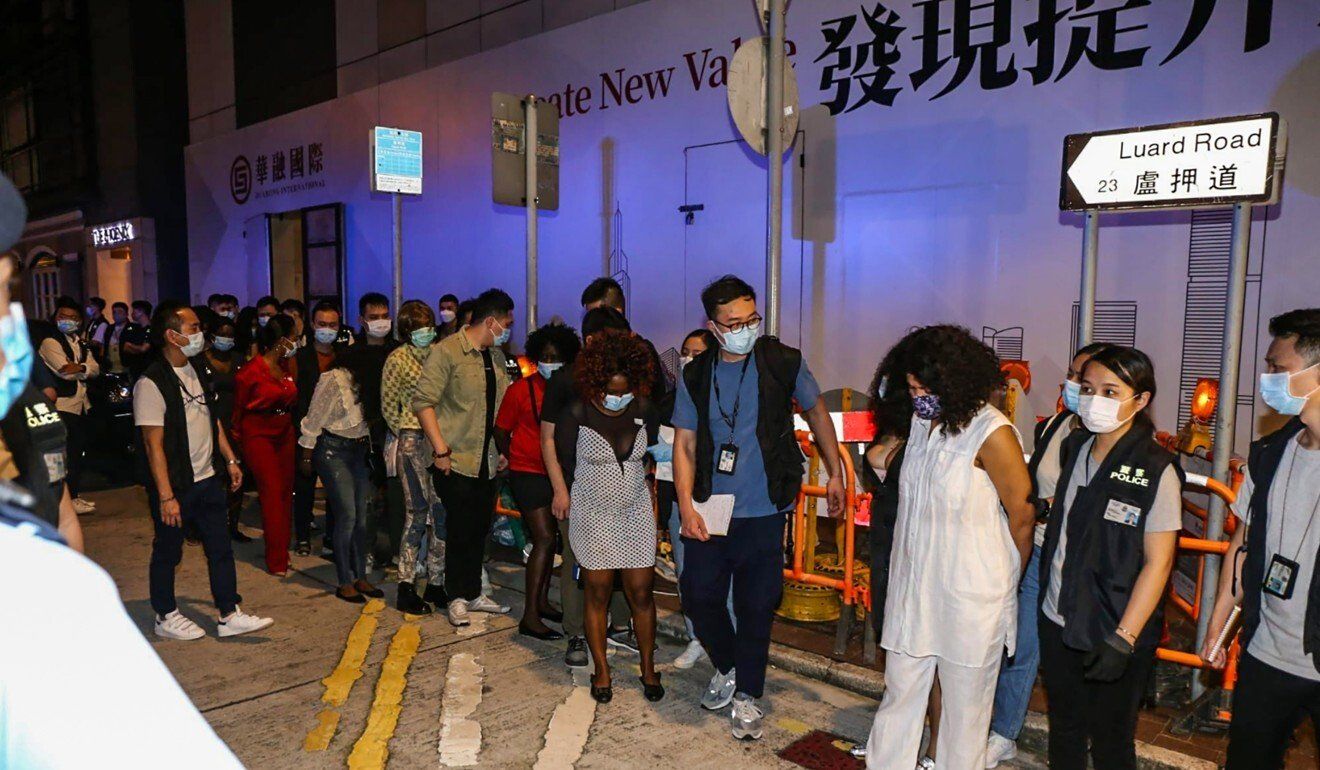 Police make arrests in Wan Chai.

Inspector Ng Yee-lok, of the Wan Chai anti-triad squad, said all the suspects were African nationals who held recognisance forms, temporary identification documents that permit the bearer to remain in the city. Most of the suspects were from Tanzania.

Some wigs were also seized during the operation, he added.

Police said an investigation suggested the 12 suspects were linked to at least seven of the cases involving HK$300,000 in losses.

Acting superintendent Ho Siu-tung, assistant Wan Chai district commander for crime, said no illegal narcotics were seized in the operation, so he was unable to provide a conclusive answer as to whether any of the victims had been drugged.

According to the force, the investigation was continuing and further arrests were possible.