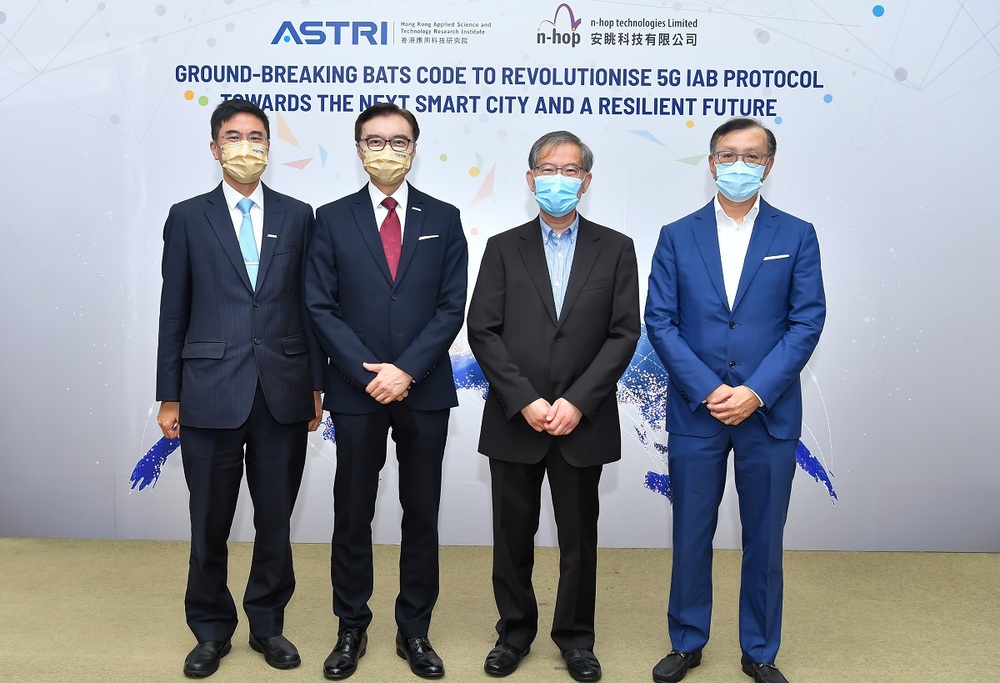 ASTRI partners with n-hop technologies to enhance 5G communication
Hong Kong Applied Science and Technology Research Institute (ASTRI) has announced its partnership with n-hop technologies, a startup established by Professor Raymond Yeung Wai-ho of CUHK, to jointly commercialise the communication technology of 'Batched Sparse Code' (BATS code) designed to enhance the performance of Integrated Access & Backhaul (IAB) network deployed in the latest 5G technology.
With the BATS technology, the 5G communication network could benefit from lower latency and higher throughput with fewer data losses, thereby accelerating the development of smart cities.

As Ir. Sunny Lee, ASTRI Chairman, points out the collaboration also echoes the latest Government Policy Address to enhance the city's 5G infrastructure by encouraging the deployment of 5G technology in various industries to improve efficiency, productivity and service quality.

After over 10 years of research by Professor Yeung and his team, BATS enables data to be transmitted between 5G base stations wirelessly and at a 10-time higher rate, reducing the costs of existing solutions.

There are shortcomings in the current communication technology. For example, to lay the optical fibre networks necessitates digging up roads, which is time-consuming and costly, while the wireless communication networks, such as WiFi, LoRa, NB-IoT, have slow data transmission speeds and low efficiency.

But used with the 5G IAB application mode, BATS can be integrated into 5G base station networks or other broadband wireless backhaul networks.

5G has developed rapidly in recent years, as its base station market is estimated to reach US$190 billion (HK$1.48 trillion) by 2030 from US$8.16 billion in 2020, and a large number of base stations have been built all over the world.

Moreover, BATS could be applied in places of high density, such as Hong Kong, a city packed with buildings, and in the outskirts with fewer 5G base stations.

In fact, BATS has been deployed in a number of projects in Hong Kong. WiFi Community Park enables visitors to have access to a high-speed network on a mountain, while the Smart Lamppost helps the government collect various types of real-time city data, including meteorological data, air quality data and traffic flow.

Professor Yeung first put forward the network coding theory as early as 2000, which is the foundation of BATS, and it has become a compulsory course of communication theory in global universities. He was awarded the Institute of Electrical and Electronics Engineer's Richard W. Hamming Medal and Claude E. Shannon Award.

Beyond 5G, Professor Yeung also mentions that BATS could provide wireless communication in locations of complicated shapes, such as underground mines where physical optical fibre networks could not be laid, which might better secure mine workers' life.

n-hop technologies' co-founder Stephen Ho Wai-chung says the company is very excited to have the opportunity to work with ASTRI on applying BATS, to provide flexibility and rapid deployment capability of base stations. He also reveals that BATS will be released in a form of software program, but it will take one year or longer to be available for Hong Kong's users.

Professor Yeung points out the ASTRI has one of the strongest research teams on 5G, and they complement n-hops's award-winning research very well. "It's a collaboration that can revolutionize the information communication protocol in 5G IAB," he adds.

Lee emphasizes that ASTRI is actively cooperating with industry partners like n-hop technologies to develop innovative 5G base station solutions like BATS and enable commercialisation of 'Made in Hong Kong' technologies. "We fully support government's initiative to strengthen Hong Kong as a regional communications hub," he reaffirms.