Jiang's relatives say their final farewells as they strew his remains on waters at the entrance to the Yangtze River.
The ashes of late Chinese president Jiang Zemin were scattered at the mouth of the Yangtze River on Sunday, state news agency Xinhua reported.

The ashes were scattered in line with the wishes of the former leader, who died on November 30 at the age of 96 of leukaemia and multiple organ failure.

As one of the country's most influential leaders, he elevated China's global standing and led the country's economic integration with the rest of the world.

Jiang was cremated on Monday, a day before his state funeral.

On Sunday morning, his ashes and portrait were taken in a hearse from the Zhongnanhai compound, the headquarters of the Communist Party and the government.

The flag at the former imperial garden in central Beijing was flown at half-mast while Jiang's urn was covered with the party's flag.

The hearse was then driven to Beijing Xijiao Airport, a military airport where a plane took off and circled the capital to bid farewell.

The flight landed soon after 11am at Hongqiao airport in Shanghai, the city that played a central part in his political career.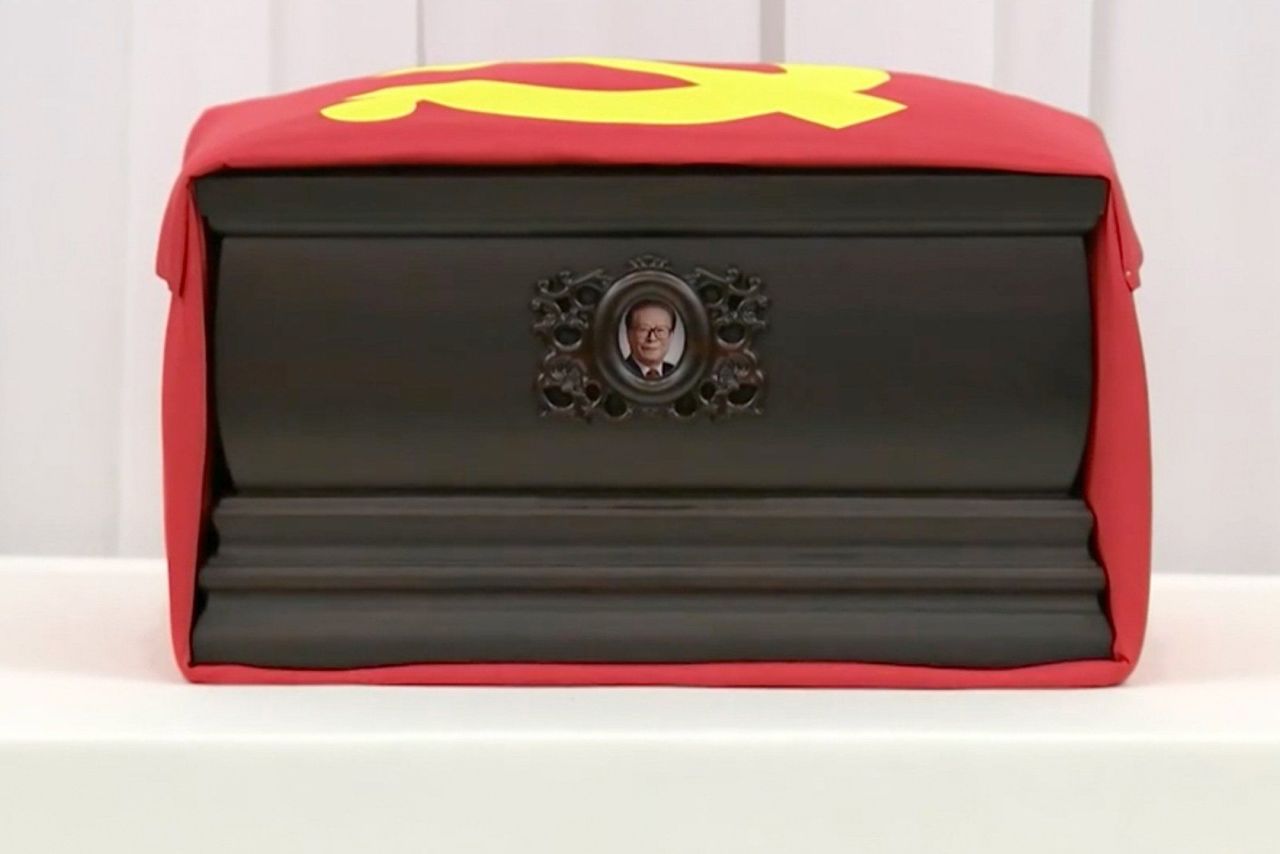 The ashes of late Chinese president Jiang Zemin are wrapped in a Communist Party flag.
Accompanied by Politburo Standing Committee member Cai Qi, Jiang's family entered the Wusong military port in Shanghai and boarded the Yangzhou frigate of the People's Liberation Army Navy.
The warship was named after Jiang's hometown in the eastern province of Jiangsu. Military vessels sounded horns in tribute as the Yangzhou set sail.
After arriving at the mouth of the Yangtze River, Jiang's family, including his widow Wang Yeping, and Cai scattered the later leader's ashes on the water along with flower petals.
On December 1, Jiang's body was flown from Shanghai to Beijing, after a farewell ceremony in Shanghai attended by his family and close friends.
On Tuesday, China paid tribute to Jiang with a funeral at the Great Hall of the People. The service was the biggest event of its kind since the memorial service for paramount leader Deng Xiaoping in 1997.
During the funeral, Chinese President Xi Jinping described Jiang as a prestigious leader, a great Marxist, diplomat, and a communist warrior.
Xi said Jiang poured out his life for the country and the country made great achievements in the 13 years of his leadership, gaining the respect of his countrymen and the international community.
Jiang was the Communist Party's general secretary from 1989 to 2002.
During his tenure at the top, China entered the World Trade Organization, won the right to host the Summer Olympics, and regained sovereignty of Hong Kong and Macau.
It was a time of meteoric economic growth and political elevation of entrepreneurs, as well as rampant corruption, heavy pollution and a crackdown on the Falun Gong spiritual sect.