By regulating for safe, stable market operations, and addressing cross-border capital flow risks, Hong Kong can safeguard China's economic and financial security.
Financial security is an integral component of national security, providing an important foundation for the steady and healthy development of China's economy. The prevention and control of financial risks, including enhancing the framework for managing cross-border capital flows, strengthening regulatory cooperation as well as upgrading risk prevention and control capabilities, is key as China continues to deepen its financial reforms
and accelerate its connectivity and integration with global capital markets.

As China's key international financial centre and offshore market, Hong Kong has a pivotal role in ensuring the stability and orderliness of its own financial markets to help safeguard financial stability and national security.

It is essential that Hong Kong leverages both its close ties with global markets and its safe and well-regulated offshore environment and continues to capitalise on its own strengths and support the steady opening up of China's financial industry. In doing so, Hong Kong must effectively prevent or address any risks emanating from cross-border capital flows and enhance financial regulation to safeguard China's economic and financial security.

Hong Kong can also play a key role in the management of cross-border risks. Over the years, the smooth running of mutual market access schemes between the mainland and Hong Kong proves that the city can serve as a buffer zone in supporting the mainland to withstand global market volatility and deal with considerable capital flows under extreme conditions.

Hong Kong also has an internationally recognised regulatory framework and a robust and dynamic financial system which has demonstrated high resilience in the face of adversity through the past global financial crises.

More importantly, the mainland and Hong Kong financial regulators have formed a close partnership in regulatory and enforcement cooperation over the years. This lays an important foundation for monitoring cross-border capital flows which helps safeguard national financial security and stability.

We remain in close communication with the China Securities Regulatory Commission and have signed several cross-border regulatory cooperation arrangements and memorandums of understanding. Effective market monitoring and enforcement have helped ensure orderly cross-border capital flows and the protection of investors' interests. We also maintain a close dialogue with other mainland financial regulators to strengthen cross-border regulatory collaboration.

As more mainland equities and bonds are included in major global indices, overseas investors need more hedging tools to manage the risks associated with their rapidly growing investments in mainland assets.

Hong Kong has been keen to develop more diversified risk management tools, particularly financial derivatives products linked to the performance of mainland assets. The launch of these products would mitigate the risks of sharp market fluctuations and boost their confidence in investing in mainland assets.

Ultimately, this would facilitate globalisation of the mainland's capital market, and help manage cross-border risks and safeguard financial security in the mainland's opening of capital markets.

Hong Kong is an open market with free flow of capital. Events in other major markets could have knock-on effects with a significant impact on our financial markets. As the securities regulator in Hong Kong, the Securities and Futures Commission (SFC) is actively involved in the formulation of global policies which could affect the city.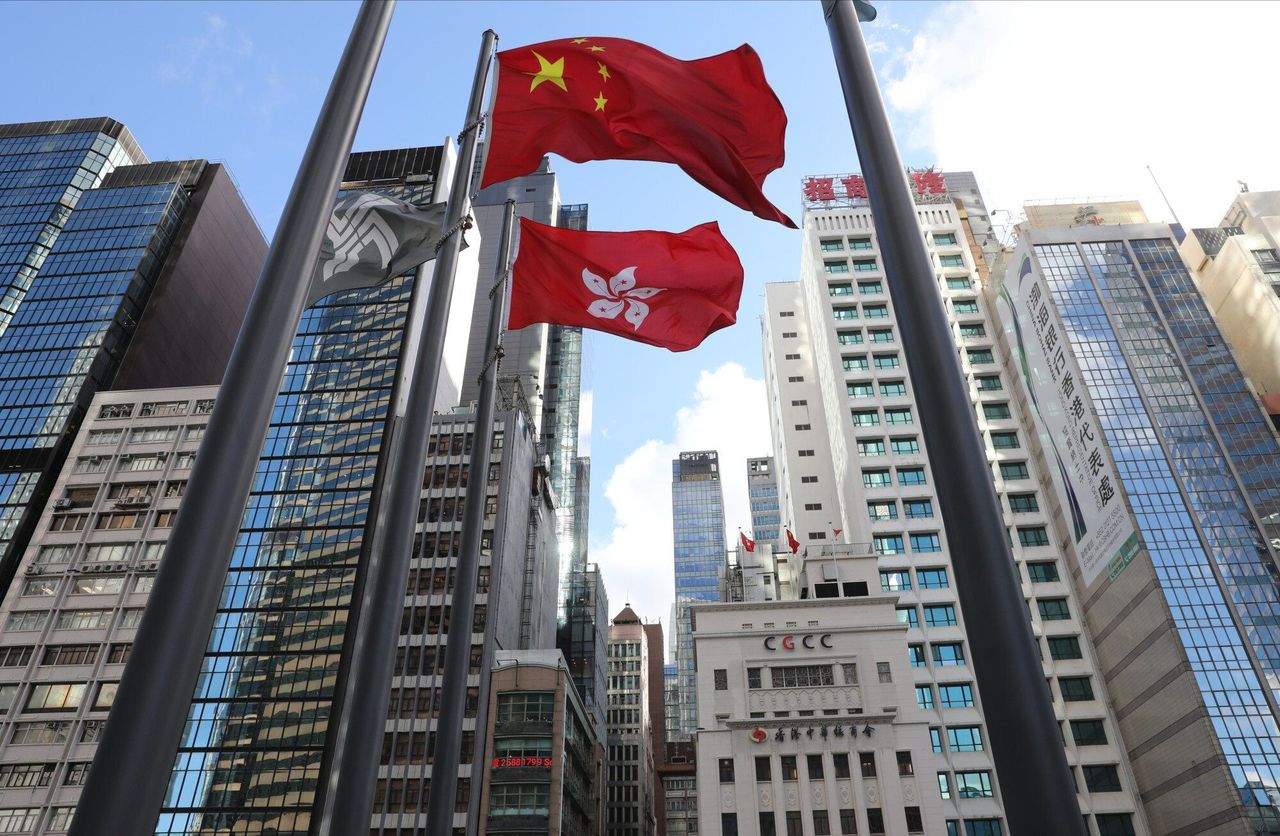 The Chinese national flag and the Hong Kong flag are seen against a backdrop of office buildings in Central on June 11, 2020. Hong Kong plays a vital role as a leading international financial centre.

We chair the board of the International Organisation of Securities Commissions and participate in the Financial Stability Board established under the Group of 20. We have also built close cooperative relationships with our overseas regulatory counterparts to jointly maintain the stability of the global financial markets.

The SFC's role in setting the general direction of global policies reflects Hong Kong's vital position as a leading international financial centre and its leadership in the development of global regulatory initiatives. In addition, we adapt to change by continually reviewing our regulatory approach and enhancing our regulatory framework to meet the needs of the Hong Kong market, as well as to align with international developments and standards.

A sound regulatory framework is the cornerstone of a market's sustainable, stable and long-term development. In the SFC's day-to-day regulatory work, it plays multiple roles as a gatekeeper, regulator and law enforcer. It also plays a key part in maintaining the integrity of Hong Kong's financial markets and investor confidence.

Financial markets are a major driver of Hong Kong's economic development. Over the years, our markets have stood the test and operated in a fair and orderly manner. Despite the multiple challenges brought about by the Covid-19 pandemic, global economic turmoil and Sino-US relations, Hong Kong's financial system has held steady in the past year and its core competitiveness remains unchanged notwithstanding these challenges.

Our equity, bond and fund markets have also held steady and even rallied considerably. This goes to show that Hong Kong has a sound regulatory framework and prudent regulatory policies to promote the resilience of the financial system and maintain financial market stability.

We will continue to collaborate with our regulatory counterparts to achieve our common goals and strive to ensure the smooth operation of Hong Kong's financial markets to safeguard national security and financial stability in the interest of Hong Kong's long-term prosperity and stability.