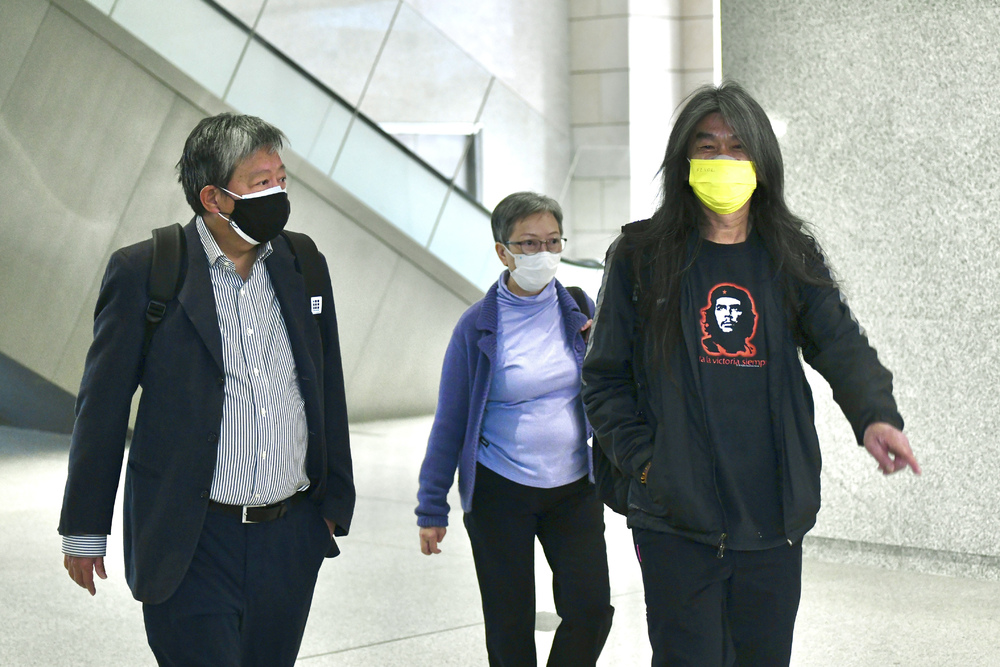 Arrest only on orders, force told
Police officers were told to adopt a "facilitating approach" to ensure that an assembly held on August 18, 2019, would be peaceful, according to the prosecution.
Officers should not have carried out mass arrests unless approved by on-site commanders, according to the orders they were given that day.

The commands came to light during the prosecution's opening address in the unauthorized assembly case of nine opposition leaders.

Next Digital founder Jimmy Lai Chee-ying, 73, barrister Martin Lee Chu-ming, 82, and ex-lawmakers Albert Ho Chun-yan, 69, Lee Cheuk-yan, 64, Margaret Ng Ngoi-yee, 73, "Long Hair" Leung Kwok-hung, 64, Cyd Ho Sau-lan, 66, Au Nok-hin, 33, and Leung Yiu-chung, 67, are accused of organizing and taking part in an unauthorized assembly on August 18, 2019.

Au admitted both charges, while Leung Yiu-chung only admitted to participating but not organizing it. The rest denied the charges.

The prosecution told district judge Amanda Woodcock at West Kowloon Magistrates' Court yesterday that superintendent Cheung Wing-kan made orders on the day, telling officers to tolerate crowd activities unless they obstructed police operations. Unless approved by on-site commanders, they were not to carry out mass arrests and if arrests were to be made, officers were to give warnings and sufficient time for response.

The prosecution also described how the defendants called for a "water-flow assembly" to protest against police's alleged abuse of power.

Then Civil Human Rights Front convener Jimmy Sham Tsz-kit, current convener Figo Chan Ho-wun and former lawmakers Au Nok-hin and Lee Cheuk-yan appealed to people to join the assembly in two press conferences - one on August 17 and another about an hour before the Victoria Park assembly started on August 18.

Protesters were told to stay briefly before leaving Victoria Park for various MTR stations under the lead of pro-democracy lawmakers.

At 3pm, Chan announced at Victoria Park that the "water-flow assembly" had started.

Lee stood at the front of the procession with a microphone, while the other eight defendants held a banner behind him with the slogan: "Stop police from plunging Hong Kong into chaos. Implement the five demands," and led more than 1,000 people to march from Victoria Park.

The procession occupied a number of main carriageways and roads, with the head of the procession arriving at their destination - Chater Road Pedestrian Precinct in Central - at 4.38pm.

The hearing continues today.