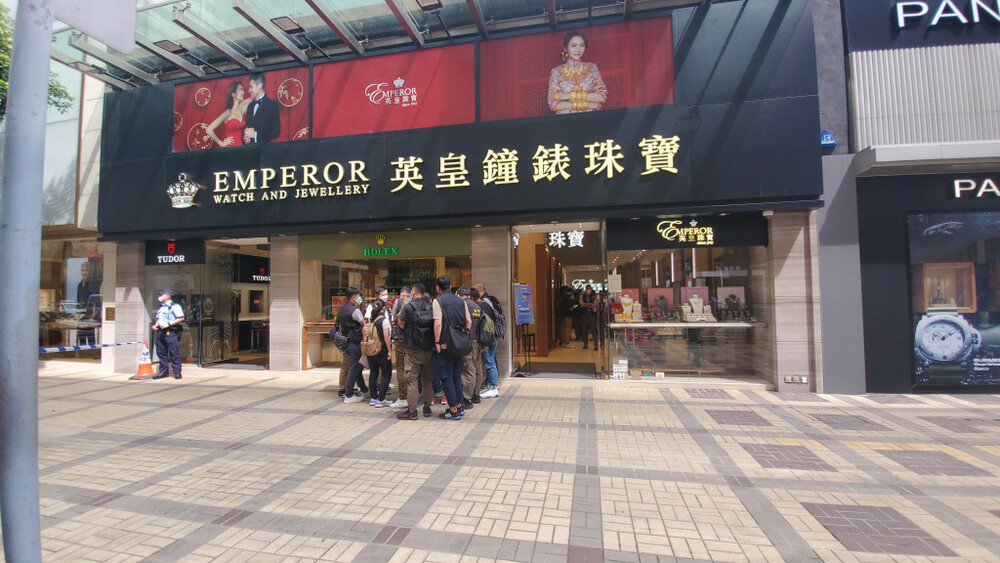 Armed robbers snatch HK$22 million necklace from Tsim Sha Tsui jewelry store
A jade necklace said to be worth about HK$22 million was stolen from a jewelry store at Tsim Sha Tsui by three armed robbers on Monday. The suspects are still on the loose, police said.
Officers were called to the Emperor Watch and Jewellery shop on Canton Road at 12.10pm after two of the suspects made off with the necklace from the shop, located just opposite Harbour City shopping center.

They were said to have fled in a getaway car driven by a third suspect.

Police said initial investigation showed that two non-Chinese men - posing as customers - entered the shop at around noon and asked staffers to show them the jade necklace.

It is understood that one of the robbers used a 40-centimeter-long blade to threaten the staff after the staff presented them with the necklace, while the other robber snatched the necklace.

The suspects stayed in the shop for around five minutes before they got into the getaway car and fled the scene, police said.

Police at 1pm located the getaway car on Man Wai Street in Yau Ma Tei, which will be subject to forensic testing. Investigations into the incident are ongoing.