Chief Executive John Lee among first customers at event launch on Friday, spending his cash on goods such as cashew nuts, biscuits and flower bouquets.
One of Hong Kong's biggest annual bazaars returned on Friday on a scale close to pre-pandemic times, with shoppers lured by HK$1 abalone deals along with other hefty discounts and organisers predicting at least 1 million visitors would attend the 24-day sales extravaganza.

The 56th edition of the Hong Kong Brands and Products Expo, organised by the Chinese Manufacturers' Association of Hong Kong (CMA), opened in Victoria Park in Causeway Bay and will run until January 1.

Hong Kong leader John Lee Ka-chiu was among the first customers. The chief executive dropped by four booths after the opening ceremony and spent HK$2,755 (US$353) on goods including cashew nuts, dried mushrooms, biscuits, seafood and flower bouquets.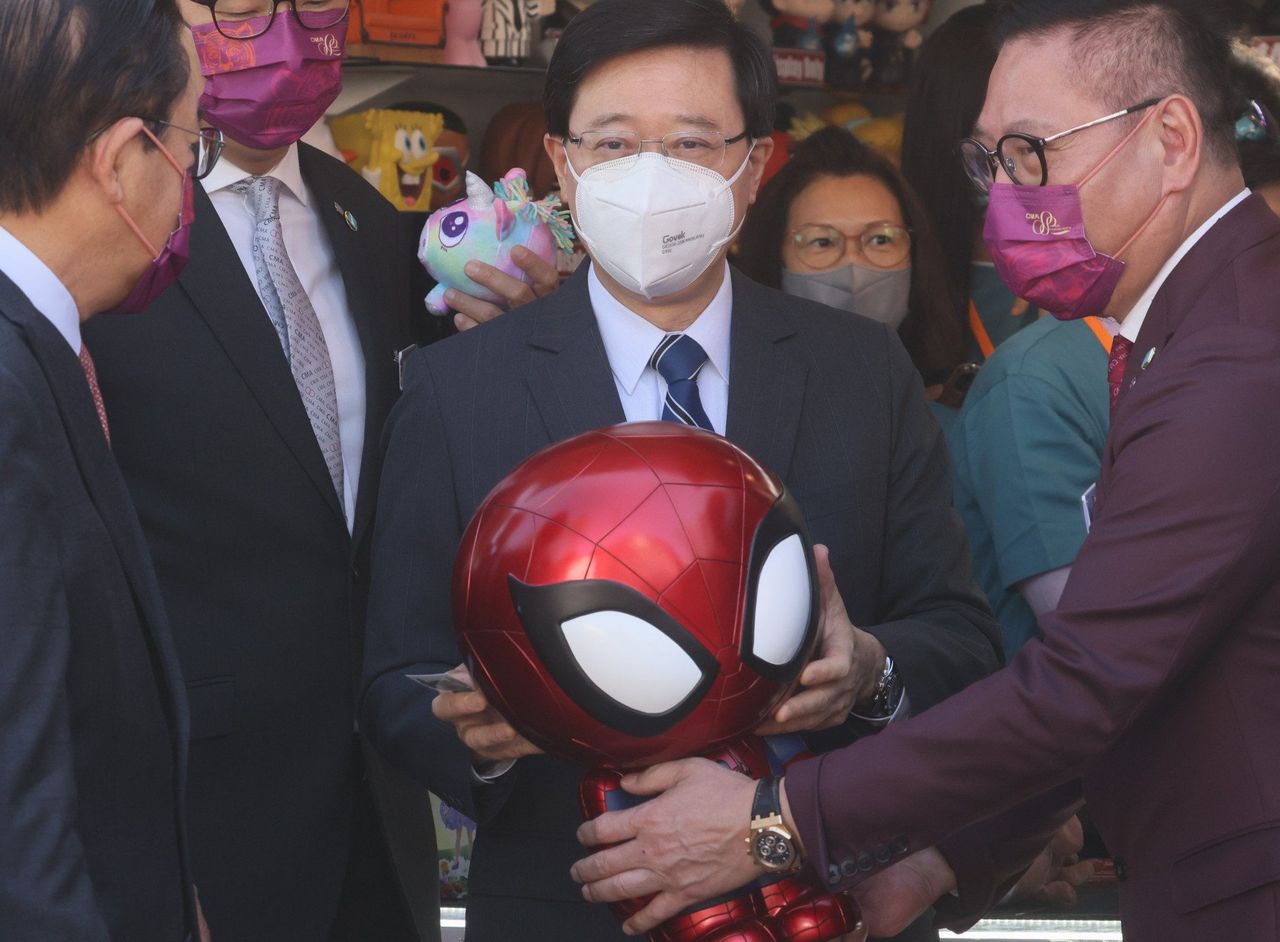 Hong Kong leader John Lee (centre) at the opening of the expo in Victoria Park
He received a warm welcome from exhibitors. "He is very amiable and we had a lovely chat with him," said Poon Kuen-fai, managing director of a dried seafood store.
More than 400 exhibitors with 860 booths are taking part in the fair this year, selling food, home appliances, toys and health products at hefty discounts, with hardcore shoppers flocking to Victoria Park on the first day.
HK$1 deals this year include abalone, masks, noodles and washing detergents. Bags of rice will also be sold at HK$2 with quotas limited to 30 each day.
"I feel that a full traffic recovery is yet to be achieved," said visitor Tony Yu, 61, who attends the expo every year. "I think this year's expo has reached around 80 per cent of the scale before the pandemic as visitors from mainland China still can't make it to the scene due to
Covid
restrictions."
Wilson Yao, 60, who bought HK$500 worth of products within an hour, said he enjoyed visiting for the discounts, although they generally were not that much.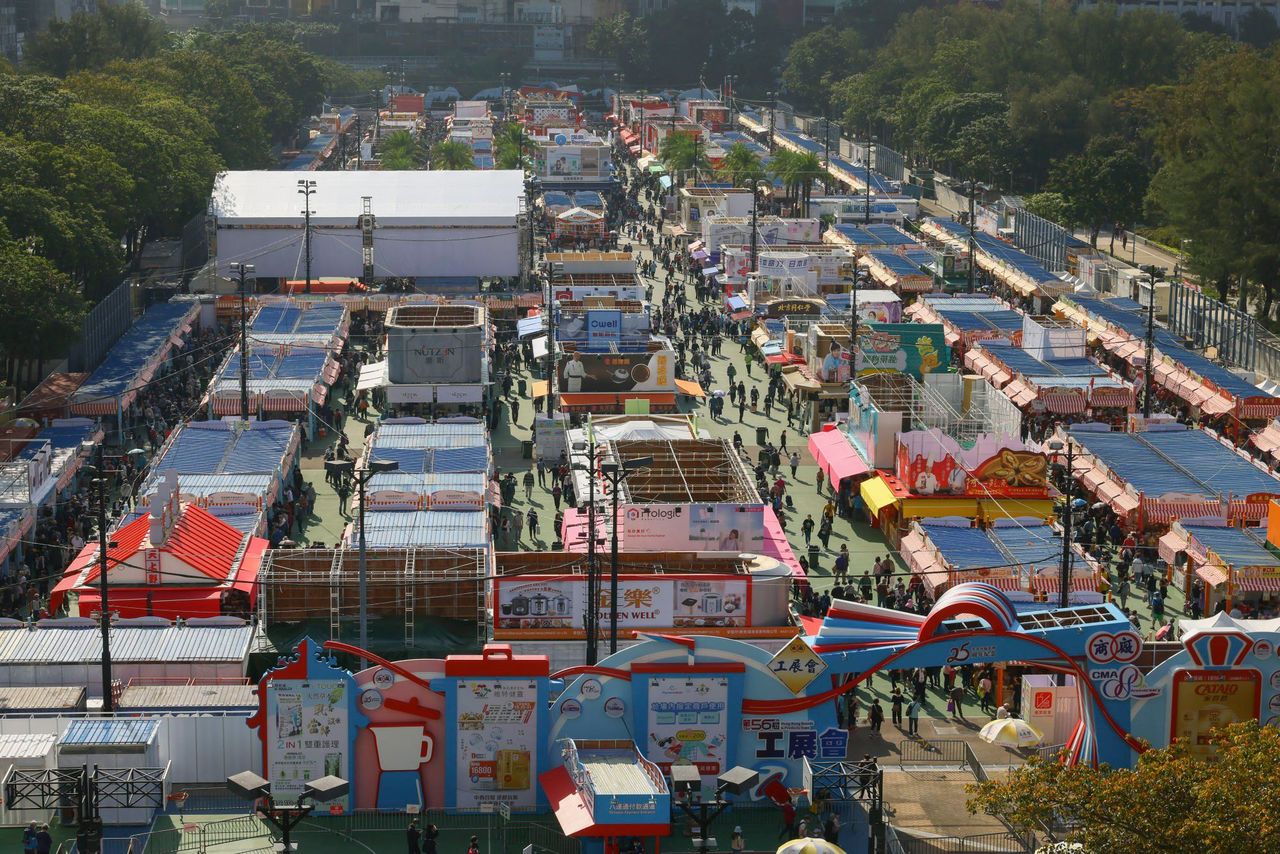 More than 400 exhibitors are joining the expo this time.

To attract more visitors, the expo has this year set up a new themed area for toys. Organisers said the local toy industry was strong in exports and the new section aimed to display the sector's strength to its home customers and remind them of their childhoods.

"I am quite nervous and excited," said Aggie Mak of HK3C Toys. "This is the first day and I am still waiting to see how customers will react to our products."

Visitor numbers were limited to 50 per cent of normal capacity under strict social-distancing measures in 2021.

This year as many as 15,000 people can enter the venue but customers cannot sample food such as snacks and dried seafood.

"This regulation will definitely affect our business. People are more likely to buy our products after trying our food and know that they are tasty," said Eddie Lau, purchasing manager of Yummy House.

CMA president Allen Shi Lop-tak said he hoped the expo could take a giant leap as it had almost returned to its pre-pandemic scale.

"Hong Kong is back. I hope that the strong momentum of the expo is maintained and grows in the following 24 days," he said at the opening ceremony.

"I also hope that this can motivate more events to be organised in the city and drive the city's economy forward."