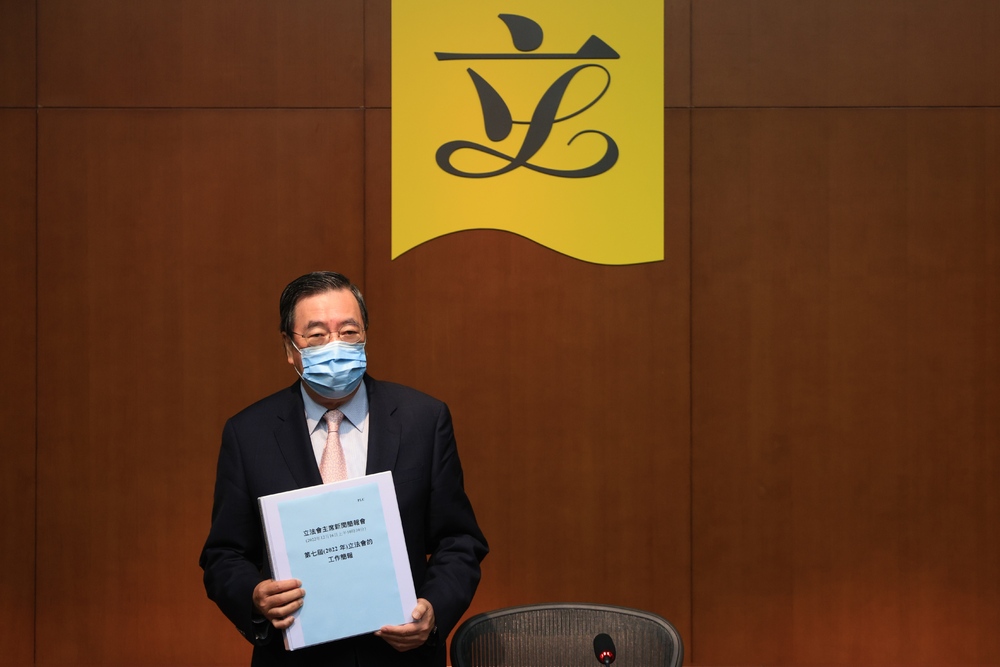 Andrew Leung wants more positive reports on lawmakers' work in summarizing LegCo's past year
Legislative Council president Andrew Leung Kwan-yuen called on the media to positively report the work of lawmakers and noted his colleagues in this term of LegCo put a lot of efforts into monitoring the government as he summarized the part year of the legislature body on Friday. 
Leung made the comment when asked by reporters that citizens still don't recognize some of the lawmakers even after the LegCo has been running for a whole year. 

He continued that his colleagues did concrete work but was never reported. Yet, he would make newspaper headlines immediately if he made a mistake when saying a lawmaker's name. 

When asked if he thinks citizens no longer care for the LegCo, Leung said there is now less drama in the conference halls and scenes where one throws a mug at another become rare. It doesn't surprise him that citizens now care less as the council has returned to normalcy where lawmakers read and discuss bills quietly. 

"In this term, councilors put a lot efforts into monitoring the government, unlike the past where some disrupted meetings and stopped authorities from passing bills via different means like taking attendance," Leung said. 

However, Leung went on to say that the society will naturally keep an eye on their meetings when they are proceeding bills that will directly affect citizens. 

Leung also rejected accusations that the councilors are rubber stamping every bill tabled in the meetings, as he pointed out that the legislation process remains smooth because councilors and government officials are on the same team. 

"The legislators are not playing against the government. Likewise the government is not seeing legislators as the enemy. We are the same team." 

As for the demonstration areas that have been closed for quite a while, Leung said the expansion construction of the LegCo complex is still ongoing and the areas won't reopen until safety is secured. 

The council staged 33 meetings and spent 264 hours in the past year, in which lawmakers vetted 25 proposal bills and passed 17.