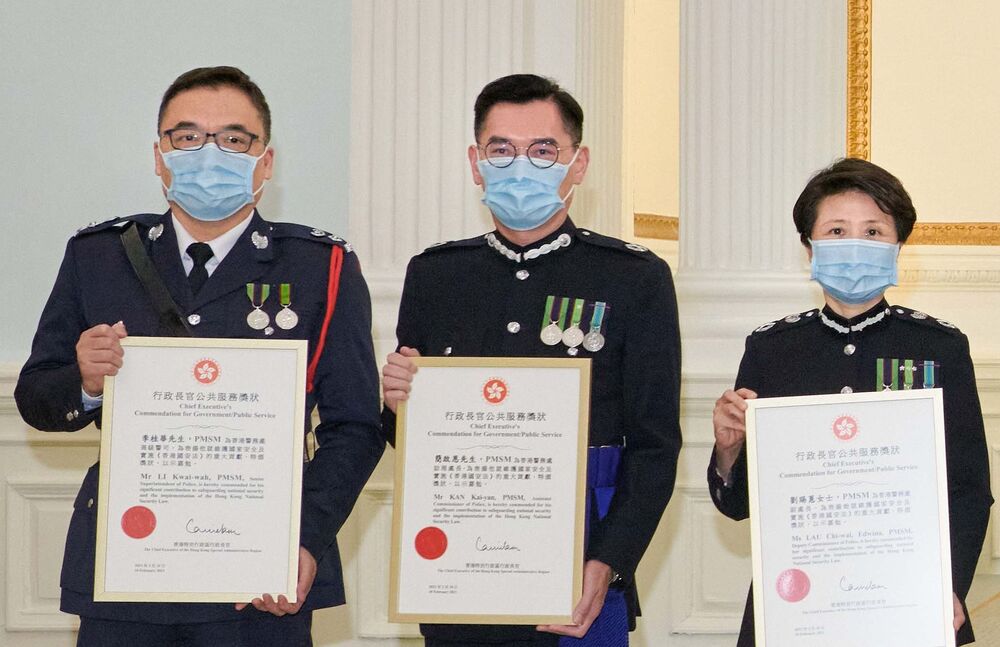 Andrew Kan tipped to head national security police
Assistant commissioner of police Andrew Kan Kai-yan is tipped to be the new head of the national security department.
Kan, and another assistant commissioner Kelvin Kong Hok-lai, have been the acting directors of the police's national security department after its former director Frederic Choi Chin-pang, embroiled in a massage parlor scandal in March, was relocated to be the director of personnel and training.

Sources said Kan will be promoted to be the new director of the department, after the position has been vacant for more than three months following Choi's transfer in August.

Kan was among the Hong Kong and mainland officials being sanctioned by the United States in January following the mass arrests of pro-democracy activists.

Kong and Choi, who were also from the police national security department, were also named in the US's sanction list as the US government believed they were related to the implantation of the national security law.

Kan was promoted to the rank of assistant commissioner of police in September 2019 and was in charge of service quality. He was appointed to the national security department in September last year.

Joining the police force as an inspector in 1991, Kan had previously served as the district commander of the airport, district commander of Wan Chai and deputy regional commander of Hong Kong Island.

During his career, he attended overseas and mainland development courses at various training institutes including China Executive Leadership Academy Pudong, Peking University, Scottish Police College and UK Royal College of Defence Studies.

Choi, 51, was put on leave after he was caught in a massage parlor raid on March 19. During the operation, three women and a man arrested in the operation have been charged with running a prostitution business, Viet Spa, in Wan Chai.

The police later said there was no evidence to suggest Choi did anything illegal or an immoral act, and the Department of Justice also said Choi did not involve any criminal offense. But the case has been passed to the Secretariat on Civil Service Discipline under the Civil Service Bureau for further investigation after primary discipline review.

Choi was transferred to another post -- director of personnel and training of the police force -- and resumed his duty on August 11.

Commissioner of Police Raymond Siu Chak-yee has said he has faith in Choi, who is performing well in his new post. "He has been serving in the force for more than 25 years. We are confident of his abilities," he said.