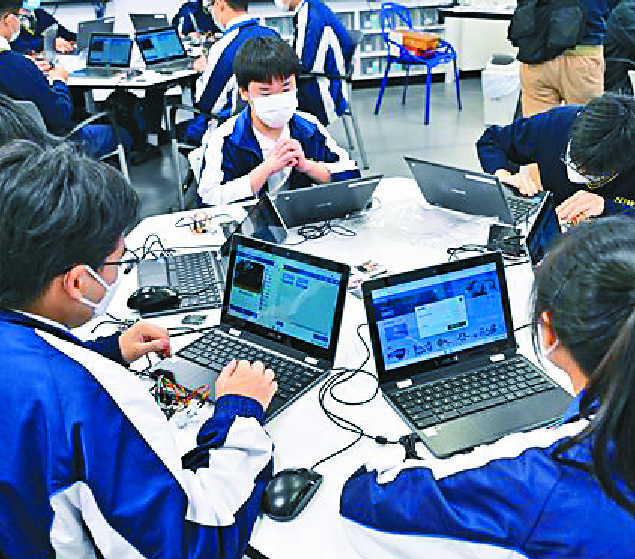 Ancient Chinese battle brought to life virtually
Virtual reality headsets have allowed secondary school students to immerse themselves in the ancient Chinese "battle of red cliffs" - Battle of Chibi - with the help of advanced technology reconstructing the war.
The secondary school in Kowloon City has been integrating VR and metaverse during Chinese history classes since last year.

Students had a chance to engage in the battle of red cliffs - one of the iconic wars in the late Han dynasty 1,800 years ago.

They are also allowed to create their virtual space and decorate it with the fountain and bronze heads at the Old Summer Palace - which was destroyed during the late Qing Dynasty more than a century ago.

With the VR learning experience, a secondary five student Lau said she had a better understanding of the war.

"The battle of red cliffs was far away from us, and we had limited understanding of the scale of the war. But after playing the game, we knew more about the situation back then and had a better understanding of the topic," Lau said.

The new mode of learning comes after the Education Bureau launched the module on Artificial Intelligence for junior secondary level this year for schools to adopt from September 2024.

Education Bureau principal assistant secretary (curriculum support) Edith Tse Yuen-ching, said the module can promote AI education in a more comprehensive and systematic way.

"AI is now a very hot topic. By incorporating this element into our education, students will understand the impact of innovation & technology in improving daily life and promoting social and economic development," she said.

The new module on AI for junior secondary level covers the basic concepts of AI, ethics, VR, robotics, and the impact of AI on society.

It covers basic coding concepts and the implementation of computational thinking, including algorithms.

The bureau hopes the module will enable students to apply coding skills to different contexts, with a view to enhancing their problem-solving abilities.

Around seven lessons will be added to the secondary one to three students curriculum, while an Enriched Module on Coding Education for upper primary level will be launched.