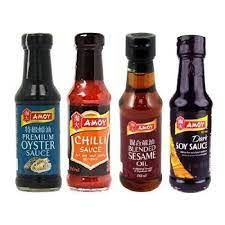 Amoy sauce company to be sold
Chinese private equity firm Trustar Capital has hired Citigroup to manage a sale of Hong Kong-based soy sauce maker Amoy Food Ltd, three people with knowledge of the discussions said.
Established in Xiamen in Southern China's Fujian province, Amoy sells its products, which also include rice noodle rolls and congee, to both food services and retail customers across over 40 countries, its website shows.

Citi is preparing to launch a formal sale late next month, one of the sources told Reuters, adding that the valuation of the 115-year-old soy sauce brand is still being discussed.

A deal for Amoy could fetch US$300 million to US$400 million, said the second source. All the sources declined to be identified as the information is confidential.

Trustar did not immediately respond to Reuters request for comment. Amoy and Citi declined to comment.

Trustar, which was formerly known as CITIC Capital, completed its acquisition of a controlling stake in Amoy in February 2019 from Japan's Ajinomoto Co Inc. The transaction amount was not disclosed.