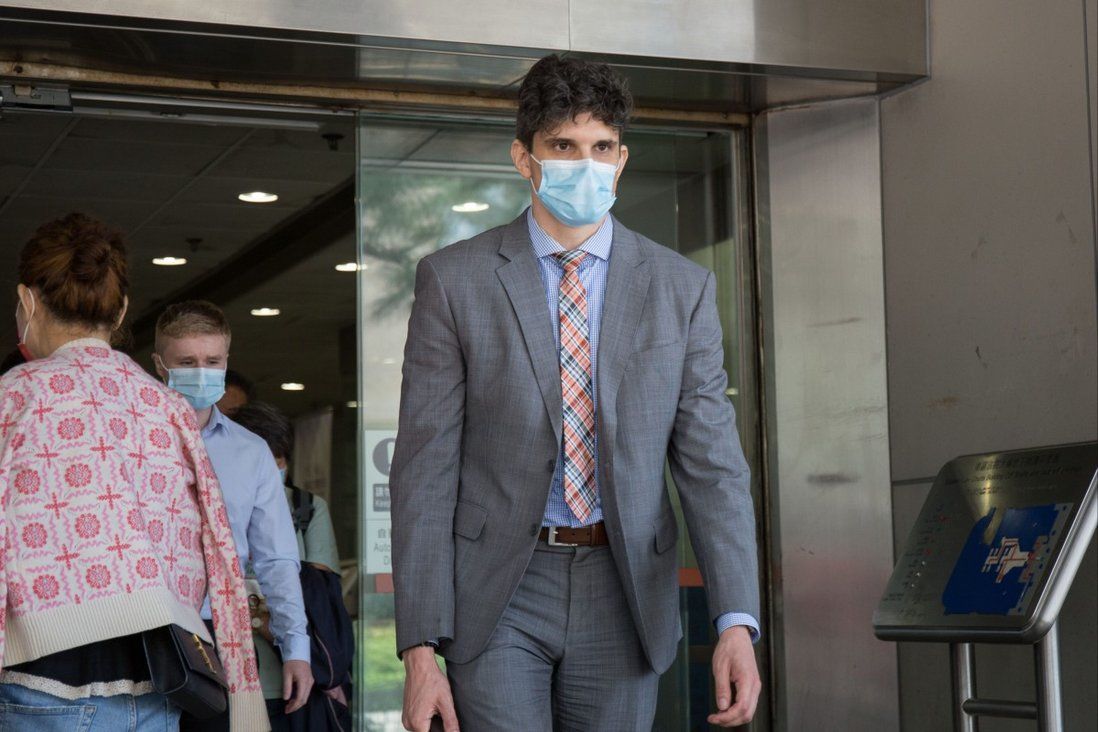 American lawyer jailed for assaulting Hong Kong policeman deported
Government insider says Samuel Phillip Bickett subject to removal upon release from prison since he did not have right of abode in Hong Kong.
An American lawyer who was jailed for assaulting a plain-clothes policeman during the social unrest of 2019 was deported from Hong Kong on Tuesday and headed back to the US after he was released from prison.

Samuel Phillip Bickett, a former compliance director at Bank of America Securities, completed his time in prison after being sentenced in July last year for assaulting a police officer.

The US national had served more than six weeks behind bars before the High Court granted him bail last August pending his appeal, but returned to jail in February to serve the remainder of his sentence after the court dismissed his appeal.

Following the court's decision, Bickett served another six weeks before he applied for early release on the grounds of good behaviour, successfully reducing his original 4½-month sentence by one-third.

A government source said the 37-year-old was subject to removal upon release from prison since he did not have right of abode in Hong Kong.

The lawyer was able to briefly say goodbye to his partner and collect a packed suitcase before leaving, the insider added.

Writing on social media on Wednesday, Bickett said he was released from Stanley Prison and was on a flight to Washington after a layover in Istanbul.

"I have been banned from Hong Kong. The Immigration Department denied our request for me to be given a few days to wind up my affairs and say goodbye to my partner and loved ones," he said in the post.

"I was instead taken immediately from prison to the Immigration Department then escorted to a plane on the same day."

The Post has approached the department for comment. However, the government insider stressed authorities had not told the US national that he had been banned from Hong Kong.

Under the Immigration Ordinance, the city's leader may also issue a deportation order against an immigrant who has been found guilty of an offence punishable with imprisonment for not less than two years.

The order can also be used to prohibit a person from being in Hong Kong at any time thereafter or during a specified period.

In his social media post, Bickett also thanked the US consulate in Hong Kong for ensuring his release and safe departure from the city.

"I have been forced to leave behind my loved ones and my city by an unelected government that, with open contempt for Hong Kong's system of law and justice, has sought to destroy everything and everyone that makes our city exceptional," he said.

He added the fight for truth and justice in Hong Kong would never be easy or won quickly but said it would be worthwhile.

Bickett was found guilty of assault last June for grappling with a plain-clothes police officer who the US national accused of attacking commuters with a baton at Causeway Bay MTR station on December 7, 2019.

A magistrate ruled that the lawyer had punched Senior Constable Yu Shu-sang and knelt on his chest in a bid to snatch the baton, which the officer had earlier used in a failed attempt to intercept a man who allegedly jumped a turnstile.

The High Court last month rejected Bickett's assertion he acted in self-defence when the off-duty officer approached him with his baton extended and raised during a confrontation at the MTR station.

Instead, the judge found it "entirely natural and appropriate" for the officer to strike the defendant with the metal rod to stop the latter from snatching the weapon, especially when he was overpowered and outnumbered by a hostile crowd.