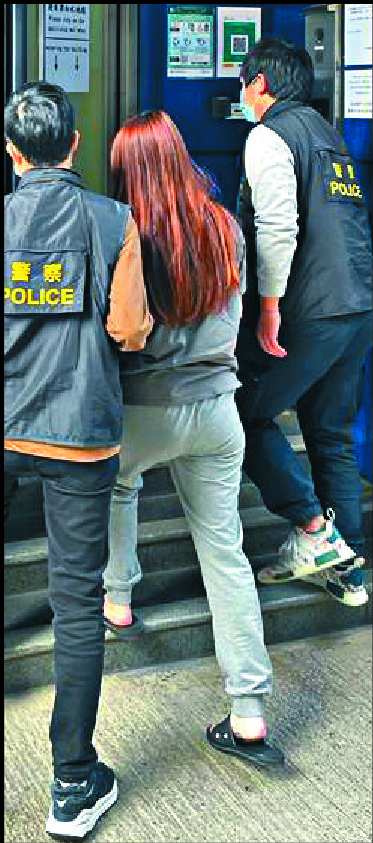 Alleged vice syndicate mastermind arrested
A 33-year-old female illegal immigrant from the mainland - alleged to be the mastermind behind a vice syndicate - was arrested a week after the police took in 17 women, including Russian and Japanese prostitutes.
The suspect was arrested in a hotel on Saturday night and still being detained as of yesterday evening.

Sources said officers seized HK$150,000 in cash, a batch of electronics and several stolen identity cards - including two Hong Kong ID cards that were reported lost and a Taiwanese ID card.

It is understood the suspect was smuggled into Hong Kong two years ago and had been using stolen ID cards to check into hotel rooms to hide.

Her arrest was made after a 40-year-old man, the other alleged mastermind of the syndicate, was arrested on Thursday. He has been granted bail and has to report back to the police in mid-December.

Officers said they had smashed an illegal prostitute syndicate after raiding five hotels in Tsim Sha Tsui during an anti-vice operation.

A total of 17 women - 15 of whom were sex workers, including two Russian and two Japanese nationals - were arrested on suspicion of breaching their conditions of stay.

The remaining two - a 40-year-old local and a 27-year-old Chinese national - were identified as core members of the syndicate and were arrested on suspicion of control over persons for the purpose of unlawful sexual intercourse.

A police investigation revealed that the two operated from a hotel room to contact clients and arrange room bookings.

"Officers targeted an illegal syndicate that used social platforms to offer prostitution information one month ago and launched operations after investigation," said Superintendent Alan Chung Nga-lun on Wednesday.

The two alleged Russian sex workers were identified as Ukrainians on Telegram - the platform used by the syndicate.

It is understood the syndicate posted photos and particulars of the prostitutes, including their name, age, weight and height on Telegram, along with information about "special services" that they provide.

Customers were charged between HK$5,000 to HK$6,000 for the Russian and Japanese women, and HK$1,000 to HK$2,000 for the mainland prostitutes.