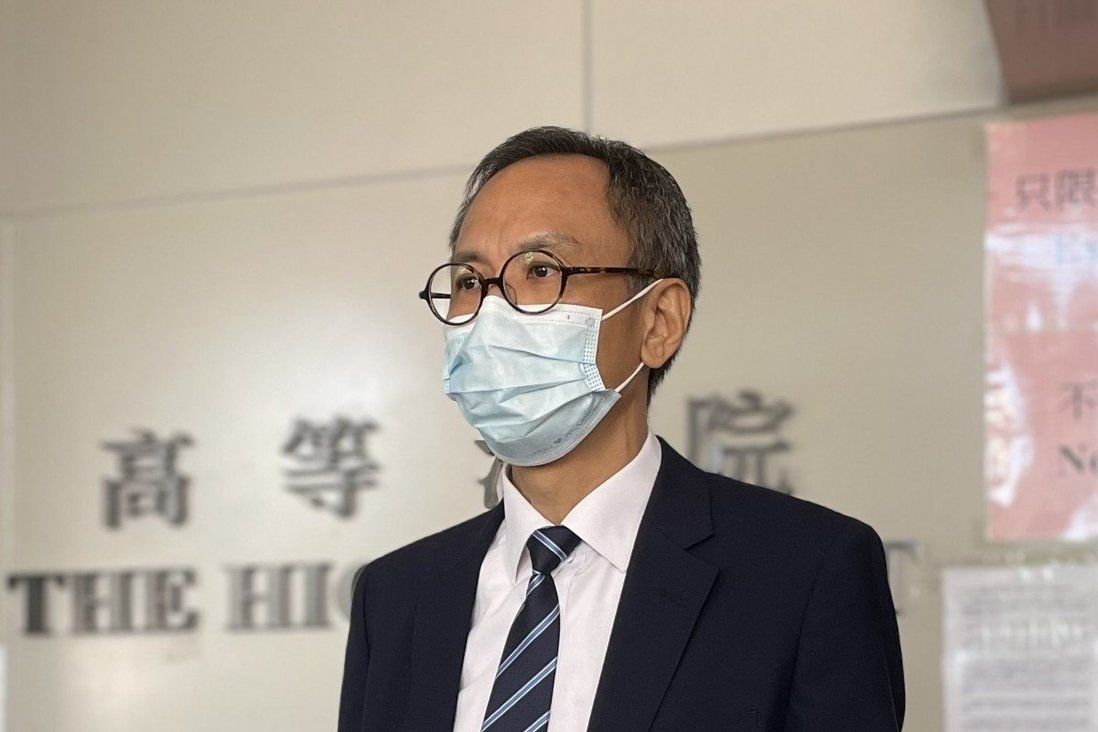 Alleged Hong Kong ear-biter 'suffered from mental disorder' during assault
Dr John Wong says defendant Joe Chen's alleged attacks in November 2019 could have been a result of acute alcohol intoxication, after withdrawing a previous diagnosis during cross-examination.
An unemployed man on trial for biting a former Hong Kong district councillor's ear and assaulting three others during the social unrest of 2019 was at the material time suffering from a mental disorder caused by his alcohol consumption, his psychiatrist has said.

Dr John Wong Yee-him on Monday initially testified that the defendant, 51-year-old Joe Chen, was a family man with no history of violence, but had a sudden and out-of-character "explosive outburst" because he was experiencing pathological alcohol intoxication during the alleged attacks outside Cityplaza mall in Taikoo Shing on November 3.

"[Chen's] act of aggression was due to the disease of the mind," the psychiatrist told the jury after being questioned by Arthur Luk Yee-shun SC, a new member of the defence team.

However, Wong later withdrew his own diagnosis during cross-examination, conceding that Chen had not met one of the four necessary diagnostic criteria for pathological alcohol intoxication, as listed in the World Health Organization's classification of mental and behavioural disorders.

The expert also conceded that this particular diagnosis, which he described as rare and controversial, had been removed from the latest edition of the WHO list, meaning it was no longer recognised.

But he insisted that Chen's behaviour could still be explained by another mental disorder, known as acute alcohol intoxication, whose list of symptoms was similar to that of the original diagnosis, only shorter.

Chen has pleaded not guilty to three counts of wounding with intent and one of common assault for allegedly attacking then councillor Andrew Chiu Ka-yin and three civilians.

The High Court previously heard Chen testified to drinking about three glasses of Chinese white wine – known as baijiu – and three cans of Kirin beer that night before leaving home for a sauna to get rid of the smell of alcohol.

Chen said he had no recollection of the attacks on his way home, because his mind went blank moments after a man and two women allegedly responded to a throwaway comment he made and harassed him.

Wong, who has been in psychiatric practice for 30 years and assessed Chen in July, said the man had recurrent depressive disorder, which was first diagnosed in Shenzhen in 2004. Symptoms included persistent low mood, anxiety and exhaustion.

Chen was also diagnosed with alcohol dependence syndrome, based on his abuse of the substance for about 20 years, during which he displayed an obvious impulse to drink, at times to soothe his depressive symptoms.

In his initial diagnosis finding Chen's out-of-character conduct to be the result of pathological alcohol intoxication, Wong had noted that according to WHO criteria, the ensuing severe inebriation must occur "very soon" after consumption, leading to atypical aggressive behaviour, with no evidence of cerebral or other mental disorders.

But prosecutor Steven Kwan Man-wai questioned whether Chen's intoxication could be considered to have taken place "very soon" after consumption, when records showed that his first act of violence occurred 1½ hours after he left home.

Wong replied he had not noted the time, but later agreed that Chen had failed to meet the criterion, rendering his diagnosis of pathological alcohol intoxication invalid and prompting him to instead suggest acute alcohol intoxication as an alternative explanation.

Wong's testimony continues before Madam Justice Judianna Barnes on Tuesday.