Joe Chen, 50, is accused of biting then councillor Andrew Chiu after attack on couple in Taikoo Shing altercation.
An unemployed man accused of biting off part of a district councillor's ear and slashing a couple after shouting "restore Taiwan" stood trial on Monday over the alleged acts committed during the 2019 social unrest in Hong Kong.

The case centred on an altercation in Taikoo Shing on November 3 that year, in which then district councillor Andrew Chiu Ka-yin had asked 50-year-old Joe Chen why he had attacked three civilians outside Cityplaza mall.

Chen is accused of biting Chiu's left ear and pulling the politician's other ear towards his mouth.

Prosecutors on Monday opened their case against Chen, who pleaded not guilty to three counts of wounding with intent – an offence punishable by life in prison – and one of common assault.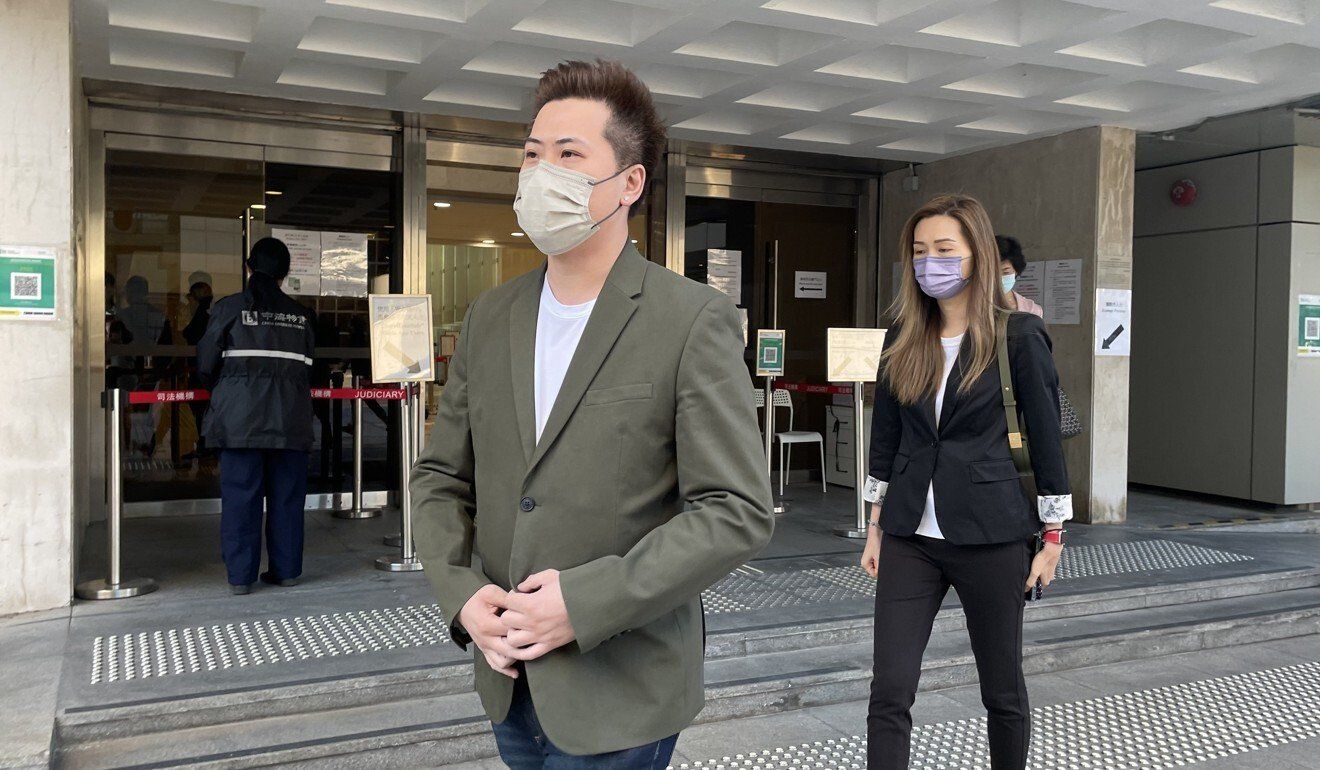 Louis Wan leaves the High Court on Monday.

The High Court heard the series of attacks occurred soon after 7pm when Louis Wan Ho-lun was on his way to have dinner with his wife Leung Pik-kei and her relative Leung Ying-ying, and overheard a man shouting outside the mall in Mandarin and Cantonese: "Restore Taiwan".

Wan testified that he saw a man – whom he has yet to identify in court – in a grey top three metres from his right, with his hands hidden behind a backpack he was wearing on his front.

Wan then reacted with profanities, he recalled, including asking the man: "What are you talking about?"

Sensing that something was not right, Wan subsequently warned his family to stay behind him, before he saw the man approach and felt "something wet" on his stomach.

"I pulled up my shirt to find blood on my stomach," he told the jury. "It happened very quickly."

When Wan looked up again, he said his assailant was standing behind his wife and doing something indiscernible with his hands. He then approached the attacker to pull him away by the shirt.

Wan said he then collapsed on the ground moments later, feeling very tired and that his back had become "very wet".

Prosecutor Steven Kwan Man-wai said Wan's wife subsequently went inside the mall to seek help while Chen, identified as in a grey top at the time, then turned to hit her cousin Leung Ying-ying several times on the head and flung his backpack towards the woman, causing her to fall to the ground, before he pulled her hair.

Meanwhile, district councillor Chiu was inside Cityplaza mediating a separate dispute, according to the prosecutor. Upon hearing shouts, Chiu was said to have rushed out of the mall, where he found Wan's family and asked Chen why he had assaulted them.

"I didn't hit people, I hit dogs," Chen reportedly replied.

Chiu then saw a knife on the ground and instructed security staff to push Chen against a glass wall, Kwan said, adding the defendant managed to struggle free and charged at people, prompting the councillor to hit his hands in an attempt to stop him.

Chen responded by holding Chiu's head and biting his left ear before attempting to pull his right ear towards his mouth until he was stopped by others who separated the two men, Kwan said.

At 7.52pm, Chen was arrested.

Kwan said Chen had intentionally carried out the attacks, knowing what he did was wrong.

The court heard Chiu spent 19 days in hospital, where doctors tried to reattach the ear part but to no avail.

The couple were also treated in hospital, with Wan in critical condition, having sustained multiple knife wounds across his upper body – including his back, left shoulder, the area around his navel and the back of his neck – while his wife suffered stab wounds in her back, Kwan said.

A knife seized at the scene measured 19.5cm in length, with a 10cm blade.

On December 19, Leung Pik-kei and Chiu singled out Wan as their assailant in two separate identification parades.

Chen, who came to Hong Kong in 2012, has no criminal record. It was not mentioned in court where he had come from.

Wan's testimony continues before Madam Justice Judianna Barnes Wai-ling on Tuesday.