Month-long crackdown on money laundering by syndicates leads to the arrest of 283, seizure of HK$27 million worth of assets, documents, bank cards and computers.
More than 280 people were arrested in connection with the laundering of HK$1.8 billion (US$216.6 million) as part of a crackdown on Hong Kong crime syndicates, police said on Friday.

The force said more than 10 syndicates were targeted in a month-long operation that had just ended.

The total of 200 men and 83 women detained included holders of bank accounts, securities accounts and stored-value accounts that were used to handle cash generated from crimes such as deception committed in Hong Kong and abroad.

Those who used cash incentives to lure city residents to set up or surrender accounts for laundering the proceeds of crime were also arrested.

"The investigation suggested the account holders were paid between several hundred dollars and thousands of dollars each to surrender their accounts," Lai Wai-chun, a chief inspector with the force's financial intelligence and investigation bureau, said.

The operation, dubbed "Wiseword", was mounted as reports of deception rose by

almost 42 per cent to 12,326 in the first six months of the year and which involved the loss of a total of HK$2.1 billion.

Police figures showed the number of people arrested for money laundering went up by nearly 200 per cent to 287 in the second quarter compared with 96 arrests in the first quarter.

Police raided more than 230 locations during the crackdown, which started on July 18.

Senior Superintendent Chan Yan of the bureau said the investigation revealed that the syndicates used 850 bank accounts, securities accounts and stored-value accounts to launder the cash over the last 12 months.

He said some of the funds were generated from 270 cases of deception reported in the city and some money was transferred to Hong Kong from overseas.

The 270 cases in the city included investment fraud, online romance scams and telephone deception.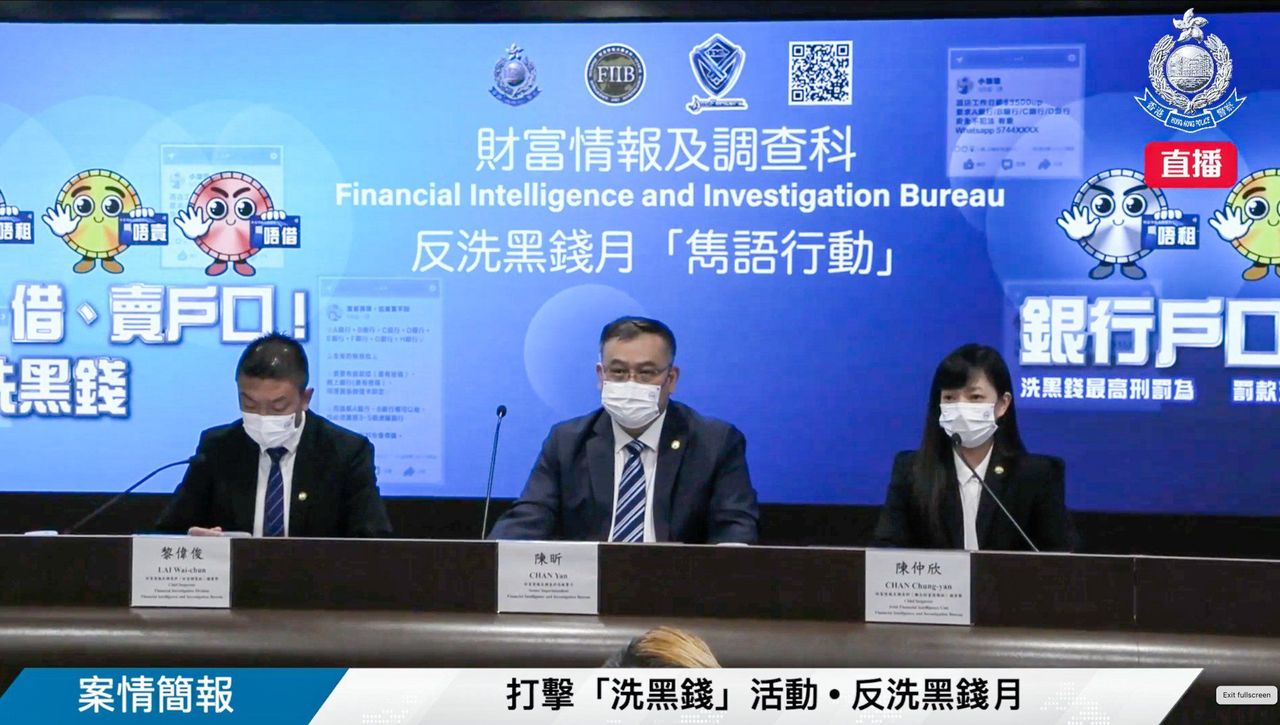 Chief Inspector Lai Wai-chun (left) of the police financial intelligence and investigation bureau and Senior Superintendent Chan Yan (centre) discuss a force crackdown on money laundering.

Chan said criminals laundered the funds through layers of accounts and cash withdrawals to make it difficult to identify senders and recipients.

"We are still investigating the original sources and final destinations of the illicit money," Chan said.

Officers froze HK$27 million worth of assets linked with the proceeds of crime during the operation and seized a large quantity of documents, bank cards, mobile phones and computers.

Lai said undercover officers were deployed to gather evidence against one syndicate, which recruited account holders through social media.

Police arrested 10 alleged members of the syndicate as a result of their efforts.

Officers also arrested 11 people from another gang which carried out money laundering activities in two hotel rooms earlier this month.

Those detained included the syndicate's members and holders of bank accounts that were used to handle dirty money.

Lai warned the force would not let up on its efforts to combat money laundering in the city.

Money laundering is punishable by up to 14 years in jail and a HK$5 million fine in Hong Kong.

Police also launched publicity campaigns across the city over the past month to boost public awareness of financial crime.