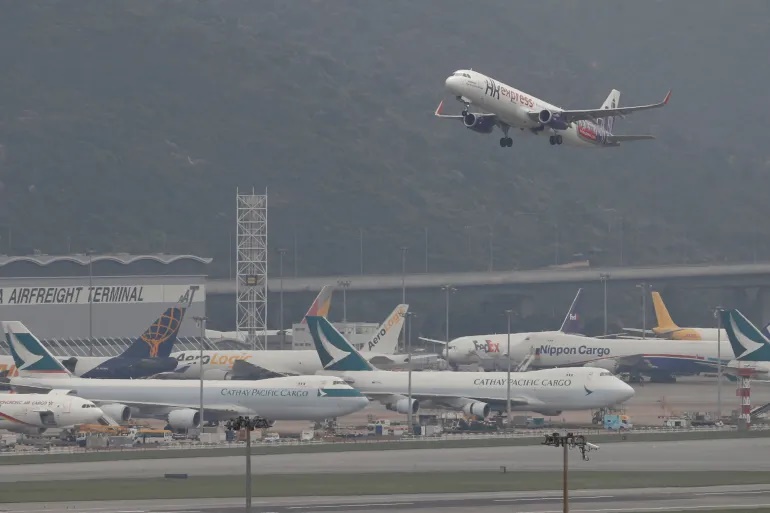 Airline websites swamped as HK ticket giveaway takes off
People hoping to take advantage of the "Hello Hong Kong" campaign to give away half a million free airline tickets faced hours-long online queues on Wednesday.
The government last month launched a promotion in hopes of wooing tourists back, after years of strict pandemic-related travel restrictions.

Tourism once accounted for nearly five percent of Hong Kong's economy, but visitor figures plunged last year to 600,000 -- less than one percent of 2018 levels.

Cathay Pacific and Hong Kong Airlines were the first companies to launch the "Hello Hong Kong" ticket giveaway, which will roll out over several months.

Social media users complained of long online queues to register, and an AFP reporter encountered wait times of more than two hours on the Hong Kong Airlines website.

More than 55,000 users were waiting to access the offer on the Cathay Pacific website, according to the reporter.

Cathay Pacific said it had allocated all 17,400 round-trip tickets from Thailand to Hong Kong within the first hour of the giveaway, despite it being scheduled to last seven days.

"We are very encouraged by the enthusiastic response," the airline told AFP, adding that its website had functioned well during the registration period.

The first stage of the giveaway offered round-trip flights from Southeast Asia. Hong Kong residents will be eligible for a separate campaign for 80,000 tickets to be rolled out in July.