Many industry veterans are sceptical about the future of press freedom in the city, but some academics say there is still room for professionals to do their work – the question is how.
As a teenager, Ronson Chan Ron-sing dreamed of nothing else but becoming a journalist, jumping at every chance to get his byline in as many student newspapers and magazines willing to accept his pieces.

He studied journalism in university and became a full-time reporter, gaining fame in 2019 for his dedication to live-streaming anti-government protests almost every day during that entire summer.

"I have never imagined a life without me being a journalist," said Chan, 40, who became the head of Hong Kong Journalists' Association (HKJA) last year.

Unlike him, Dominic Lee Tsz-king, 37, was a latecomer to the media scene. After failing to get re-elected in the 2019 district council poll, Lee turned to YouTube to launch his channel focusing on telling pro-establishment supporters "news the media don't want you to know".

"Hong Kong has always been a place that values press freedom … but it doesn't mean lawbreaking behaviour is allowed," the lawmaker, who was elected in the December Legislative Council election, said in a video he posted recently accusing rival "yellow" channels of purveying "an opposition agenda."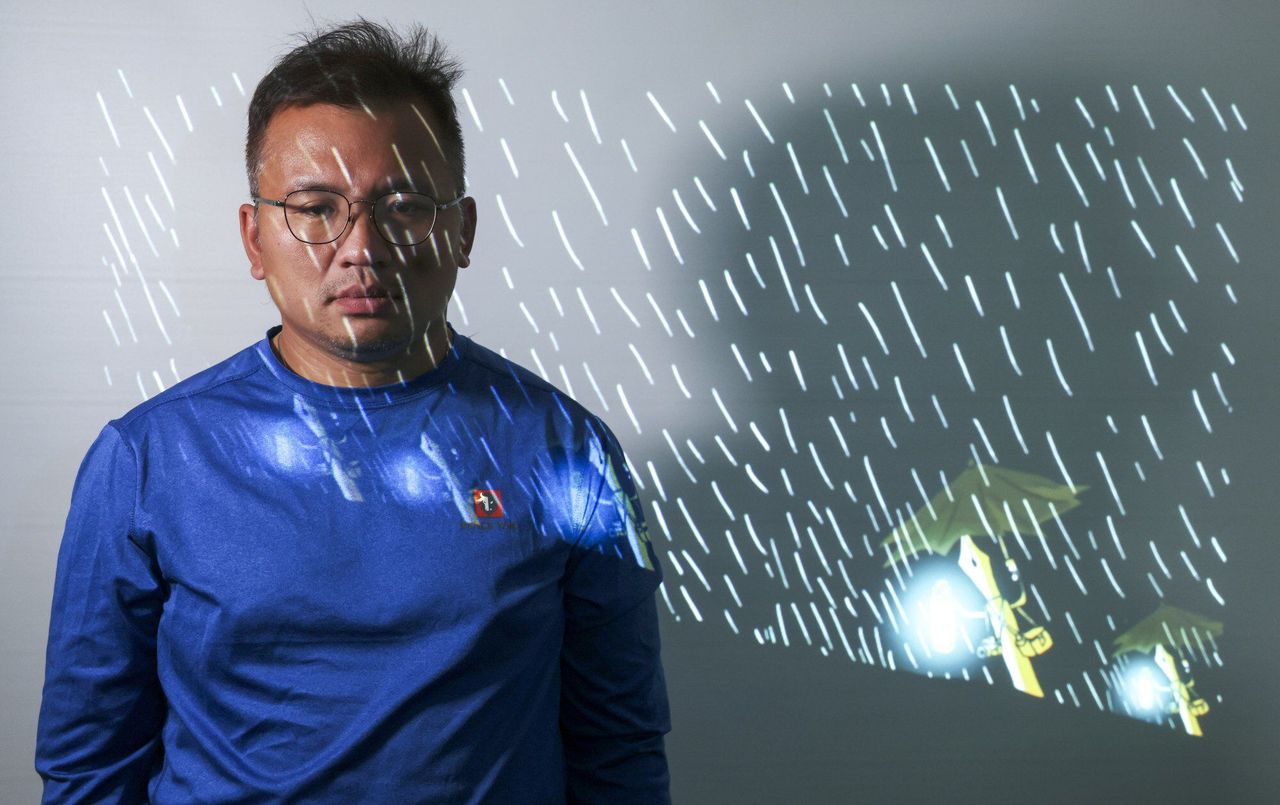 Hong Kong Journalists' Association chairman Ronson Chan.

His talk show is gaining traction, going by the hundreds of thousands of views each of his videos attracts.

Given their different starting points, Lee and Chan could not be more opposed in their views about the media in Hong Kong after the imposition of a sweeping national security law in June 2020.

For Lee, with his government-friendly news and opinion pieces, the city's media landscape is as vibrant as ever, but for Chan, its future could not be bleaker. Many in the industry and independent observers share Chan's view.

For Chan, it is also about a lifelong dream being crushed. A former deputy assignment editor at online news portal Stand News, he became one of the more than 700 reporters who lost their jobs following the closure of three media outlets in recent months, two of which were accused of publishing articles breaching the national security law.

Amid Beijing's tightening grip over the city in the name of national security, the arrests of journalists and the closures have cast a pall on the industry, leaving practitioners wondering if the job is becoming too fraught with risk with new red lines emerging and narrowing the space they have to operate in. While the authorities have said the recent media closures have nothing to do with press freedom, few are buying the line. Will there still be a vibrant media scene, they wonder, as those who have left the frontlines move on to other jobs, remain unemployed or leave the city for good?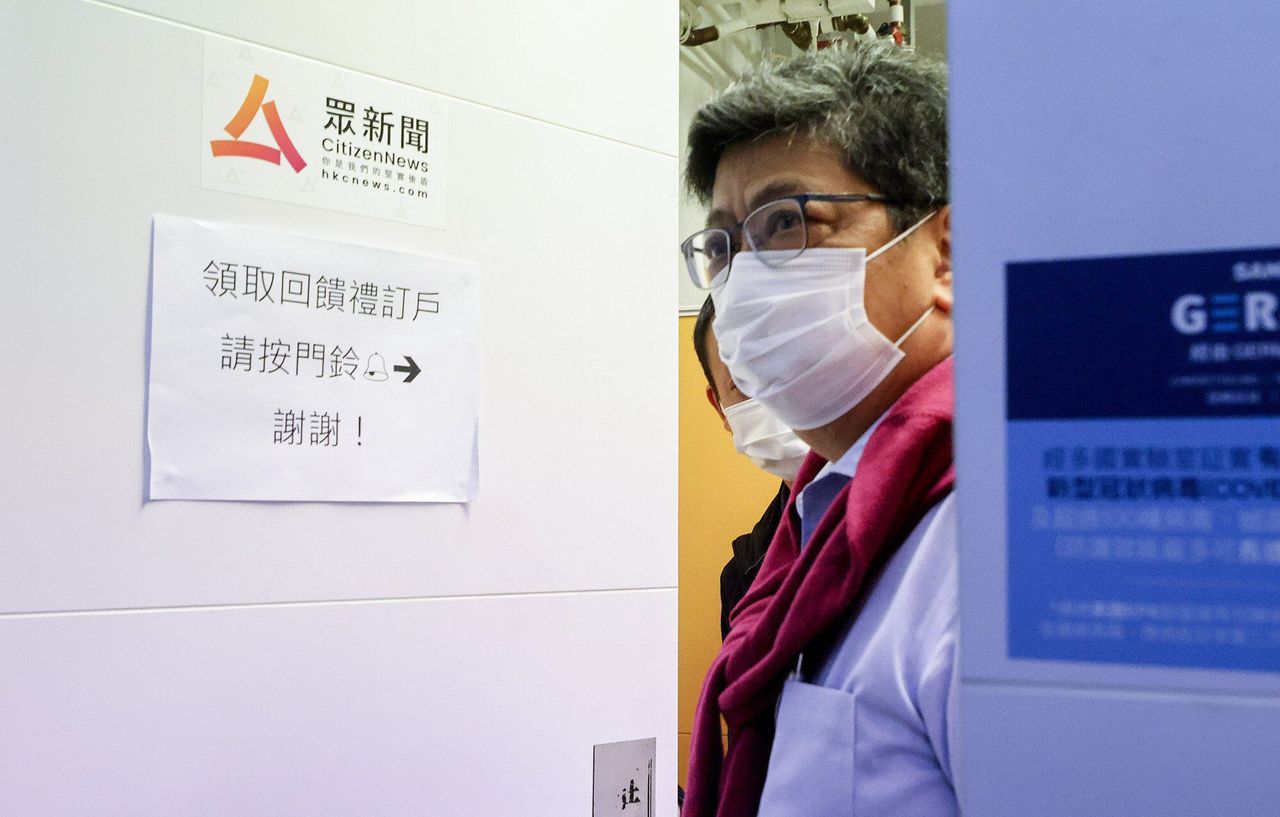 Chris Yeung, who was chief writer for Citizen News before it folded.
The fall of Apple and others

Last June, the first paper to fold was Apple Daily, founded by now-jailed media tycoon Jimmy Lai Chee-ying, long deemed by Beijing as a nemesis for fanning anti-China hatred in the city and beyond. Stand News ceased operating just before the end of last year after police arrested seven people linked to the online news portal and charged the former and incumbent editors among them with publishing seditious materials. Within four days of the latest crackdown, Citizen News too decided to shut down even though it did not appear to have been within the sights of the national security police. All three were hugely popular with opposition supporters.

When Apple Daily decided to fold after police froze its HK$18 million (US$2.31 million) of assets, police charged Lai and seven senior staff, including publishers and editors, with collusion with foreign forces, a national security offence. An additional sedition offence against the seven was only added later, around the time police targeted Stand News.

On December 29, police officers raided the Stand News newsroom and the homes of directors and editors before arresting the seven. The online news portal ceased to publish after police also froze HK$60 million of its assets.

Police carted away 33 boxes of so-called evidence including computers and journalistic material, saying that the portal had published content to incite public hatred against judges and the government and hence the sedition charge.

When Citizen News folded just four days later, a teary-eyed chief writer Chris Yeung Kin-hing said: "We can't work in a safe environment. Reporters are also human and have their families and friends too. Journalists don't want to be landed in this dilemma simply because of their work."

The closures prompted Western countries to condemn the government, while Beijing and the local government took them to task over their double standards and alleged hypocrisy over media freedoms.

Authorities have maintained that they were strictly carrying out law enforcement actions all along, arguing that journalists were not above the law.

Chief Secretary John Lee Ka-chiu, the city's No 2 official, said recently the targeted editorial staff were "bad apples abusing their position simply by wearing a false coat of media worker. They will pollute press freedom."

Chief Executive Carrie Lam Cheng Yuet-ngor also shrugged off suggestions of a "chilling effect", rejecting claims that the national security law Beijing imposed on Hong Kong had hurt press freedom. The journalists were arrested because they had broken the law, she insisted.

While the national security legislation contains safeguards for human rights, it also explicitly requires the government "to strengthen public communication … and regulation" on the press over matters of national security.

Arguing this was not about such enforcement, Lam said the decision to cease by Stand News and Citizen News was commercial. "Those were their own decisions and cannot be linked to press freedom in Hong Kong," she said.

Their closures were not part of a government-led persecution as insinuated by some Western governments, the chief executive stressed repeatedly.
Beyond national security law

While the shutdown of Apple Daily, in hindsight, was long in the making in the wake of the national security law and after repeated warnings from mainland China propaganda media of how Lai was an enemy of the state, the closures of Stand News and Citizen News shook the industry for the use of another legal tool by the government.

"The alarming nature of the Stand News case is that it is the first time police cited section 10 of the Crime Ordinance when arresting press members," said Professor Francis Lee Lap-fung, director of Chinese University of Hong Kong's (CUHK) school of journalism and communications.

Lee was referring to the offence of publishing seditious content, a charge legislated in 1938 and used by the then colonial British government to target pro-Beijing media in the 1950s and 60s, amid rising anti-administration sentiments.

Prosecutors and police used the colonial-era law last year to target an opposition activist, as well as two speech therapists accused of publishing a children's book that incited hatred against police and judges through, they argued, a parable of cartoon sheep and wolves.

Critics pointed out that under a national security law offence, concrete acts have to be proven, such as making calls for sanctions which would be construed as collusion with foreign forces. The sedition law was just as broad but more loosely defined, they said.

The sedition law targets any materials published with an intention to incite "hatred", "contempt", "violence", "disaffection" and "disobedience of the law" against the British Crown at the time of drafting – and now the Hong Kong government. Those found guilty can be jailed for up to two years.

But Professor Lee said: "What constitutes incitement? What constitutes hatred?"

Even Beijing has hit out at the way in which the colonial government deployed the same law to target patriotic publications in the 1950s and 60s, calling the approach "heavy-handed", in its latest white paper on Hong Kong's democratic development.

The manner in which police framed their case was equally alarming, Lee argued. He said police appeared to be singling out interviews Stand News conducted with activists who had left Hong Kong, and accused the publication of being sympathetic with their views.

"Since it's an interview, everyone knows it's going to be one-sided," he said. "But as a media organisation, it would also have interviewed people with opposing views over time for balance."

Yeung, chief writer of Citizen News, said he also found it troubling that police were holding Stand News accountable for opinion articles they had published.

"The common understanding is that these opinion articles, or their excerpts carried in news reports, do not represent the publication's stance," said Yeung.

The latest crackdown had an immediate impact on others. Chinese-language newspaper Ming Pao, now seen to be one of the most critical Chinese dailies in the absence of Apple Daily and its ilk, recently added a disclaimer to its opinion pieces. It stresses in these pieces it "absolutely has no intention to incite others to bear hatred, dissatisfaction and hostility against the government of other social groups".

But Yeung and his colleagues did not think such declarations were adequate protection.

"With what happened to Stand News, it is hard to rule out many possibilities. Nor is it possible for us to grasp where the fault line lies. By the time we find out, it may be too late," he said.

However, media experts have pointed out that media laws in many other democracies did not recuse publishers from legal liability over the opinion pieces they published.

Among them, Peter Kwan Wai, associate dean of Chu Hai College of Higher Education's department of journalism and communication, said media outlets had the power to choose who and what to be quoted, unless it was a live programme.

"It has a gatekeeping ability and when you are the gatekeeper, you have the accountability," he said.

Beyond the issue of legal liability, though, the stark reality is the impact of the latest arrests would make publishers be more circumspect and risk self-censoring to avoid trouble with the law.

Whither the media in Hong Kong?

Given the troubling developments on one side of the media landscape, it would appear the other side, those of the pro-Beijing voices like Dominic Lee are gaining traction. They have moved on to the internet to target their supporters, taking on the tactics of their pro-opposition rivals. Some take the shape of an online news portal like Stand News, while others like Lee post YouTube videos.

More traditional pro-Beijing newspapers such as Ta Kung Pao and Wen Wei Po, meanwhile, have become more vocal in taking on already embattled opposition groups or taking apart arguments they found to be critical of Beijing.

On the other side of the divide, those who know their opinions will make them a target have moved overseas to run their YouTube channels or pages on Patreon, a platform allowing the creator to charge for the content. But they tend to be view-based, sometimes featuring conspiracy theories, a favourite theme they share with the other side, but of course with completely diametrical conjectures.

Smaller crowdfunded online news portals such as Inmedia have remained afloat alongside traditional media outlets. But experts like Lee from CUHK did not see major news outfits based on crowdfunding like the way Stand News and Citizen News did – which supporters believed gave them editorial independence – emerging any time soon to fill the vacuum.

Lee said he saw the future news media landscape in the city as one that would be more wary of politically sensitive topics, with more hurdles appearing to thwart investigative reporting.

There was no doubt press freedom had been adversely affected, he said. "But does that mean that there is no room for any meaningful news reporting? That may not be the case," he said.

Traditional media outlets, shunned in recent years by some for being too safe and strait-laced, still had a role to play, he and others said.

The scholar suggested there could still be room for coverage on social issues, such as health, housing and environment, if the authorities were not too thin-skinned and allowed critical reporting on policies.

"Press freedom is strictly speaking not an all-or-nothing thing. There are still professionals trying to do their professional work under constraints," Lee said.

"What will happen to and at Ming Pao, Hong Kong Economic Journal and the South China Morning Post would be an indicator of how much and what forms of remaining press freedom will there be for the press," he said, referring to the three publications known for their conventional journalism approach, as opposed to some of the new advocacy journalism seen at Stand News.

But Ming Pao received a warning shot last week, as a Wen Wei Po commentary accused it of "stepping in Apple Daily's shoes" to incite hatred among the public for publishing an opinion piece by a former university don alleging authorities had cracked down on intellectuals using the national security law. The Wen Wei Po article accused the paper of allowing incendiary language by a professor who it said had a pro-independence stance.

Chief editor Chan Kam-keung of Ming Pao said the publication declined to comment.

Legislator Kenneth Fok Kai-kong, for the sports, performing arts, culture and publication sector, urged the public "not to draw simple conclusions" on the future of the media in the post-national security law era.

"I would like to take this opportunity to stress my views that the protection of national security is of utmost importance to Hong Kong and our country," he said, adding he looked forward "to the government and the relevant department proactively engaging with members of the press and public at large, to educate them regarding how not to violate this relatively newly enacted law".

At a personal level, some journalists confessed to feeling defeated and were opting out of the industry. These included not just those left without jobs because of the closures, but also those who said they felt the public broadcaster, RTHK, which was reined in after being seen as being pro-protesters during the 2019 anti-government social unrest, was no longer a place they could relate to. Yet others include those not in the direct line of fire, such as breaking news reporters Matthew Leung Ming-hong. He left Hong Kong on Friday last week after quitting his job at Ming Pao.

He said he was disillusioned following his recent experience to cover wild boars wandering in the city, a story that made headlines in November after the government changed its neutering policy to one involving catch-and-kill.

"They kept the reporters from more than a 100 metres away. Things like these will only happen more and more often," said the 29-year-old, complaining about what he felt were yet more rules imposed on the media amid a shrinking room to report.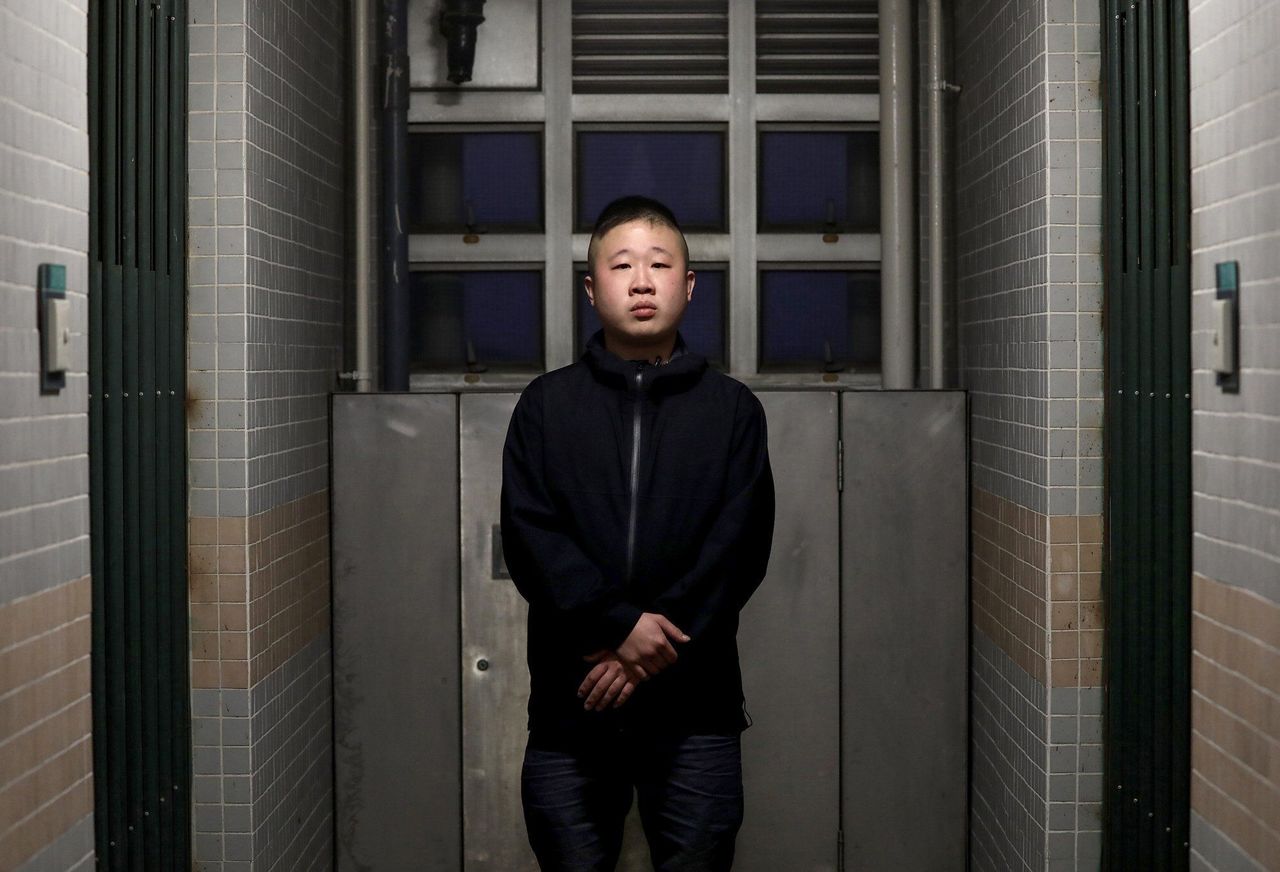 Journalist Matthew Leung left Hong Kong after quitting his job at Ming Pao.

With the recent arrests, he said, there was also no telling how far the authorities would go, whether they would stop just at the publisher or go after individual reporters.

While Leung's sentiments might be shared by others, government officials like Lam have cited other figures to suggest all was still well with the media scene. She said the number of press outlets registered with the government had been on the rise, going from 196 in 2019 to 211 last year.

Lam said since the national security law was implemented, the number of registered local media had also climbed 5.4 per cent, while that of foreign media had jumped by 9.5 per cent. Mainland media in the city, however, were in decline, she said, without providing figures.

The Post found that out of the 31 new outlets on the government's list since 2019, 11 appeared to be publications aligned with the authorities' stance. One, China Town News, publishes in simplified Chinese, the characters used on the mainland, as opposed to the traditional variation seen in Hong Kong.

Even as the government seeks to reassure the public that the media environment is not being shrunk and freedoms curbed, another impending law to combat fake news has left many worried. And last week, in response to a question in the Legislative Council, Lam said the government would study a piece of Singaporean legislation on curbing foreign interference, which critics had warned could stifle freedoms.

On the fake news law, Keith Richburg, director of the Journalism and Media Studies Centre and professor of practice at the University of Hong Kong, said: "We have seen how such laws have been used in other places where authoritarian governments simply want to stamp out critical coverage."

The imposition of such laws aside, the future of two media advocacy groups has also left those in the industry feeling fearful. The HKJA has been on the receiving end of attacks by the pro-Beijing press for siding with violent protesters. The city's Foreign Correspondents' Club (FCC) will have its lease at its prime Central location expire this year, usually a non-issue. But the lease renewal has been a concern after the club was denounced last year by the foreign ministry commissioner in the city for "sowing discord".

Local journalists said they faced mounting challenges in talking to sources, who were less inclined to open up, on top of dealing with the risk of prosecution for using public registers to do investigative reporting. Over the past two years, the government has charged two journalists for tapping vehicle registrations for reporting purposes and placed new restrictions on a string of databases containing information such as personal details of company directors.

Foreign journalists have seen instances where their fellow colleagues failed to renew their visas in the city, most recently the non-renewal of the papers for Australian journalist Wong Sue-lin, who works for The Economist.

The New York Times downsized its operations in Hong Kong and moved its digital news unit to South Korea two years ago.

But Beijing's Foreign Ministry spokesman Zhao Lijian said late last year that Hong Kong's immigration figures still showed the number foreign nationals hired by foreign media outlets in Hong Kong stood at 628 as of April, up by 18.5 per cent from the same period of 2020.

Richburg, who heads the FCC, seemed to agree: "So far there hasn't been a mass exodus or even a slow trickle out among foreign reporters."

Others point to Hong Kong's future by looking to Singapore, which puts a tight grip on the press, yet remains a popular base for some foreign news outlets with an eye on its finance industry and geographical proximity to the rest of Asia.

The question will be whether foreign news outlets will be comfortable treating Hong Kong like Singapore, at the expense of critical coverage on the city and even the mainland.

But for now, foreign journalists appear to be already seeing an advantage in preferring Singapore over Hong Kong.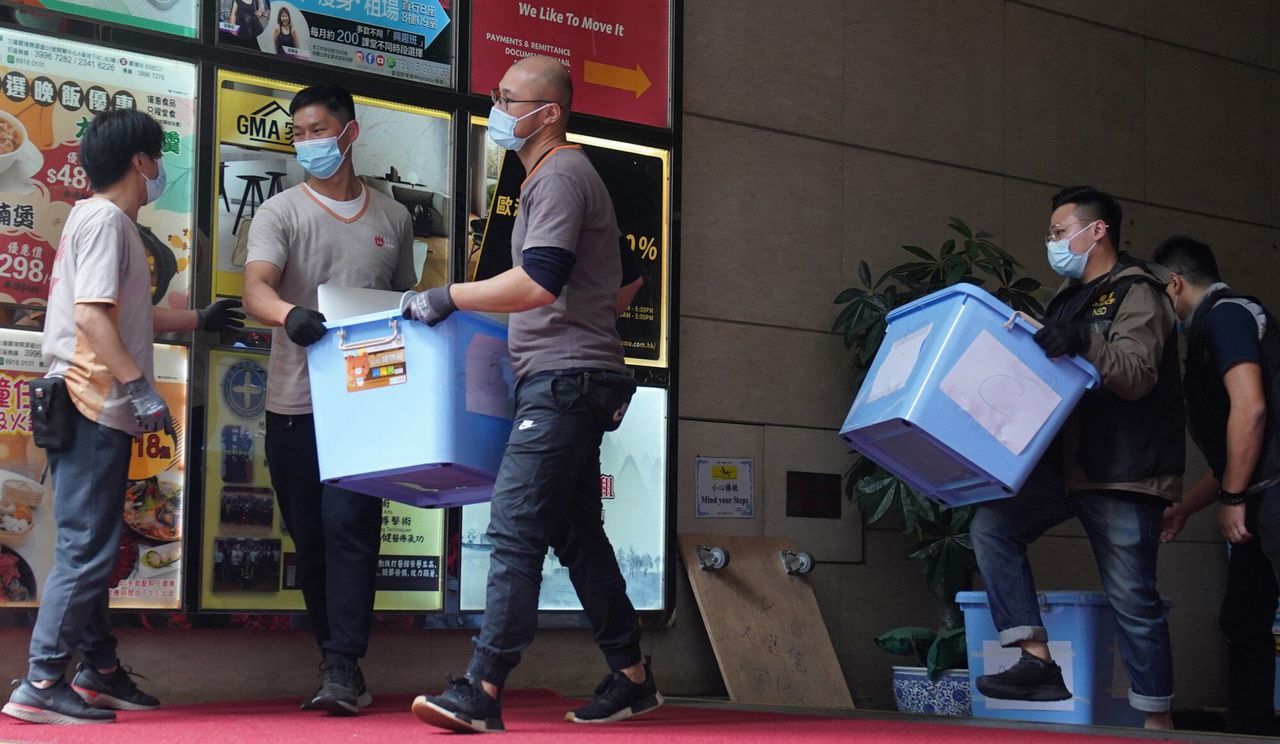 Hong Kong police raid the office of Stand News at the Hoi Luen Industrial Centre in Kwun Tong on December 29.

The city's "zero case" pandemic policy to prioritise the full reopening of travel to the mainland over the rest of the world has had a bearing on their decision to remain, according to foreign journalists the Post has spoken to.

"For journalists who are supposed to be covering the region, Hong Kong is less attractive as a base if you cannot fly in and out without being subjected to a 21-day hotel quarantine," Richburg said.

For Chan, from Stand News, the future remains fraught with uncertainty.

"If you tell me now that I will never get to become a journalist again, I would find it very painful," he said.

He said he had taken a bet on the "one country, two systems" governing principle which grants Hong Kong a high degree of autonomy, including press freedom, by remaining in the city.

"But it all depends on how Hong Kong will change. If it is of the opinion that people like me should no longer remain in the news industry, then there is nothing I can do as I am still in Hong Kong," he said.

Lee, from CUHK, said the outlook might be grim but it was far too early and simplistic to write off Hong Kong media or the relative freedoms it still had.

"It may sound like a cliché, but we will have to wait and see," said the scholar.