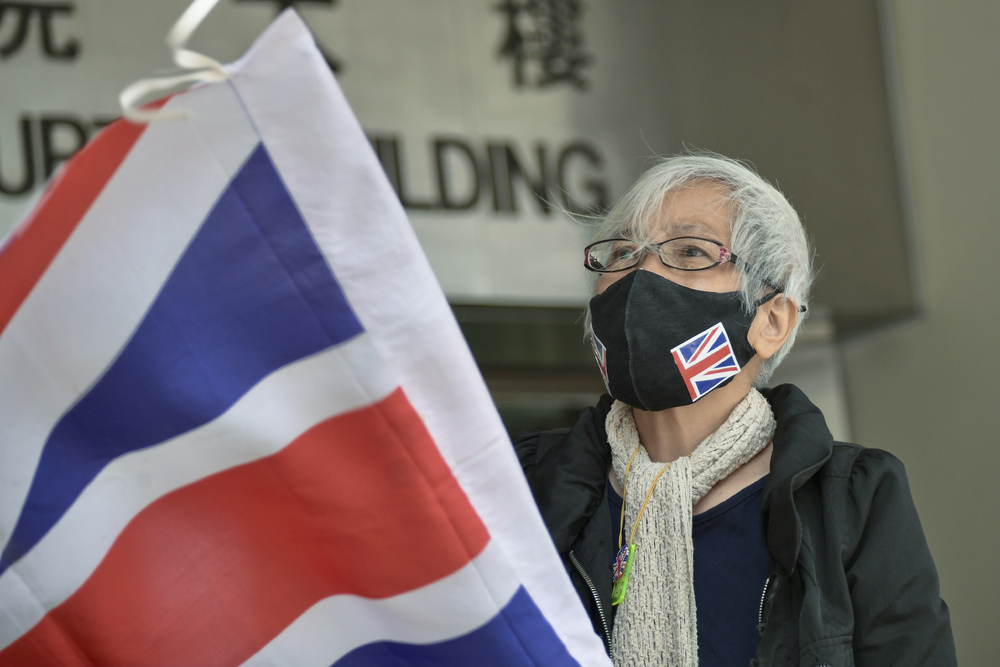 Activist 'Grandma Wong' jailed 32 weeks over 2019 MTR protests
An elderly activist affectionately dubbed "Grandma Wong," who frequently appeared in pro-democracy protests in 2019, was on Wednesday jailed for 32 weeks over two unlawful assemblies in two MTR stations.
Alexandra Wong Fung-yiu, 66, stood trial before principal magistrate Ada Yim Shun-yee in Eastern Magistrates' Courts today.

She had earlier pleaded not guilty to two counts of participating in unlawful assembly for the two unlawful assemblies that took place at Exit A of Quarry Bay station and Exit C of Tai Koo station on August 11, 2019.

Yet, she suddenly changed her mind and entered a guilty plea when a witness was testifying in court.

"This trial proceeds at the speed of a turtle, and it's pretty hard for me to not die in prison," Wong said. She also recalled when she returned to the mainland two days later, she was remanded in custody by police for about 50 days.

She also yelled: "Thank merciful 'Great Grandma' for not killing me!" after Yim handed down the jail term.

When handing down the sentence, Yim said Wong being remanded in the mainland couldn't be a mitigation factor that calls for a lenient sentence because this case occurred in Hong Kong.

The record showed that Wong was not prosecuted in other regions over this case, Yim added.

Yim started Wong's jail term at 40 weeks and reduced it by one-fifth to 32 weeks for Wong pleaded guilty during the trial. The jail term for both charges will run concurrently.

Wong admitted the summary of facts today that she, alongside about 100 protesters, assembled unlawfully at Exit A of Quarry Bay station at about 10pm that day.

Protesters set up roadblocks using umbrellas and fences detached within the station, shot water at police with the fire hose, and "fired" their laser pointers at officers. Wong was waving a British flag at the time.

Later, a police report said protesters took the train and participated in another unlawful assembly at Exit C of Tai Koo station around 10.40pm.

The security footage from the train station and Kornhill Plaza captured Wong flying the British flag while stepping out of the station. Wong then joined protesters on Kornhill Road and occupied the driving lanes there.