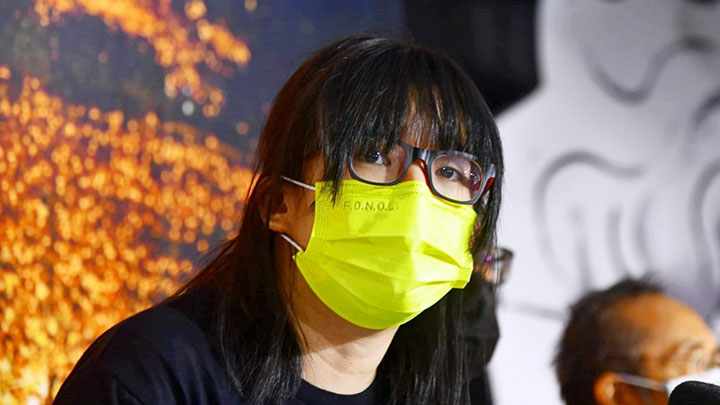 Activist charged under NSL wins appeal to have media report on court proceedings
The High Court quashed a court reporting restriction for a landmark national security case involving Tonyee Chow Hang-tung, the former vice chair of the now-dissolved Hong Kong Alliance in Support of Patriotic Democratic Movements of China.
The 36-year-old activist, who was earlier charged with subversion of state power, was sentenced to 15 months in jail by Magistrate Amy Chan Wai-mun at the West Kowloon Magistrates Courts in January this year after being convicted of one count of incitement to knowingly take part in an unauthorized assembly in Victoria Park for a June 4 vigil.

On February 14, 2022, Chow made an application to the magistrate asking that the court reporting restrictions about her case under s87A(2) of the Magistrates Ordinance be lifted; however, the application was refused by Principal Magistrate Peter Law Tak-chuen on April 25, 2022, according to the judgment by the High Court.

Chow then sought to challenge Law's decision by applying for leave for judicial review.

The High Court Judge Alex Lee Wan-teng ruled today in favor of Chow's application and overturned Law's decision, asking him to grant an order that Law shall lift the reporting restrictions when handling Chow's next application, which will allow open reporting of pre-trial proceedings – known as committal hearings - in a Hong Kong national security case for the first time.

In the judgment, Lee mentioned the magistrate had no discretion but to lift the reporting restrictions when the applicant made a request under s87A(2), and Law's denial would impede a fair trial and that the application was ultra vires.

"I am inclined to the view that a magistrate presiding over committal proceedings should not refuse to accede to the application of an accused under s87A(2) unless such refusal is 'strictly necessary' in the interests of justice," said Lee.

Lee also said the court "rejects" a contention by Hong Kong's Secretary for Justice that lifting the reporting restrictions "would frustrate the ultimate aim of doing justice."

It was unclear whether the justice department or prosecution would appeal against the judge's ruling.

The case involves three former leaders of The Hong Kong Alliance in Support of Patriotic Democratic Movements of China - Chow Hang-tung; Albert Ho, 70; and Lee Cheuk-yan, 65 – who are charged with inciting subversion of state power under the China-imposed national security law.

Since the trio was arrested last September, they've been denied bail, and none other than basic details from numerous court hearings have been allowed to be reported so far.

Lee ordered the magistrate to remove the reporting restrictions at the next hearing -- set for Aug. 17.