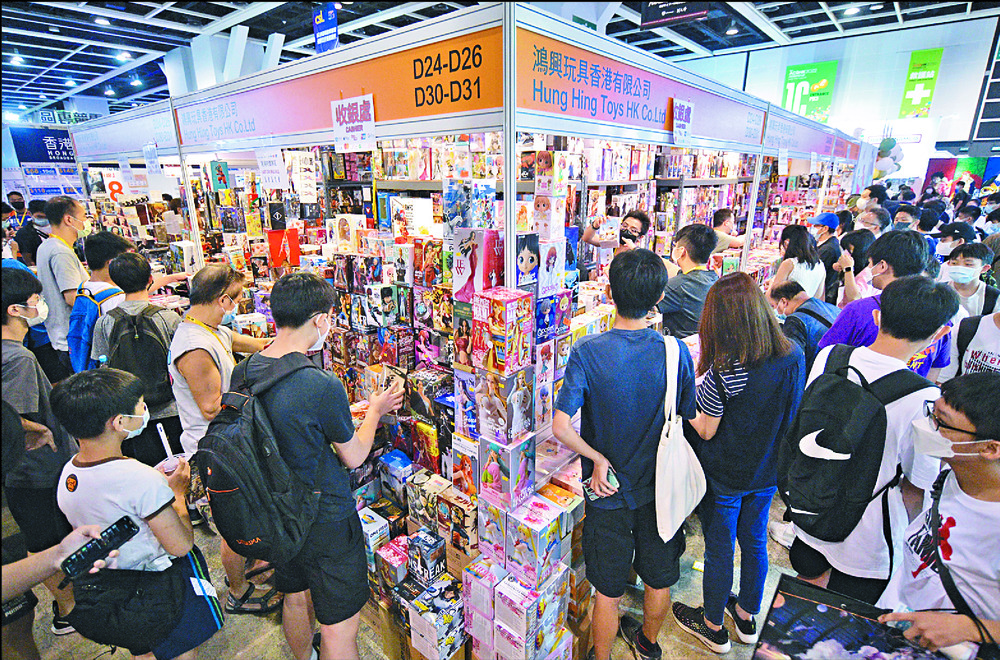 Action-packed Ani-Com comes to a close
Exhibitors at the 23rd Ani-Com and Games Expo saw more visitors and increased sales compared to last year, with one exhibitor saying it saw a 4 to 6 percent increase in sales this year.
Even on its fifth and final day, Hong Kong's annual Ani-Com and Games Expo was buzzing with excitement, bringing cosplayers, anime fans and gamers together.

Over 100 people were queued outside the Hong Kong Convention and Exhibition Centre in Wan Chai yesterday as the convention came to a close, including a primary school student who came at 6am wanting to buy figurines at discounted prices.

One visitor said he wanted to buy limited-edition figurines after already having spent HK$1,500 on goods.

Hundreds of anime and comic enthusiasts - some in costume - queued outside the HKCEC the night before the convention's opening on Friday to secure tickets.

The annual ACG convention is Hong Kong's largest event for fans of anime, comics and video games to express their love for their favorite characters, as well as for exhibitors and toy manufacturers to sell figurines, artwork and games.

Figurine exhibitors said although sales were similar to last year, there has been an obvious surge in the number of visitors.

Expo organizers said over 10,000 people visited every day on average.

More than 700 exhibitors participated in this year's Ani-Com, with 200 booths at the convention's "Doujin Zone." ACG mainstays Marvel and Transformers were on full display, while newer titles including cat simulator Stray, fan-favorite Spy x Family and action-packed anime Jujutsu Kaisen were clear winners this year.

The convention had a full slate of events yesterday, including meet-and-greets, the Gundam Builders World Cup prize presentation, cosplay events and a VTuber streaming performance rounding out the 2022 convention.

There wasn't a dull moment throughout the five-day convention, with e-sports tournaments, cosplay competitions and NFT art contests lined up one after another.

The convention grounds were also rife with parody - one of two cosplayers came dressed as a beheaded Teletubbies figure, with the duo recreating the moment when a child accidentally pushed over and broke a 1.8m-tall Teletubbies statue that cost more than HK$52,000 earlier in May.