Think tank's green paper proposes public housing swap between retired and working age to bring workers closer to city centre.
A transfer scheme to allocate Hong Kong public housing in outlying areas to the retired and move people of working age closer to their workplaces in the city has been proposed by a group of economists.

Professor Richard Wong Yue-chim, the provost and deputy vice-chancellor of the University of Hong Kong (HKU), said the working status and economic activity of households should be taken into account in transfer and rehousing allocations.

Wong explained that a unit exchange scheme for tenants to exchange homes at their convenience would increase the usefulness of public housing.

"I don't see the working class spending a few hours commuting to work as productive. It's all about how to utilise housing resources," he said.

The proposal, drawn up by 11 academics, was part of the University of Hong Kong Business School's "Hong Kong Economic Policy Green Paper 2022", released on Thursday.

The paper offered recommendations to help boost the economic development of Hong Kong.

It proposed a solution to the problem of misallocation of public housing resources through a transfer scheme placing new applicants where the household was made up of retirees aged 60 or more, or those who were otherwise not working, in flats in areas further from the centre of the city and allow those with long-term employment the chance to live nearer to their workplaces.

The Hong Kong Housing Authority had received about 144 200 general applications for public rented housing by June this year, and about 98,400 non-elderly one-person applications under the quota and points system.

The average waiting time for general applicants in the past 12 months was six years and for elderly one-person applicants the wait was 4.1 years.

The green paper also proposed the establishment of "silver estates" for the retired in the Greater Bay Area, so that their Hong Kong public housing flats could be reallocated to members of the city's labour force to boost productivity.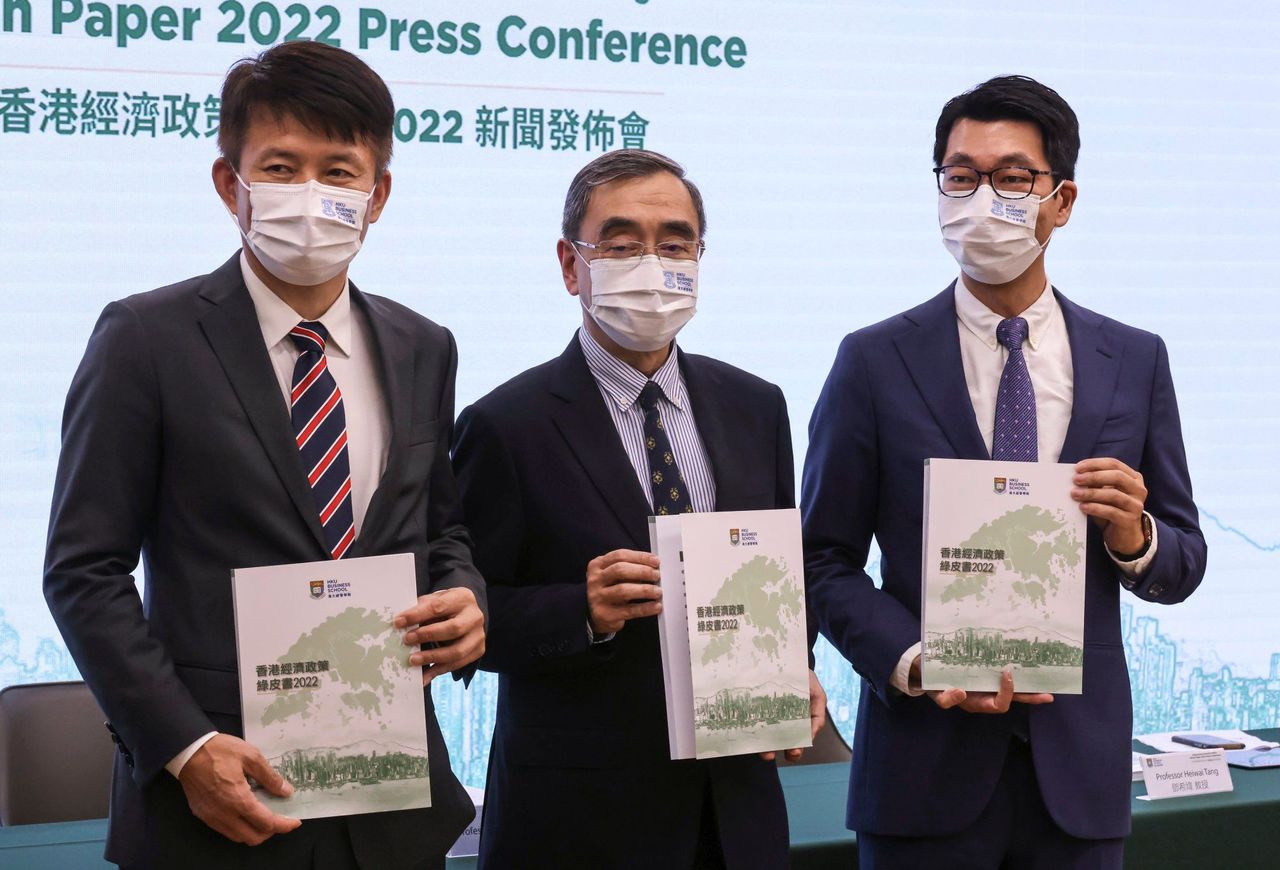 (L to R) HKU Business School dean and chair of economics Cai Hongbin, provost and deputy vice-chancellor of HKU Richard Wong, and Tang Heiwai. the HKU Business School Victor and William Fung professor in economics launch a green paper on economic policy for the city.

But Scott Leung Man-kwong, a lawmaker and the vice-chairman of the Federation of Public Housing, said the proposal would only work if public rented housing units were more evenly distributed across the city's districts.

"It could possibly work if there are enough public rented housing supplies and evenly available job opportunities in each district, otherwise the allocation would be further imbalanced," Leung said.

He added the proposal might be more suitable for the comprehensive development of some areas.

"For example, there will be different industries and job opportunities in the Northern Metropolis in the future," Leung explained. "That proposal might work there because people can live near where they work. But it all depends on the plan of the administration."

The green paper also suggested the government should consider selling public housing to sitting tenants at low prices and allow buyers to lease out units without the need to pay the land premium.

They said that would ease the problem of subdivided flats in the city, where many people lived in substandard, privately-owned properties.

The school also tackled Hong Kong's economic reliance on finance and real estate.

Heiwai Tang, a professor in economics at HKU Business School, said the twin pillar economy approach caused a severe development imbalance.

"Hong Kong's increasing specialisation in finance and the real estate sectors have contributed significantly to the rise in income and wealth inequalities in the city," Tang said. "A more diversified economy would help foster sustainable and inclusive economic growth in Hong Kong."

Tang explained Hong Kong was on the path to re-industrialisation and innovation, but that the city still faced a series of problems.

These included competition from other cities, attracting talent, the high cost of labour and land, high housing and rented costs, as well as the lack of a research and development culture in an economy dominated by financial and professional services.

He added re-industrialisation was an essential step to diversify the city's economic base and help complete an environment suited to scientific research, which would boost the city's role in the development of an international innovation hub.

The Housing Department said that "public rental housing units are a limited public resource, which should be allocated in a rational and equitable manner for those in genuine need".