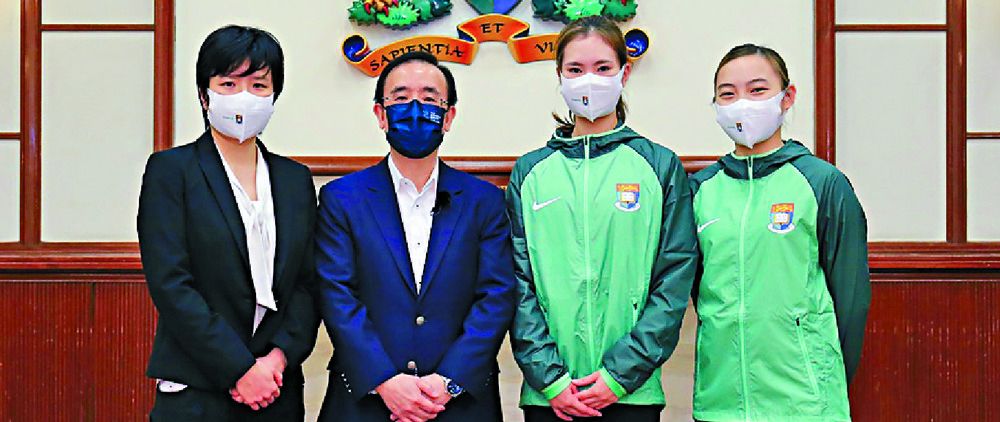 Academics 'come second' in HKU elite athlete scheme
The University of Hong Kong aims to admit five athletes through a top athletes direct admissions scheme in the next academic year - a scheme that will focus on sports achievements instead of academics as the main criteria.
The university will provide scholarships and subsidies for sports training and flexible study arrangements through the scheme, aiming to foster a "dual development environment."

Bennett Yim Chi-kin, director of undergraduate admissions, said: "HKU hopes to empower young athletes ... so that they will not lose the opportunity to study at a university because of their dedication to sports."

From yesterday till February 14, athletes who have achieved outstanding performance in large-scale competitions and were nominated by the Hong Kong Sports Institute or other sports associations can apply through the HKU website.

Athletes will compete for a slot in four programs - Bachelor of Arts, Bachelor of Business Administration, Bachelor of Science and Bachelor of Social Sciences.

The selection committee is composed of the director of the center for sports and exercise, the dean of student affairs and two members of the teaching staff. Two members from the sports sector will also be on the committee.

Results will be announced between March 21 and March 25.

"It is a breakthrough and our first time admitting students based on sports achievements and not academic merit. We are expecting applicants from various backgrounds including retired athletes," Yim said.

A similar HKU admissions scheme, the sports scholarship scheme, was launched in 1995.

Last year, 28 student athletes were admitted through the scheme. They were offered a total scholarship sum of HK$500,000 .

Unlike the new top athletes direct admission scheme, athletes in the sports scholarship scheme were also assessed by their academic performance.

Yim said the university is seeking to offer athletes in the new scheme a similar amount in scholarship funds.

Meanwhile, the number of students taking the Hong Kong Diploma of Secondary Education exams in the coming April has slumped to a record low, with only 50,064 candidates taking the university entrance exam - a drop of 3.5 percent from last year.

Around 43,000 school candidates and 7,000 private candidates applied for the public examination this year.