Hong Kong Free Tours takes people to various places significant to the local LGBT community; stops include Court of Final Appeal and Lan Kwai Fong.
Beneath a rainbow-coloured umbrella, tour guide Michael Tsang Chi-fai addresses a rapt audience about a four-hour walk ahead.

"We're going to visit different places you may have never been to, but they're each significant to the LGBT community," he said.

On a humid Saturday morning, more than 20 people gathered for a walking tour centred on the lives of LGBT people in Hong Kong, featuring seven different stops across Central.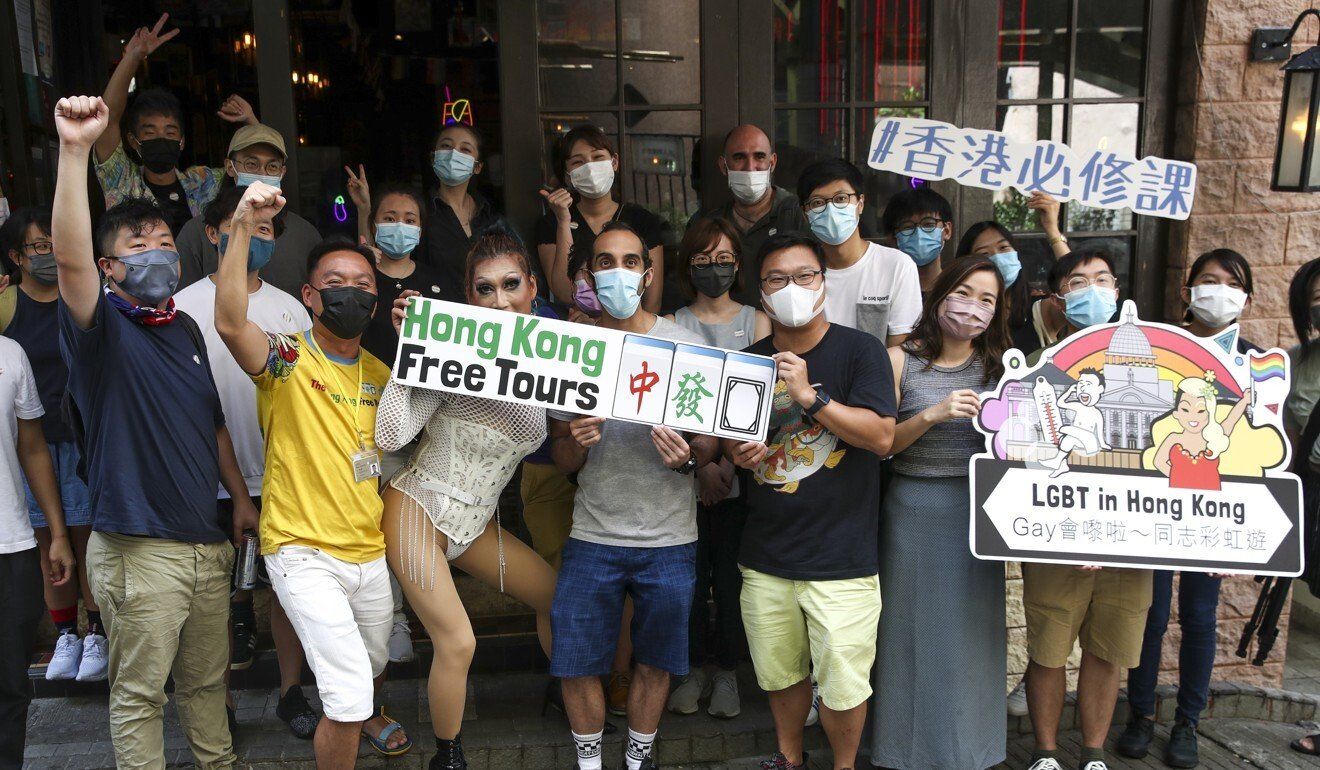 Participants of a Hong Kong Free Tours walking trip pose for a picture at Peak Cafe and Bar in Central after learning about LGBT rights in the city.

First up was the Court of Final Appeal, where Tsang noted that this year marked the 30th anniversary of a landmark decision in Hong Kong to decriminalise same-sex sexual acts conducted in private.

Tsang worked in the finance industry in the United States and the Netherlands before quitting his job to set up his company, Hong Kong Free Tours, in 2016.

Although the coronavirus pandemic put a dampener on business over the past year, the relaxation of restrictions in May on local tours prompted Tsang to develop new programmes.

"That's why we're introducing some of these new tours. There are things that interest tourists, but other things that interest locals," he said.

"We will take a deep dive into these topics, say historically what happened with LGBT rights, to provide proof that LGBT is not just a topic, not just regulations, but people with their own stories."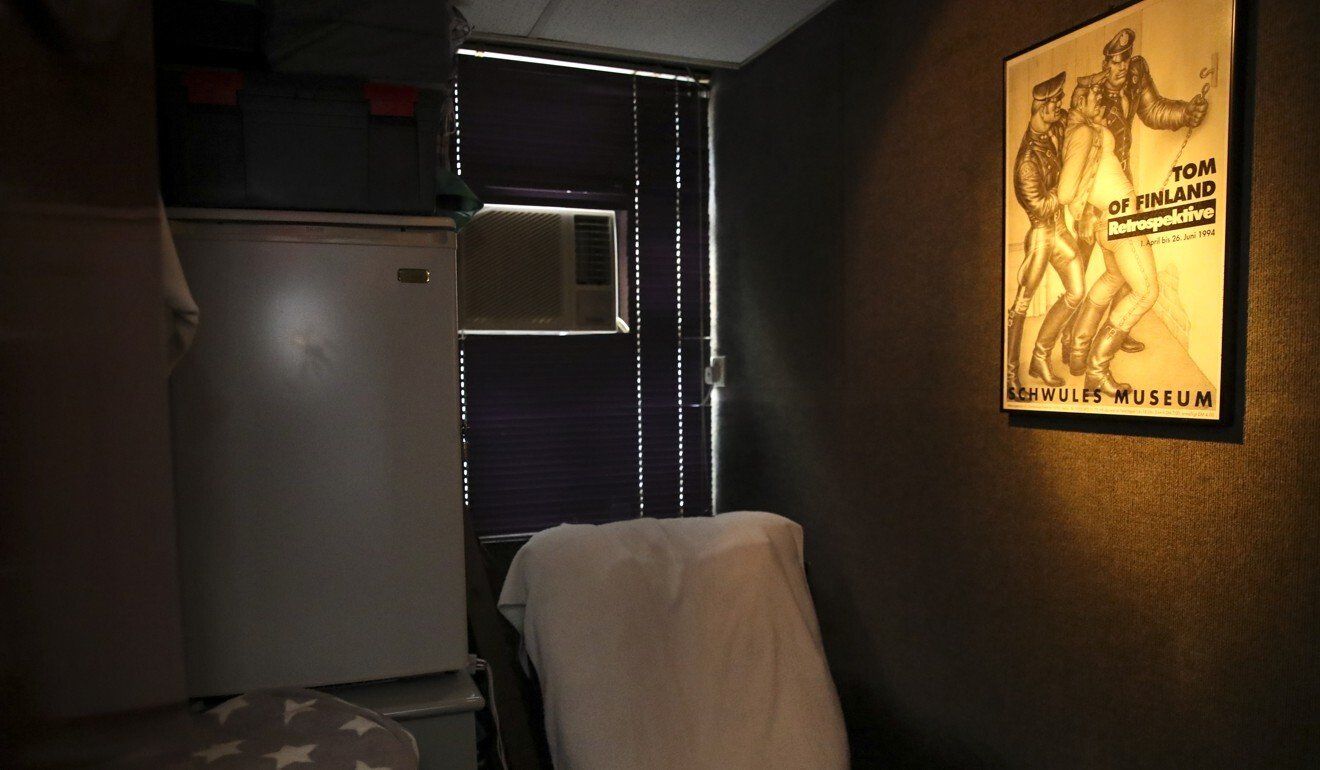 The interior of Central Escalator.

Another stop on the tour was St John's Cathedral. There, Joe Pang, a pastor from the Blessed Ministry Community Church, told the tour group about his work in promoting LGBT acceptance.

At Lan Kwai Fong, one of the city's main entertainment spots, Pang described the gay nightlife scene through anecdotes. A less conventional stop was the Ice House Street public toilet, where Pang relayed more sombre stories about the struggles faced by gay men.

Local comedian Vivek Mahbubani, who performs as "Ah V", joined the tour after learning about it from a friend.

"I'm always interested in minority communities, so basically something non-traditional, not your typical, 'this is what Hong Kong is all about'," said Mahbubani, who identifies as an ally of the LGBT community.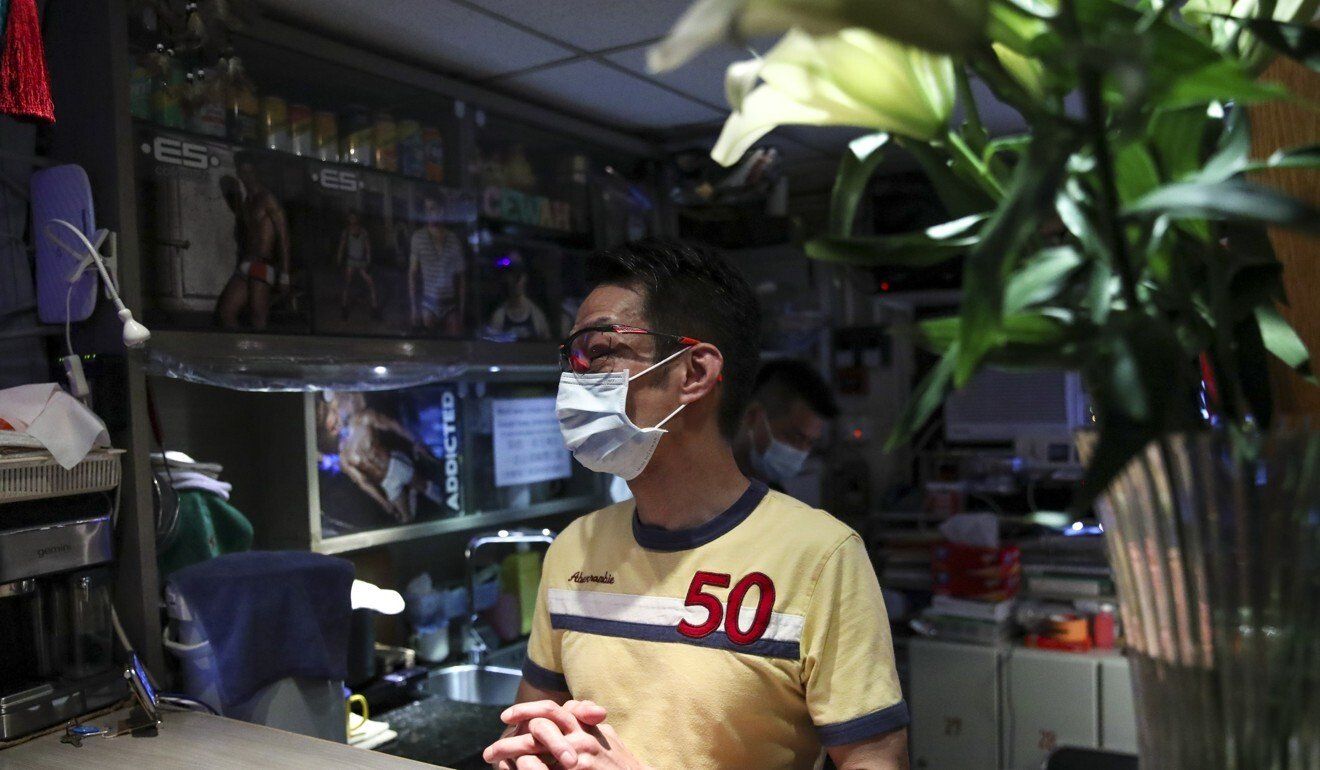 Ah Wah is the manager of Central Escalator, described as the 'go-to underground sauna' for gay men.

"[The tour] will make you rethink what you thought was your environment. I'm thinking, 'I know Central, I've been around here my whole life.' Yet there are still nooks and crannies I have no idea about."

A tour highlight is Central Escalator, which the guide described as the "go-to underground sauna" for gay men.

The sauna, located in Cheung Hing Commercial Building, is easy to miss from street level. Up a nondescript staircase, visitors can unwind in rooms with tubs, massage chairs and beds.

The sauna manager, who goes by Ah Wah, said he welcomed inquisitive tour groups that would stop by, often wondering what happened in the rooms.

"It's an open secret what goes on here," he said of the sauna.

Central Escalator typically bars women from entering, but made an exception for Hong Kong Free Tours.

When asked about the issue of inclusivity in LGBT saunas in the future, Ah Wah was optimistic.

"We've been asked, 'When will there be a lesbian sauna'? I think there's still room for growth," he said. "We will always be here."

Tsang led the group to the last spot, Peak Cafe and Bar, the temporary venue for gay-friendly club Petticoat Lane, which relocated during the pandemic.

General manager Justin van der Herwerden said he hoped greater engagement with the tour would bring in more business.

"People from all over, young, old, male, female, or different sexual orientations, people came to Petticoat Lane just to enjoy and have a good time … there was no judgment," he said.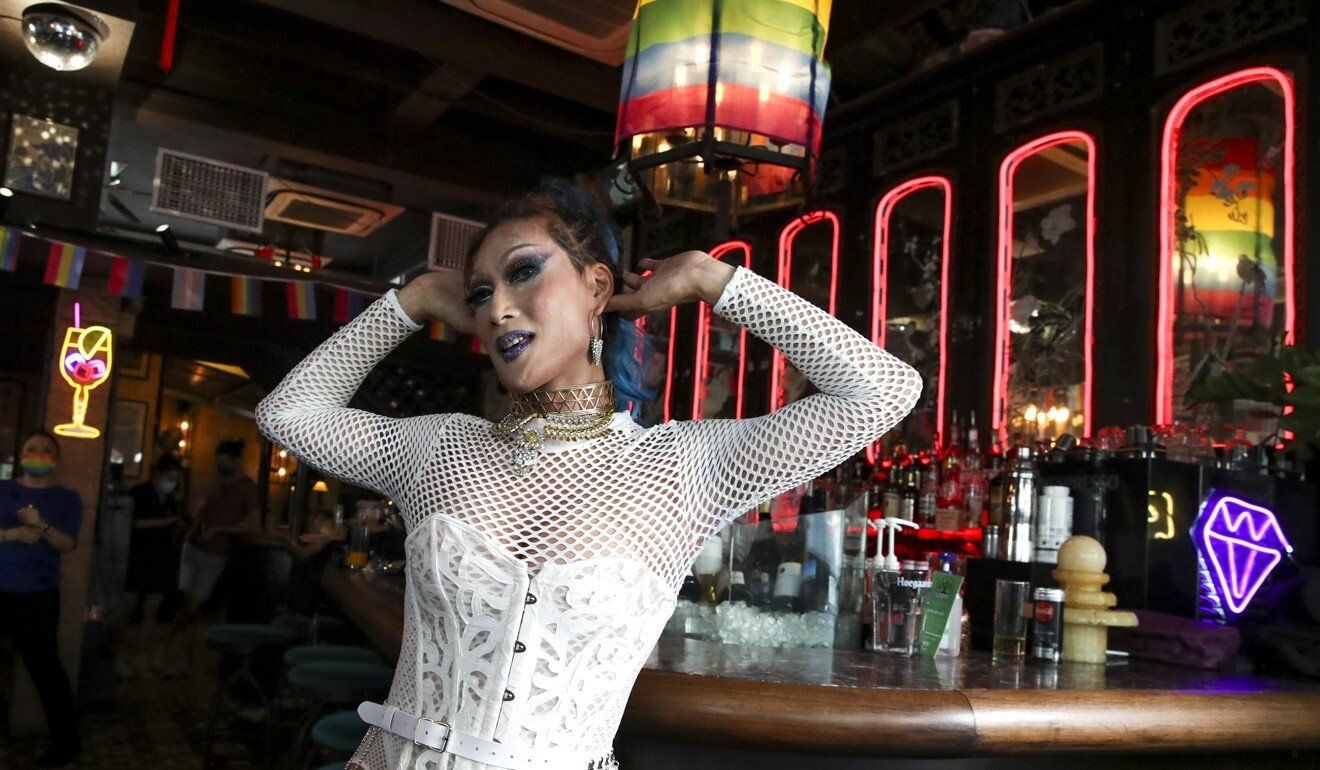 Drag queen MissTina UglyHaira.

As a finale, the tour members met drag queen Tina or "MissTina UglyHaira" – a play on the name of pop star Christina Aguilera.

Decked out in jewellery and make-up, Tina lip-synched while performing a dance routine at the front of the bar, interacting with audience members as she completed three effortless outfit changes.

Tina is the drag queen persona of Teddy Lau, Petticoat Lane's bar manager. Tina said her work as a drag queen inspired her to be more outspoken, especially with those who might be questioning their sexual identity.

"I really want to be able to tell young people that if you are gay, you are gay," Tina said. "It's more common for girls to be affectionate … for guys, it's tougher, but you can still have these feelings. You know the feeling is there, and in the end, just be yourself."