Jiang Zemin counted the city's return to Chinese rule in 1997 as among his proudest achievements.
No Chinese leader had set foot in Hong Kong for more than a century until then-president Jiang Zemin landed on the eve of the city's historic return to Chinese rule on July 1, 1997, with a strong pledge of non-interference in local affairs.

Jiang, the first Chinese head of state to visit Hong Kong, flew in on the afternoon of June 30 along with then premier Li Peng, Zuo Lin, widow of the late paramount leader Deng Xiaoping, architect of the "one country, two systems" governing principle, and other officials to mark the end of 156 years of British colonial rule.

He delivered a memorable speech stressing that the central government "will not and should not be allowed to intervene in matters that ought to be handled by the Hong Kong SAR".

The president declared: "This must be achieved and it will be achieved."

Jiang promised that Beijing would unswervingly implement the principles of one country, two systems, "Hong Kong people administering Hong Kong" and "a high degree of autonomy", and keep the city's socio-economic system and way of life unchanged.

At the ceremony marking the establishment of the Special Administrative Region the following day, Jiang presented his handwritten calligraphy titled "A better tomorrow for Hong Kong" to the city's first chief executive, Tung Chee-hwa.

The work still hangs on the wall of Government House, the city's leader's official residence.

Years later, Jiang – who died on Wednesday in Shanghai, aged 96 – counted the city's return to China in 1997 as among his proudest achievements.

He had spent years closely watching the city's transition before the handover, and had found close confidants in Tung and Li Ka-shing, one of Hong Kong's richest tycoons.

His close ties with Tung, son of influential Shanghainese shipping magnate Tung Chao-yung, were demonstrated in 1996 when Jiang crossed a crowded room to shake his hand at a meeting in Beijing preparing for Hong Kong's return.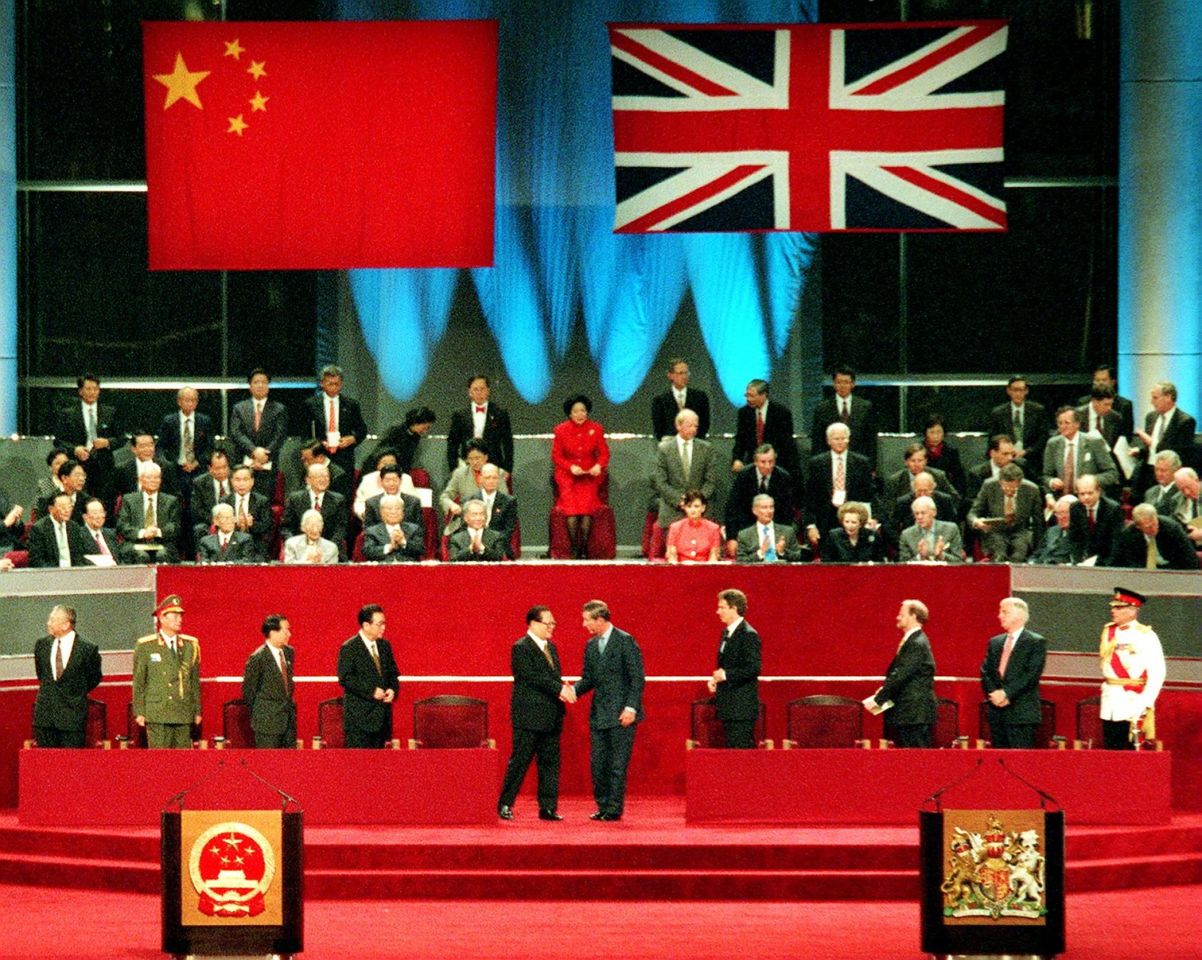 Jiang Zemin shakes hands with Prince Charles at the handover ceremony.
His trust in Tung was perhaps what gave him the confidence to adopt what political pundits billed as a "hands-off" approach to the city, though his commitment to a more freewheeling style could be traced back to the late 1980s.
Jiang was leader at a time when ties between China and the United States were at their best, which also allowed Hong Kong to benefit from the relationship.
In 1989, during a discussion on how Hong Kong could smoothly transition in 1997, Jiang famously quoted the Chinese saying "Well water does not mix with river water" to describe the one country, two systems model, suggesting the city should not interfere in mainland China's affairs and vice versa.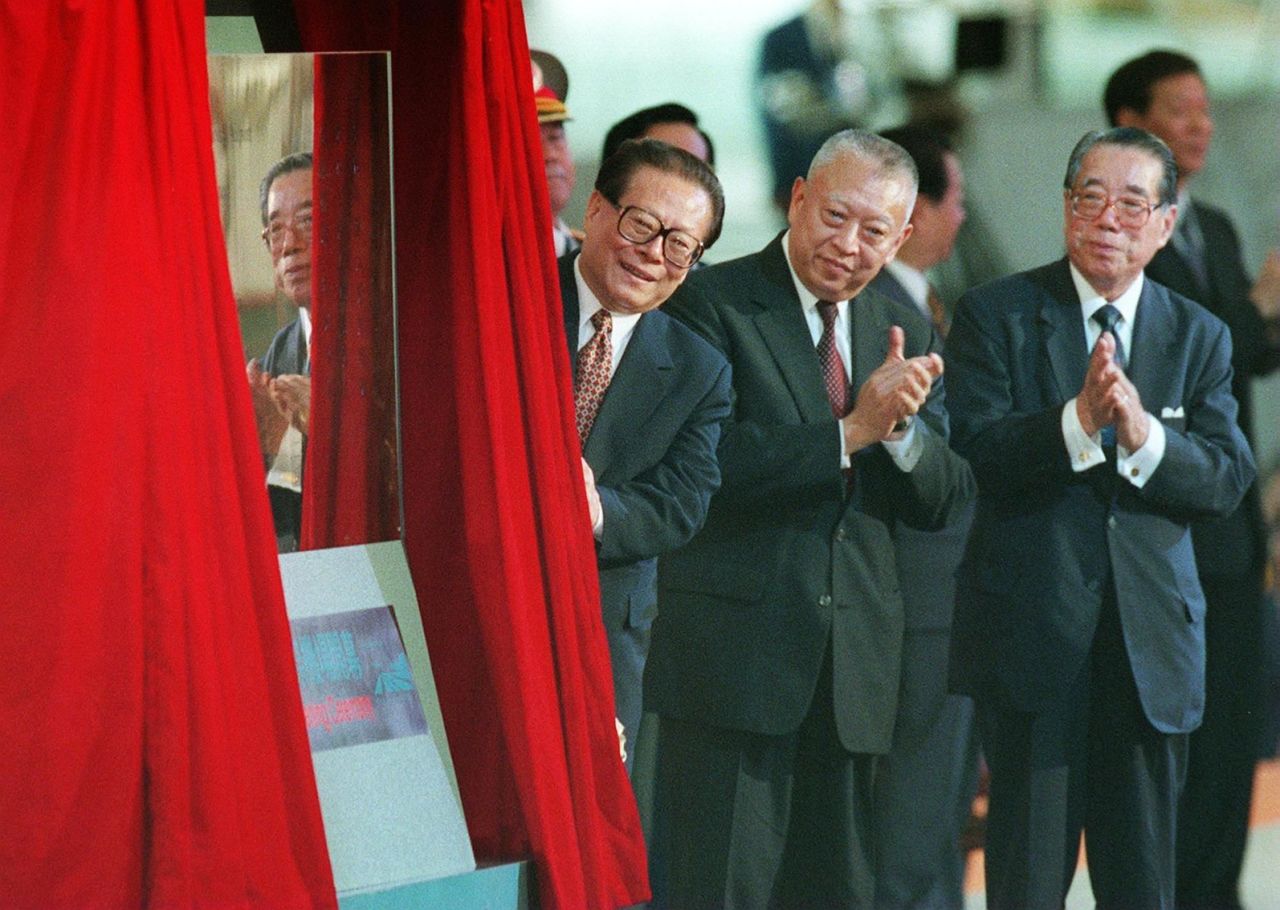 Jiang Zemin unveils a plaque marking the opening of Hong Kong International Airport in 1998. Photo

Under his "non-interference" governing philosophy, Jiang had also on a few occasions after the handover "warned" that mainland departments, provinces and municipalities must also abide by the Basic Law, the city's mini-constitution, and not interfere with affairs that Hong Kong could manage on its own.

Li Ka-shing's close ties with Jiang were also well-known. The tycoon played host during Jiang's visits to the city, with the state leader choosing to stay at a hotel owned by Li. The businessman had also publicly described Jiang and himself as "close comrades".

In a statement, Tung offered deep condolences over the death of Jiang.

The 85-year-old said he had always firmly believed Jiang was a great and wise politician and leader who successfully led the return of Hong Kong in 1997 and implemented the "one country, two systems, Hong Kong people governing Hong Kong" national principles.

A spokesman added: "Mr Tung will miss him."

Hong Kong leader John Lee Ka-chiu expressed deep sorrow over the passing of the former president, and changed the colour of his official website to black and white, as did other government ministers.

"Jiang was widely recognised as an outstanding leader with high prestige. He broke new grounds for the country's comprehensive reform and opening up … making great contributions to the realisation of the smooth return of Hong Kong and Macau," the chief executive said.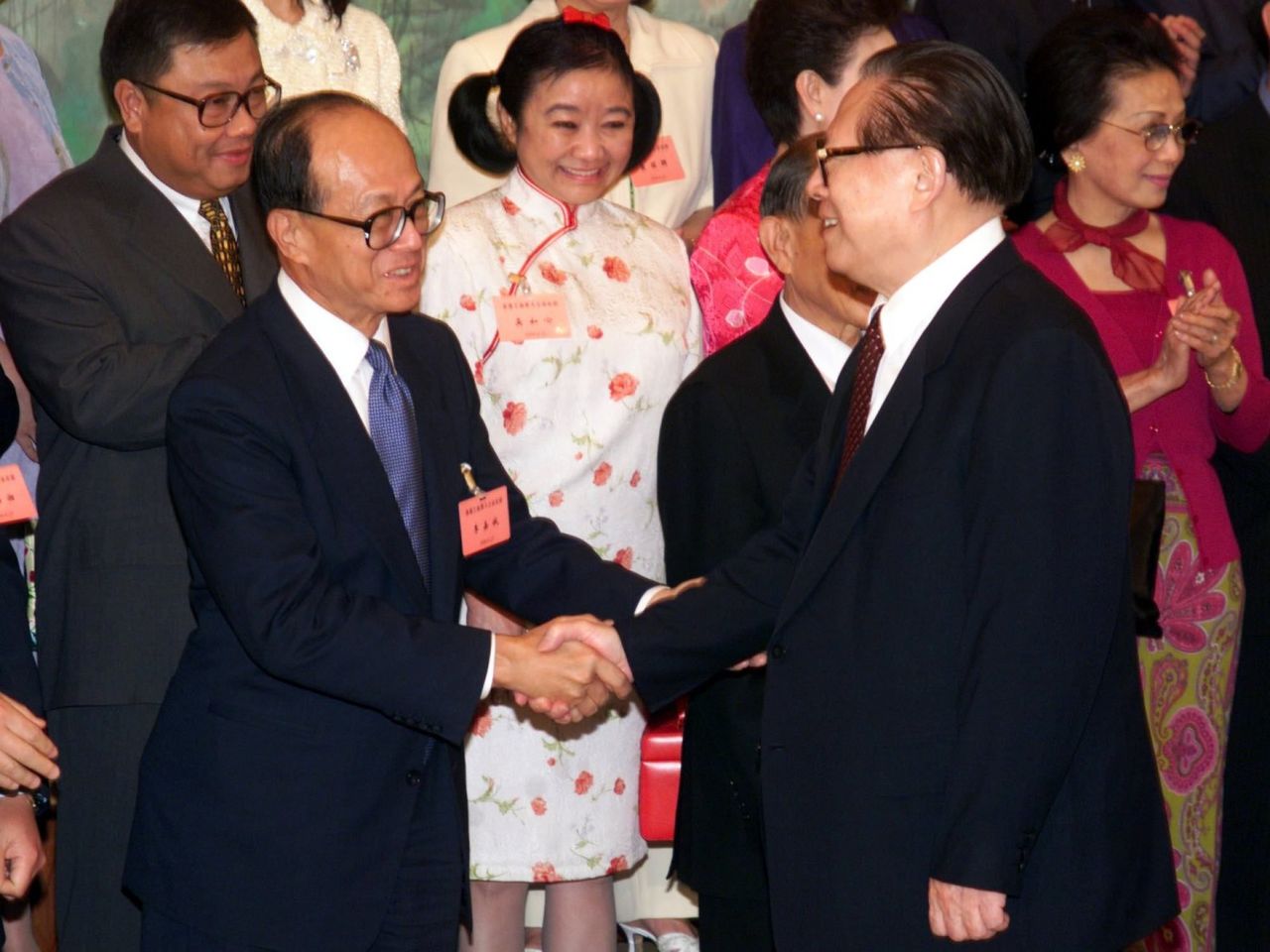 Li Ka-shing (left) meets Jiang Zemin in Beijing.

Former leader Leung Chun-ying also offered his deep condolences, saying that under Jiang's care and guidance, the city had overcome difficulties and obstacles and established the SAR in accordance with the Basic Law.

Tam Yiu-chung, the city's sole delegate to China's top legislative body, recalled a short encounter with Jiang at the Communist Party's centenary celebrations in July last year, saying the former leader's health was deteriorating. He praised Jiang for being easy-going, close to the people, and had always had Hong Kong close to his heart.

Veteran China watcher Johnny Lau Yui-siu said one country, two systems had its "golden era" between 1997 and 2003 while Jiang was leader.

"He succeeded with the policy approach laid down by the late paramount leader Deng Xiaoping in which Beijing adopted a hand-off approach. He was confident to let Hong Kong handle its matters on its own," Lau said.

"He wanted to demonstrate the success of the one country, two systems model to the world and showcase it to Taiwan."

Jiang, who spoke both English and Russian, was also known for his flair and did not mind veering off-script every now and then, unlike the often highly choreographed settings for his successors.

Many Hongkongers will recall his unexpected outburst at a group of local reporters in 2000, when he met Tung in Zhongnanhai.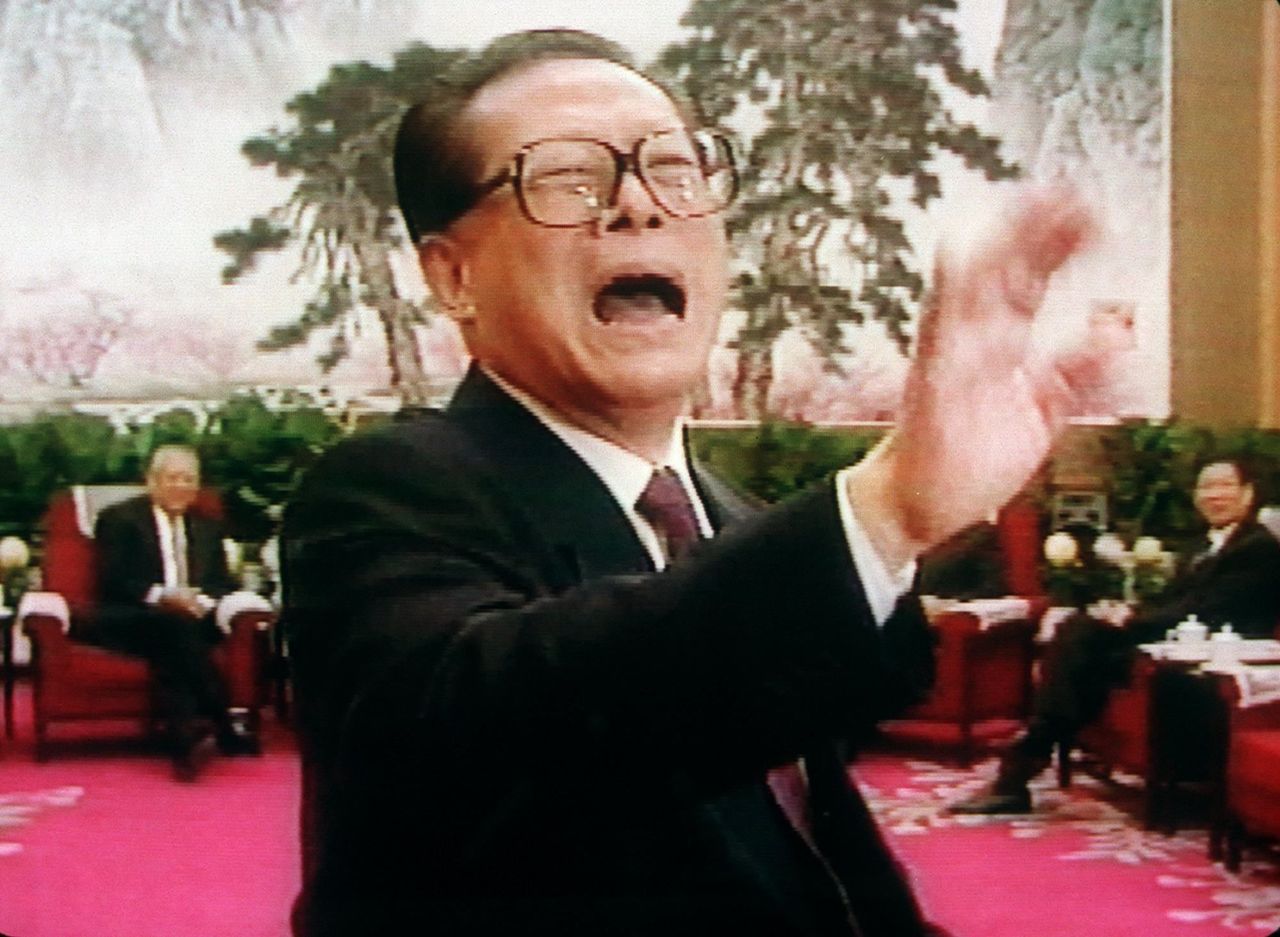 Jiang Zemin told Hong Kong reporters to step up their game in a famous outburst in 2000.

When asked if he had endorsed Tung for a second term before the election kicked off in 2002 by showing support for the city leader to run, Jiang left his seat to approach the reporters and lecture them.

He told them to step up their game and ask better questions, dropping the phrase he came to be remembered for the most in Hong Kong: "Too simple. Sometimes naive."

Sharon Cheung Po-wah, who had asked Jiang the question, recalled how journalists used to consider him "a great match" and found him a colourful leader to cover.

"He was the most enlightened leader. He had emotions, which made him real," she said. "He had the most displays of temperament [out of the Chinese leaders]."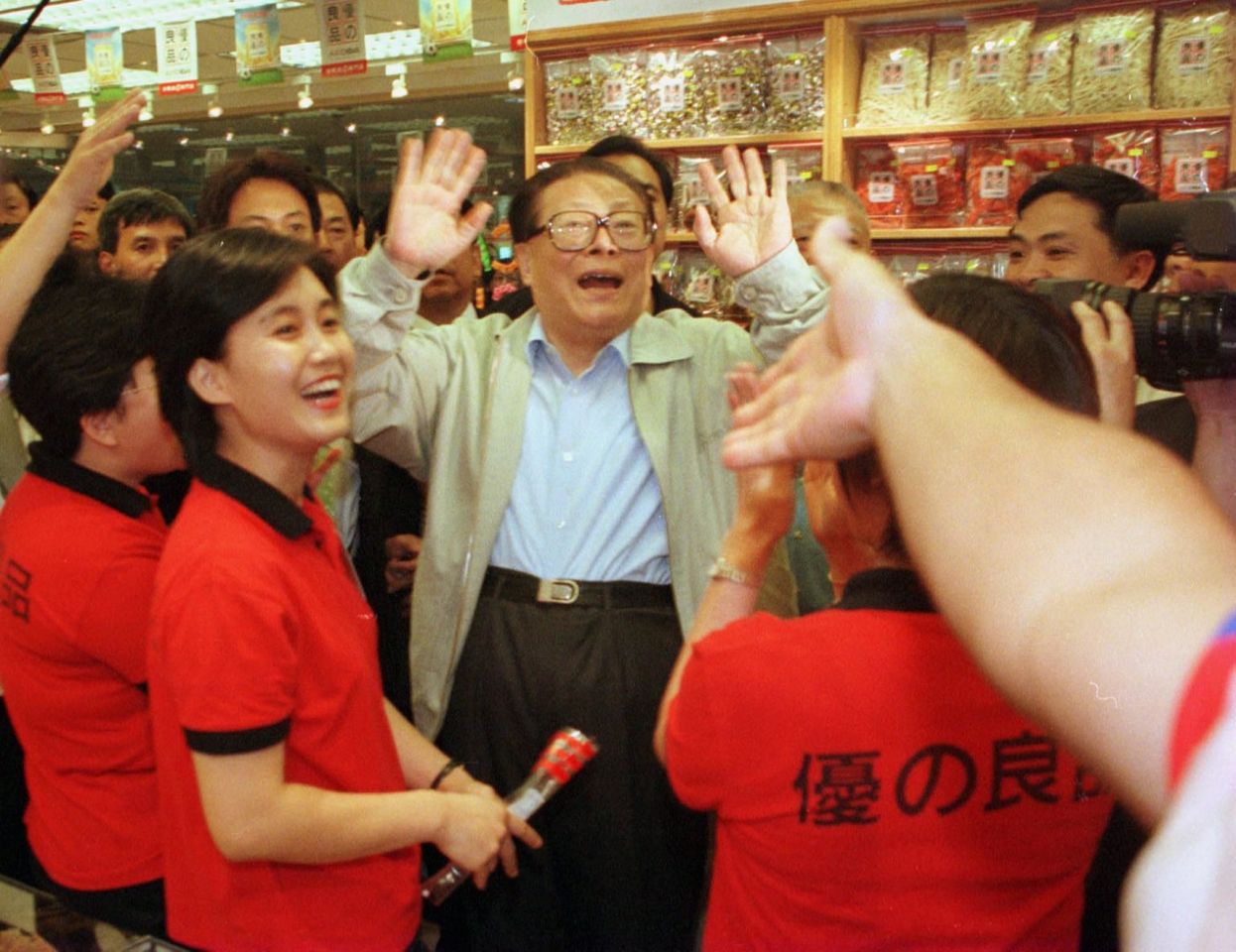 Jiang Zemin is greeted by workers during his visit to a Hong Kong sweet shop in 1998.

In all, Jiang visited Hong Kong four times. He was back for a second time in 1998 for the opening of Hong Kong International Airport, returned in 2001 for the Fortune Global Forum and finally visited in 2002 for the fifth anniversary of Hong Kong's return to Chinese rule.

"I have always felt an intense warmth every time I visited Hong Kong or met personages from Hong Kong," he said on his final visit, calling the city "forever a shining pearl of our motherland".

"Let me wish her an even better future, and all the residents here a happier and more successful life."