While Hong Kong is trawling the world for talent, it could also tap the potential of workers over 65. In addition to raising the retirement age, companies could attract older workers with measures such as flexible working hours and specially developed titles and roles.
Hong Kong is facing a declining and ageing population. Tens of thousands of residents, a large number of them below 44, left Hong Kong for various reasons such as work, study and settling abroad. To maintain a stable, committed and productive workforce in Hong Kong, the government should extend the mandatory retirement age beyond 65, and employers should embrace older workers.

Firms around the world are paying attention to diversity, equity and inclusion (DEI) to address systemic inequalities related to race, ethnicity, gender, sexual orientation and other dimensions of identity. However, age is often overlooked as a facet of the term DEI.

Ageism in the workplace reduces opportunities for older workers to develop and advance in their careers. According to a survey conducted in the United States by the non-profit AARP in 2017, two-thirds of respondents between 45 and 74 of age said they experienced age-related discrimination. Ageism can affect the way older workers are perceived and treated by their colleagues and managers, leading to social isolation and reduced job satisfaction.

Thanks to the advances in healthcare over the years, Hongkongers' life expectancy has increased to 85.4 years. Insisting on people retiring when they turn 65 is a waste of human resources, especially when most jobs in Hong Kong require knowledge and experience that older workers have accumulated over the years.

Embracing older talent is a no-brainer especially when Hong Kong is trying to replace the many professionals who left the city. The Top Talent Pass Scheme aims to attract foreign professionals who graduated from the world's top 100 universities.

This scheme appears to be effective in attracting young Chinese citizens from the mainland or overseas to work and live in Hong Kong. But mainland China is also short of young talent, as its population, like Hong Kong's, is shrinking and ageing.

Meanwhile, Hong Kong would be hard-pressed to attract young talent from the United States, the United Kingdom or Australia when tensions between these countries and China has intensified, partly due to the creation of the Aukus alliance in 2021.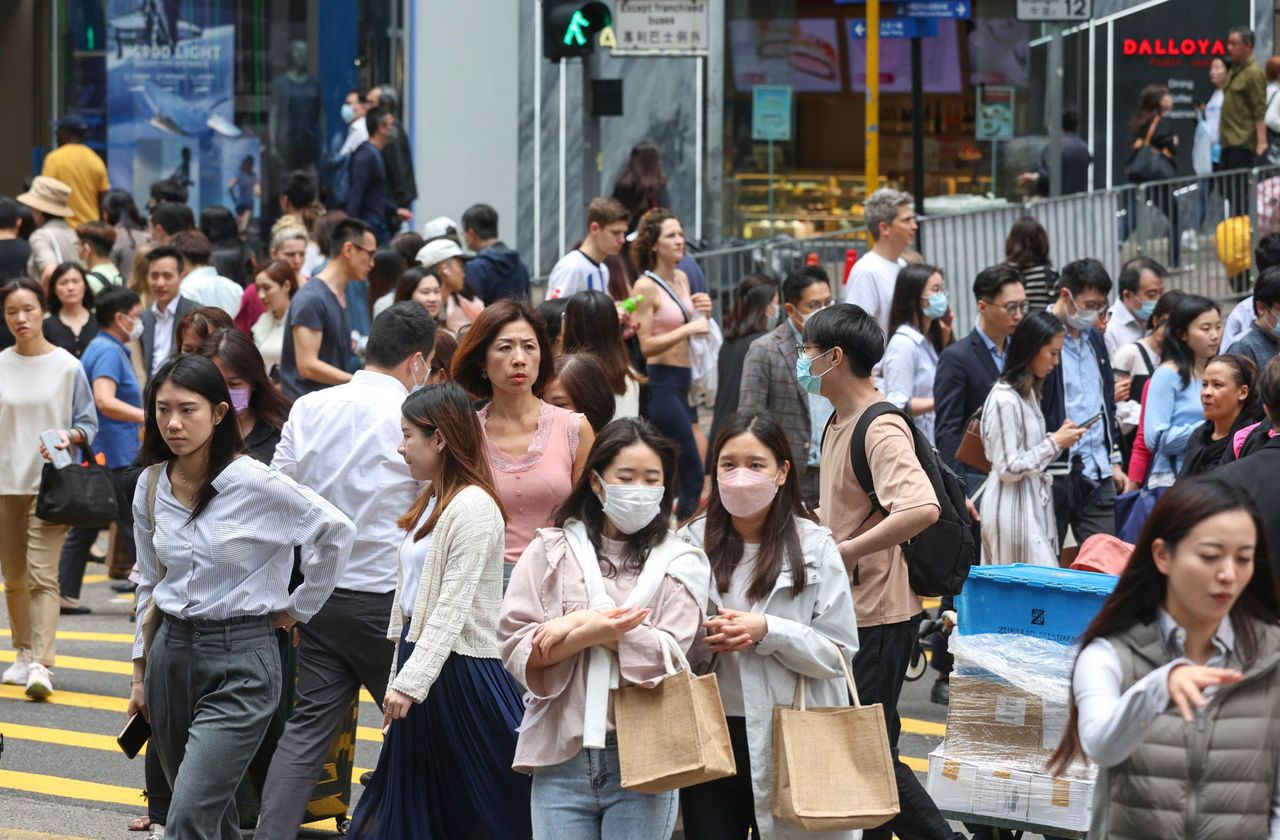 Commuters walk across an intersection in Central on April 6. Hong Kong's government has launched the Top Talent Pass Scheme to attract graduates of the world's top 100 universities.

Young professionals may be more technically savvy. But their work attitude can be a challenge for Hong Kong, which is seeking to kick-start its economy as the world recovers from the Covid-19 pandemic. For example, mainland China has seen the emergence of the "lying flat" movement among youngsters who prefer to do the bare minimum to get by.

In the United States, a Gallup poll of people capable of doing their job while working from home found that 60 per cent of respondents preferred long-term hybrid work arrangements, including working from home.

More firms in the US are now hiring older workers after experiencing difficulties in recruiting and retaining younger workers. Older workers are more committed and loyal. In a survey conducted by The Wall Street Journal and research organisation NORC at the University of Chicago, over 75 per cent of people aged 65 and older said they valued hard work, compared to 61 per cent of 18- to 29-year-olds.

Indeed, more than 2,500 American companies, such as Bank of America and Microsoft, have pledged to give workers over 50 a fair chance during hiring.

Some older people need to work for a living because of inflation and the higher cost of living. However, many older employees want to work because they would like to contribute and create value for the company. At the same time, working enables them to remain active and engaged.

The health benefits of postponing retirement include, according to some studies, a reduced risk of cardiovascular disease, depression and cognitive decline. The well-being of older people in Hong Kong can benefit society, increasing happiness and reducing healthcare costs.

Many firms are reluctant to hire older workers because of various biases, such as seeing older people as being less adaptive and less creative, and concerns about higher costs. By actively hiring older workers, businesses can challenge these stereotypes and promote a more inclusive workplace culture.

Specifically, they could consider three suggestions that address their concerns about hiring older workers and create value for employers, employees and society as a whole.

First, developing a flexible contract work for older workers can attract more retirees to the workforce. Indeed, many older workers prefer flexible work so that they have time for themselves and to take care of their loved ones.

Second, developing roles and job titles for older people can be effective. This can enable the firm to secure the services of older workers without offering higher pay and without having them feel that they have been demoted. With a different title and role, employers can avoid salary comparisons between older and younger workers.

Third, offering older workers managerial or mentor roles can be valuable. These positions can enable older workers to create value by leveraging their years of expertise or tenure. Older workers can provide guidance and support, sharing their knowledge and experience to help younger workers develop their skills and career paths. This mentoring relationship can also help to create a positive workplace culture.

At the same time, programmes should be developed for young leaders to manage older workers. This would also promote diversity and inclusion.

Much older talent is hidden in plain sight. Turning these people into assets can help Hong Kong thrive.