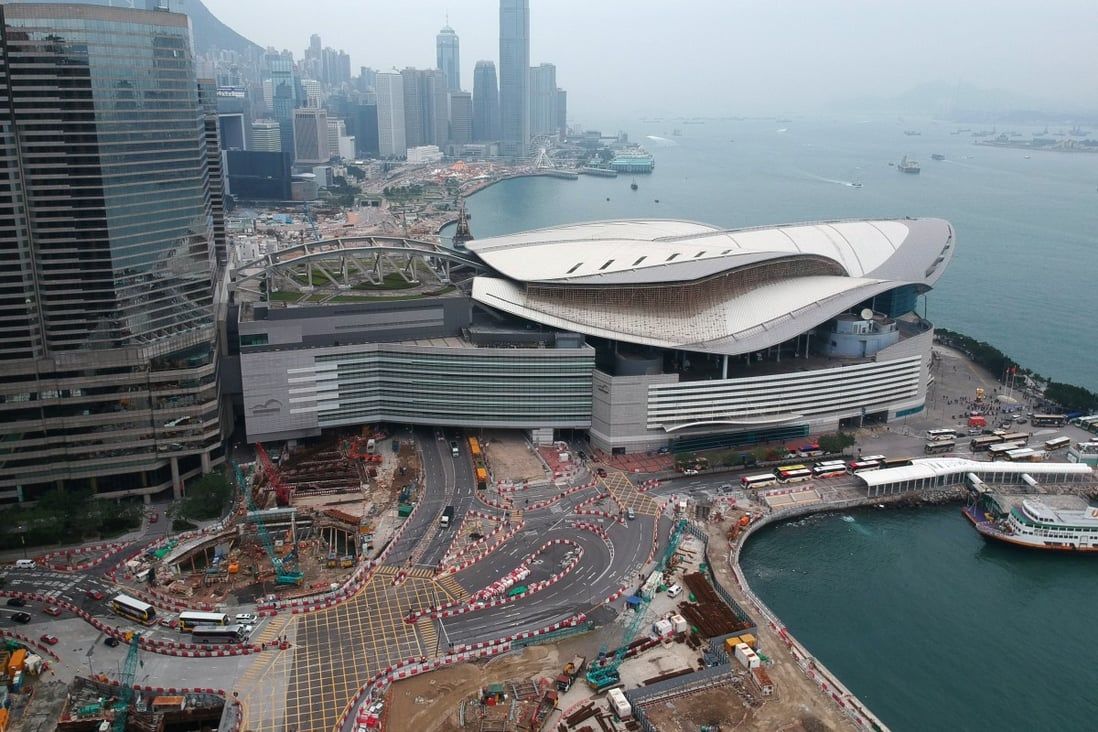 A HK$5 billion reason to be wary of Hong Kong's 'result-oriented' government
A tunnel that could have been built for HK$88 million has become a HK$5 billion project that will again mar public enjoyment of the Central waterfront. Yet, under the current administration, the project is hardly coming under the public scrutiny it deserves.
In case you missed it, a large part of Hong Kong's Central waterfront is going to be closed off for most of the next decade as MTR Corporation builds a 460m overrun tunnel for the Airport Express.

I don't know what upsets me most: the fact that we are going to lose access to some of Hong Kong's most iconic leisure space again, having only recently recovered it after two decades of reclamation turmoil; that a project originally intended to cost HK$88 million is now set to cost around HK$5 billion (US$640 million); or that almost no one has made a murmur about such an outrageous loss of planning control.

It's bad enough that we are soon set for several years of disruption nearby as work begins on developer Henderson Land's Site 3, described by project architect Lead8 as "one of the most important and strategic additions to the city's Central Business District … an iconic landmark and a social destination dedicated to public enjoyment along the harbourfront promenade".

Bad too that the Kennedy Town community is set to lose a heavily used waterfront promenade to tunnel works intended to link Hong Kong Island to East Lantau via artificial islands – the so-called Lantau Tomorrow Vision. I am reminded of the grim old joke that Hong Kong would be a terrific place to live if and when they ever finish building it.

But this comparatively modest Airport Express project really seems to take the biscuit. If this thoughtlessness is what John Lee Ka-chiu's "result-oriented" government is all about, then we need a fresh discussion about what kind of "results" we are talking about.

I suspect that if word of the overrun tunnel project had not leaked from the Harbourfront Commission's Task Force on Harbour Development when it met late in April, none of us would today be any the wiser about the ramifications of this piece of infrastructural disruption.

The paper was apparently tabled not because our government planners were seeking any approval or discussion on the overrun tunnel itself, but because opinions were being sought on an above-ground "ventilation building" needed to get fresh air to the tunnel.

The paper said certain areas were required as "temporary works sites" for the tunnel and ventilation building, for "temporary traffic management material and plant storage", and as a "temporary works area for utility diversion".

All this "temporary" activity will tentatively start in 2025 and end in 2032. How seven years can be described as "temporary" surely requires a mind-bending redefinition of what the word means. This is quite unlike a temporary bus stop, a temporary loss of electricity or a temporary delay in the start of a pop concert.

One also wonders why a 460m stretch of railway tunnel will take almost as long to complete as the high-speed rail (on which work started in 2010 and which went into operation in 2018) and as the Hong Kong-Zhuhai-Macau Bridge (which also opened in 2018, after nine years of construction), and twice as long to complete as the nearby Convention and Exhibition Centre.

As if these thoughts are not troubling enough, the biggest outrage is that this overrun tunnel could – and should – have been built while the Airport Express and Hong Kong International Airport were being built, or during the Central waterfront reclamation – and that government officials were well aware of this.

A Legco paper tabled in the Executive Council in January 2003 priced the overrun tunnel at HK$88 million, and said it was "highly desirable". If it was not built, the paper warned that "there will be cost, engineering, traffic and environmental implications", which "will make it much more difficult, costly and disruptive to construct the future [North Hong Kong Island Line]".

Why then wasn't it done? The answer, it seems, is because the government and MTRC couldn't agree who should pay for it.

In the context of projects costing multiple billions (Central reclamation phase III cost about HK$3.5 billion and the Central-Wan Chai Bypass around HK$36 billion), quite why MTRC and the government could not reach agreement on HK$88 million is a puzzle to me – in particular when you recall that the government has a 75 per cent controlling stake in the company, which means the government (or the taxpayer) was on the hook for most of the cost either way.

So instead of getting the overrun tunnel imperceptibly built in 2003 as part of other massive projects, we have arrived two decades later with a chunk of the Central waterfront having to be turned back into a massive construction site and shut off from the public for the better part of another decade – at a cost now inflated to HK$5 billion.

Even then, restful access to the Central waterfront may not be assured. No decisions have yet been made about whether or when the North Island Line should be built, so the waterfront might be opened up yet again after 2032.

Quite how this mess could have arisen – and with so little public scrutiny or comment – provides a cautionary insight into the recent decline in robust public debate in Hong Kong. If this is the only way the Lee administration can deliver "result-oriented" governance, I am not sure we should be celebrating.