About 20 children joined holiday workshop and afternoon tea event hosted by Sino Group at Fullerton Ocean Park Hotel.
What better way to celebrate Christmas than learning about sustainability by making upcycled festive ornaments and designing a gingerbread house with friends and family?

Youngsters from the charity Hong Kong Children in Need Foundation immersed themselves in the Christmas spirit and focused on sustainability at a holiday workshop and afternoon tea event hosted by the Sino Group at the Fullerton Ocean Park Hotel on December 4.

Twenty children, accompanied by their parents, enjoyed sustainably sourced food, decorated gingerbread houses with colourful candy and upcycled tin cans into tree ornaments in a workshop led by product designer and artist, Kevin Cheung Wai-chun.

"I really enjoyed today's event because we did different things," said 11-year-old Ng Kai-pak from Asbury Methodist Primary School. "It was fun and meaningful, and I would want to join it again."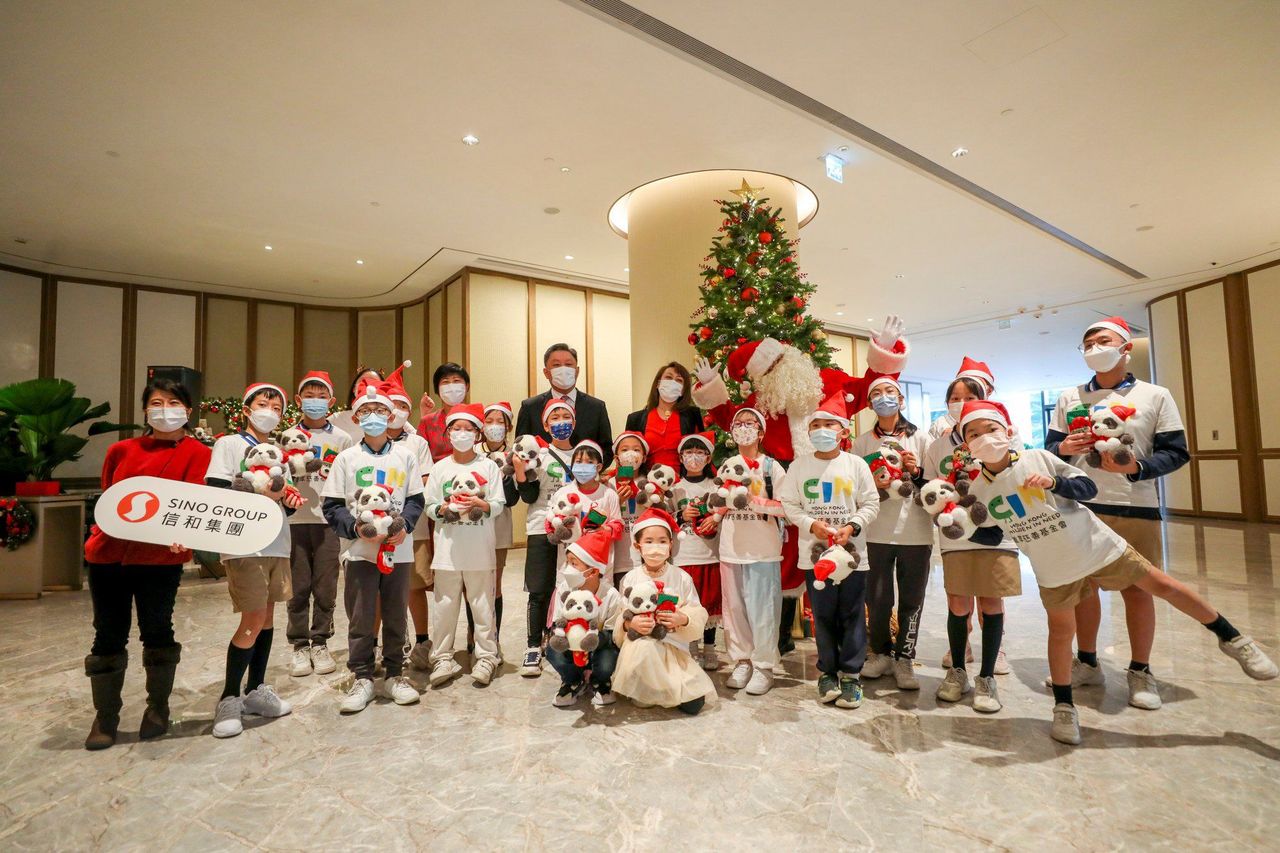 Children take part in the holiday workshop at the Fullerton Ocean Park Hotel in Aberdeen.
Wong Yan-oi, seven, from ELCHK Kwai Shing Lutheran Primary School, said: "We learned new things, such as using aluminium from tin cans to make Christmas tree ornaments. I think I will reuse some unused stickers and cloth to decorate our Christmas tree at home."
After the workshop, the children were given presents from Santa. They also witnessed the hotel's first Christmas tree lighting ceremony.
For the 18th consecutive year, Sino Group is supporting Operation Santa Claus (OSC), an annual fundraising initiative jointly organised by South China Morning Post and public broadcaster RTHK since 1988.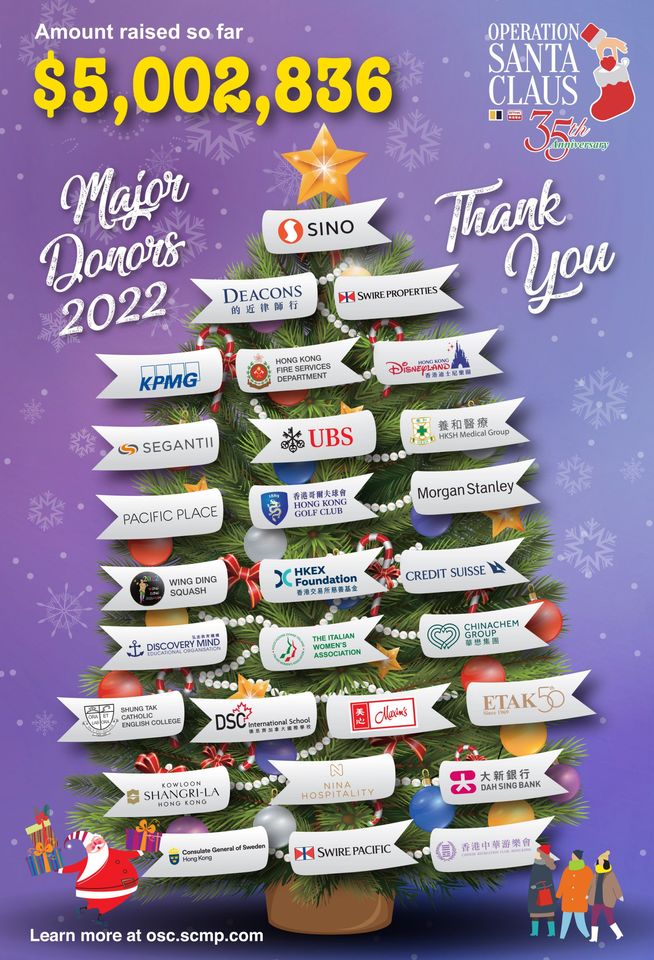 OSC Tree 2022. Sino Group.

Since 1988, OSC has raised HK$353 million (US$45 million) to support the local community through 323 charitable projects. Fifteen projects are being funded this year, including the Hong Kong Children in Need Foundation.

"OSC has done a good job in looking for different NGOs and finding different groups in the community that we can support," said Vivian Lee Ling-fung, group general manager for corporate marketing and communication at Sino Group. "Through OSC, we get the opportunity to engage with different groups of people in the community and use different sources to bring them love and joy."

Melanie Kwok Hoi-yee, assistant general manager for sustainability at Sino Group, said imparting knowledge about sustainability to children was essential as it would inspire them to change their daily habits at a young age and protect the environment, adding simple steps such as upcycling could make a huge difference.

"Sustainability is a journey which requires key stakeholders to join hands to work together and protect the environment," Kwok said. "This event is a wonderful opportunity to spread love and cascade an important message."

On OSC's 35th anniversary, Sino Group said it was dedicated to championing the message of sustainability and biodiversity among children and enhance learning about waste management, a pressing environmental issue highlighted by both Lee and Kwok.

"We hope to use today's event to educate kids about sustainability, a concept which is integrated in Sino Group's three strategic pillars, green living, innovative design and community spirit," Lee said. "Kids are not only here to enjoy the food but also to learn about the importance of sustainability."

For more information on this year's beneficiaries, please click here.