Observatory logs average temperature of 26.4 degrees Celsius between September and November of this year.
Hong Kong has logged its warmest autumn on record, with an average temperature of 26.4 degrees Celsius (79.52 Fahrenheit) between September and November, the city's weather forecaster has revealed.

The Observatory also reported an average maximum temperature of 29.2 degrees from September to November, which was also the highest on record for the season, while the average minimum temperature of 24.4 degrees was also one of the highest.

For November, the monthly average minimum temperature of 22.0 degrees was 1.7 degrees above the climatological normal, a figure which is calculated using data spanning from 1991 to 2020.

Meanwhile, the month's average temperature of 23.4 degrees was 1.2 degrees more than its own normal.

"With the northeast monsoon over southern China generally weaker than normal for most of the time in the month, November 2022 was much warmer than usual in Hong Kong," the forecaster said.

"Together with the exceptionally hot weather in September 2022, Hong Kong experienced the warmest autumn on record from September to November 2022."

According to the Observatory, November this year was also much wetter than usual given the rainfall associated with Tropical Cyclone Nalgae.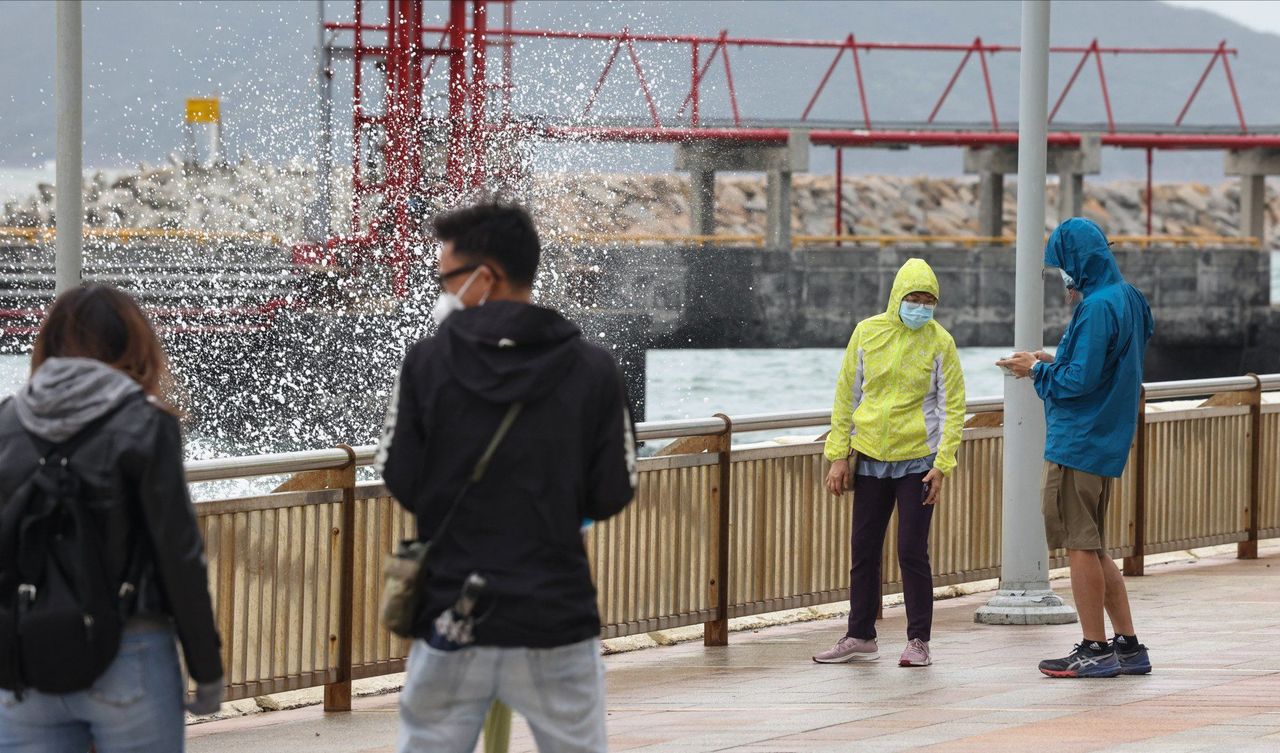 Hongkongers brave the winds of Tropical Storm Nalgae in early November.
The tropical cyclone, which triggered a No 8 typhoon warning signal on November 2, marked the third time Hong Kong's forecaster had issued such an alert for the month since records began in 1946, with the last incident happening in 1972.
The monthly total rainfall was 130.8 millimetres, more than three times the normal level of 39.3 millimetres.
Meanwhile, accumulated rainfall up to November this year was 2,179.7 millimetres, a decrease of around 9 per cent from the normal figure of 2,402.4 millimetres for the same period.
The month was also unseasonably gloomy, with only 100.3 hours of bright sunshine, which was about 42 per cent below the normal figure of 172.3 hours and the lowest for November on record.
Hong Kong experienced cooler weather this week, with the mercury dipping to as low as 14 degrees on Friday, while the daily maximum temperature was recorded at 18 degrees.
But daytime temperatures are expected to rise over the region during the weekend, with the northeast monsoon affecting the coastal areas of southern China expected to gradually become moderate. Temperatures in the city for Saturday and Sunday are forecast to fall between 16 to 23 degrees.