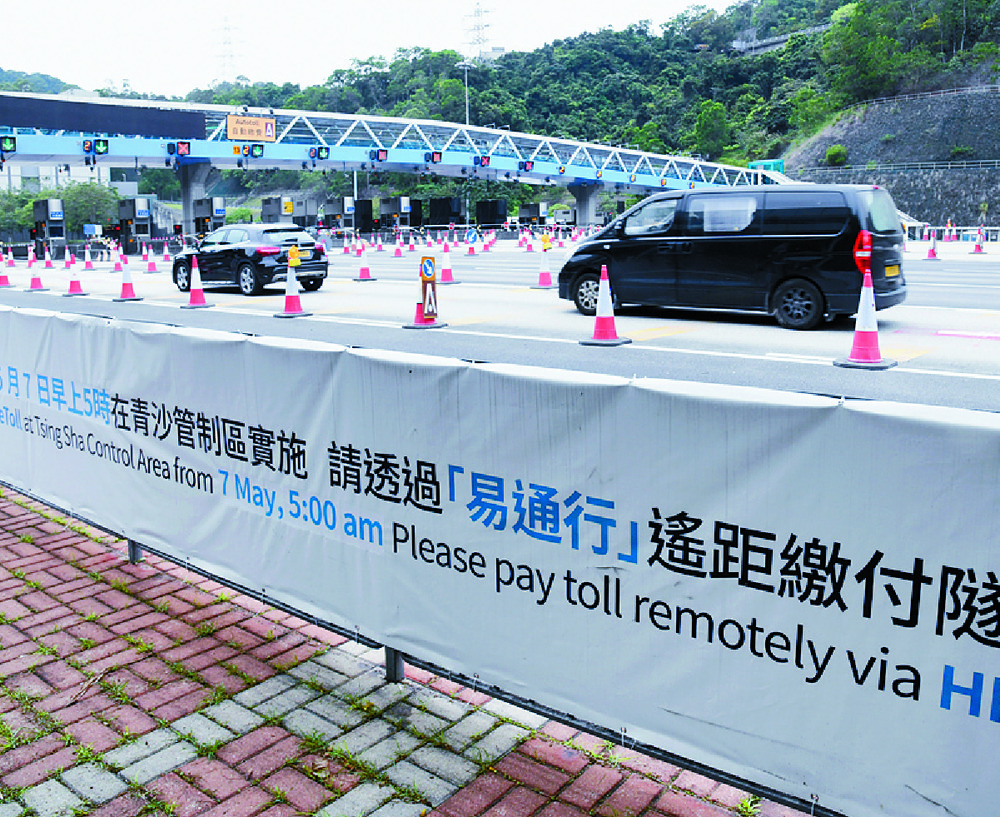 720,000 vehicles tag along as auto payments extended
Vehicle tags for 720,000 HKeToll have now been issued by the Transport Department, covering 89 percent of Hong Kong vehicles.
That count comes as authorities prepare to extend the auto-payment system to the Shing Mun Tunnel on Sunday. So the tunnel connecting Tsuen Wan and Sha Tin will be closed for 30 minutes from 4.30 am that day to allow officers to shift to the eToll system at 5 am.

Traffic signs and road markings are being readied to guide motorists.

And three overnight bus routes - NA40, NA41, N42A - and one overnight green minibus route, 482, will be diverted temporarily through the Tai Wai, Sha Tin Heights and Eagle's Nest tunnels.

Taxi passengers going between Tsuen Wan and Sha Tin via the Shing Mun Tunnel will also be affected.

The Shing Mun Tunnel will be reduced to three lanes after HKeToll is implemented, and all manual toll booths and auto toll lanes will be removed.

The e-Toll sensors will be set up at portal frames near the tunnel, with text messages sent to drivers that they have been charged.

Following the Shing Mun Tunnel the Lion Rock Tunnel connecting Kowloon Tong and Sha Tin will have the HKeToll system in place on May 28, making it the third government tunnel adopting the system.

Commissioner of Transport Rosanna Law Shuk-pui said among drivers who obtained vehicle tags 76 percent had registered for an HKeToll account.

But by Monday the Transport Department had also received 52 complaints about the toll system. Five involved the use of fake car plates, and those cases have been referred to police.

Other complaints included 29 cases that tunnel staff input plate numbers wrongly,

Two of the complaints related to driver cards for cabbies. The card comes with technology for tunnel scanners to identify the person behind the wheel.

Law said Transport Department personnel checked at the Tsing Sha control area on Tuesday and found 11 drivers had placed the vehicle tags wrongly, and that could affect detection.

"We found some of the taxi drivers put their cards and vehicles too close to metal components such as dashcams, radio antenna and the frames of windshields," Law explained. Also, some drivers had inverted their cards invertedly, she said, and "all these will affect detection."

She added that tunnel operators have deployed staff to gas stations to ensure cabbies install their driver cards correctly while hoping cabbies "move with the time" to maintain service quality.

HKeToll can now handle 86,000 vehicles an hour, and Law said she is confident the toll system is more than capable of handling traffic at the Shing Mun, Tsing Sha and Lion Rock tunnels.

"We are talking about merely 16,000 vehicles per hour at their busiest time during the day," she said. "So 86,000 is already more than five times the capacity. That's why we say the system is completely capable."