Defendants enter plea at the District Court for their roles in the march on July 1, 2020, the day after Beijing-imposed national security legislation took effect.
Seven opposition activists and former lawmakers have pleaded guilty to unauthorised assembly charges arising from a rally against Hong Kong's national security law last year.

The seven entered a formal plea at the District Court on Thursday for their roles in the march on Hong Kong Island on July 1, 2020, the day after the Beijing-imposed legislation took effect.

Figo Chan Ho-wun, former convenor of the now-dissolved Civil Human Rights Front, admitted inciting others to knowingly take part in an unauthorised assembly. He also pleaded guilty to two similar organisation and participation counts.

When asked to indicate his plea, the 25-year-old activist said: "Civil disobedience without fear. I plead guilty."

Former district councillor Tsang Kin-shing, 65, admitted an incitement count, but said "it was the SAR government's fault".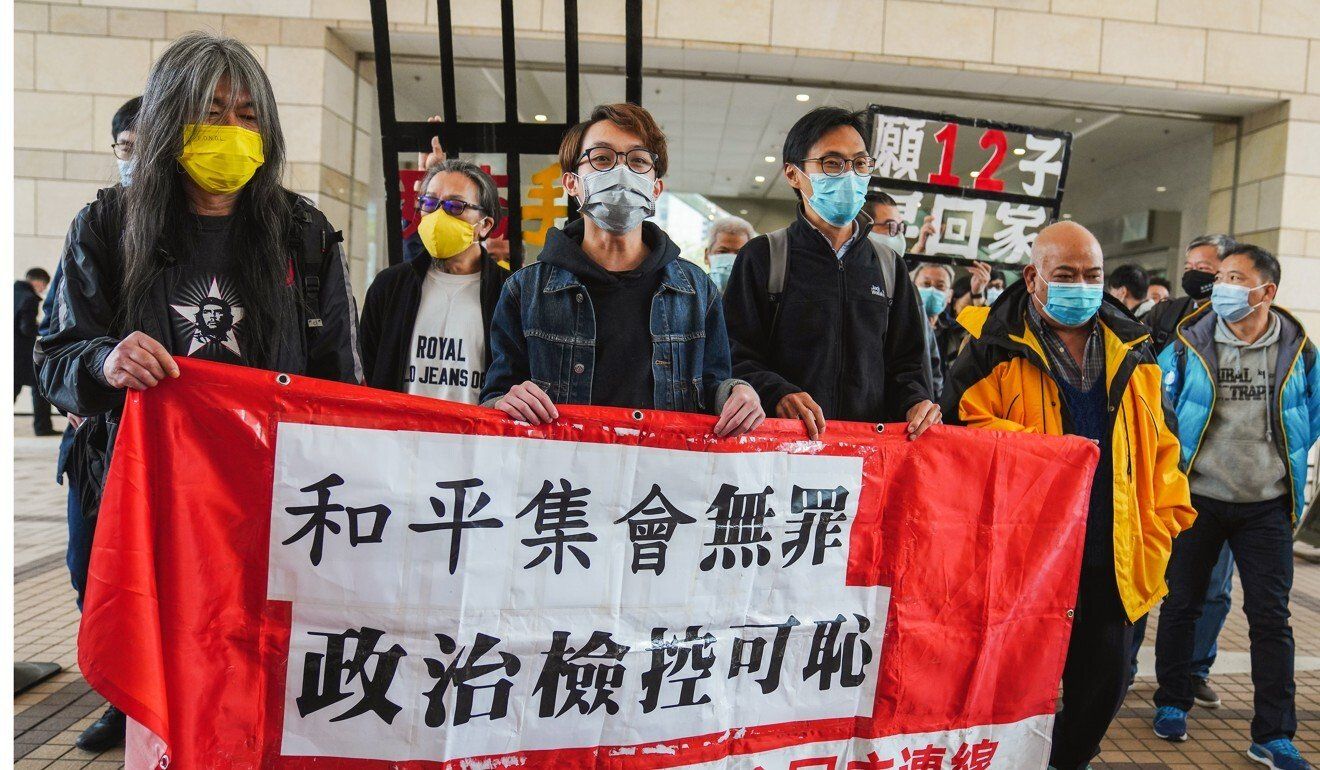 (Holding the banner, from left) Leung Kwok-hung, Figo Chan, Eddie Chu and Tsang Kin-shing before an earlier court appearance.

Former lawmaker and Democratic Party chairman Wu Chi-wai, 58, and ex-district councillor Andy Chui Chi-kin, 54, pleaded guilty to one count each of incitement and organisation. Another ex-legislator, "Long Hair" Leung Kwok-hung, 65, admitted organising and taking part in the banned rally.

Two others, former lawmaker Eddie Chu Hoi-dick, 44, and activist Tang Sai-lai, 58, each pleaded guilty to knowingly taking part in an unauthorised assembly.

The July 1 march was the first large-scale protest following the promulgation of the national security law, which criminalises acts of secession, subversion, terrorism and collusion with foreign forces.

The court heard that the front and Chui submitted separate applications for police approval of a public procession on Hong Kong Island on July 1 last year, which marked the 23rd anniversary of Hong Kong's handover to China.

Police dismissed both bids – decisions which were subsequently upheld by an independent appeal panel – citing infection risks amid the Covid-19 pandemic.

Chui and four co-defendants – Chan, Tsang, Wu and Chu – held a press conference outside the Court of Final Appeal on June 30, calling on the public to attend the march despite the ban.

The next day, all defendants except Tsang went on to join the illegal rally on Hennessy Road in Causeway Bay at around 2.50pm.

Chan, Wu, Chu and Leung were seen carrying a banner emblazoned with the words, "Oppose the evil national security law. Insist on five demands," with the latter phrase stemming from the 2019 anti-government protests.

The four also led about 100 participants in chanting slogans as they, together with Chui and Tang, marched towards Wan Chai.

The procession came to a halt just 15 minutes later, as police dispersed the crowd on Tonnochy Road.

Prosecutor Crystal Chan Wing-sum said some protesters had taken advantage of the situation to block carriageways and start fires on roads. Some also confronted police and assaulted officers to prevent them from making arrests, she added.

Figo Chan, who represented himself in court, said in mitigation that the government had unreasonably banned the rally while allowing large crowds to gather in amusement parks and at the Hong Kong Book Fair.

He also accused the government of creating "white terror" by its "relentless" suppression of dissent, adding he would "definitely not regret" acting in defiance of the "evil" Public Order Ordinance, under which unauthorised assembly offences fall.

Wu's legal counsel, Christopher Grounds, urged the court to impose a suspended jail sentence on his client in light of his "selfless" pursuit of the betterment of society during his 30-year political career, previous clear criminal record, and limited disturbance caused by the unlawful protest in question.

Barrister Chris Ng Chung-luen, acting for Tsang and Tang, also asked for suspended sentences on the grounds of the pair's advanced ages.

Judge Douglas Yau Tak-hong will pass sentence on Friday. The defendants face up to five years in prison.

Chan, Chu and Leung are currently serving sentences for their roles in other unauthorised assemblies, while Chui and Wu are being held in custody awaiting a national security law trial.