Officers conducted spot checks on importers following sharp rise in volume of Australian lobsters brought into Hong Kong; suspects believed to be masterminds of smuggling syndicates.
Hong Kong customs has arrested seven people over incomplete declarations for 228 tonnes of Australian lobsters worth HK$180 million (US$23.1 million) after an unofficial ban by mainland China last year sparked a jump in imports locally.

The arrests were made during an operation on Tuesday as customs officers conducted spot checks on 10 importers.

The suspects, who were company directors, either made incomplete declarations or failed to lodge such forms regarding the import volume of 228 tonnes of Australian lobsters worth HK$180 million, said Rita Li Yim-ping, group head of customs' syndicate crimes investigation bureau.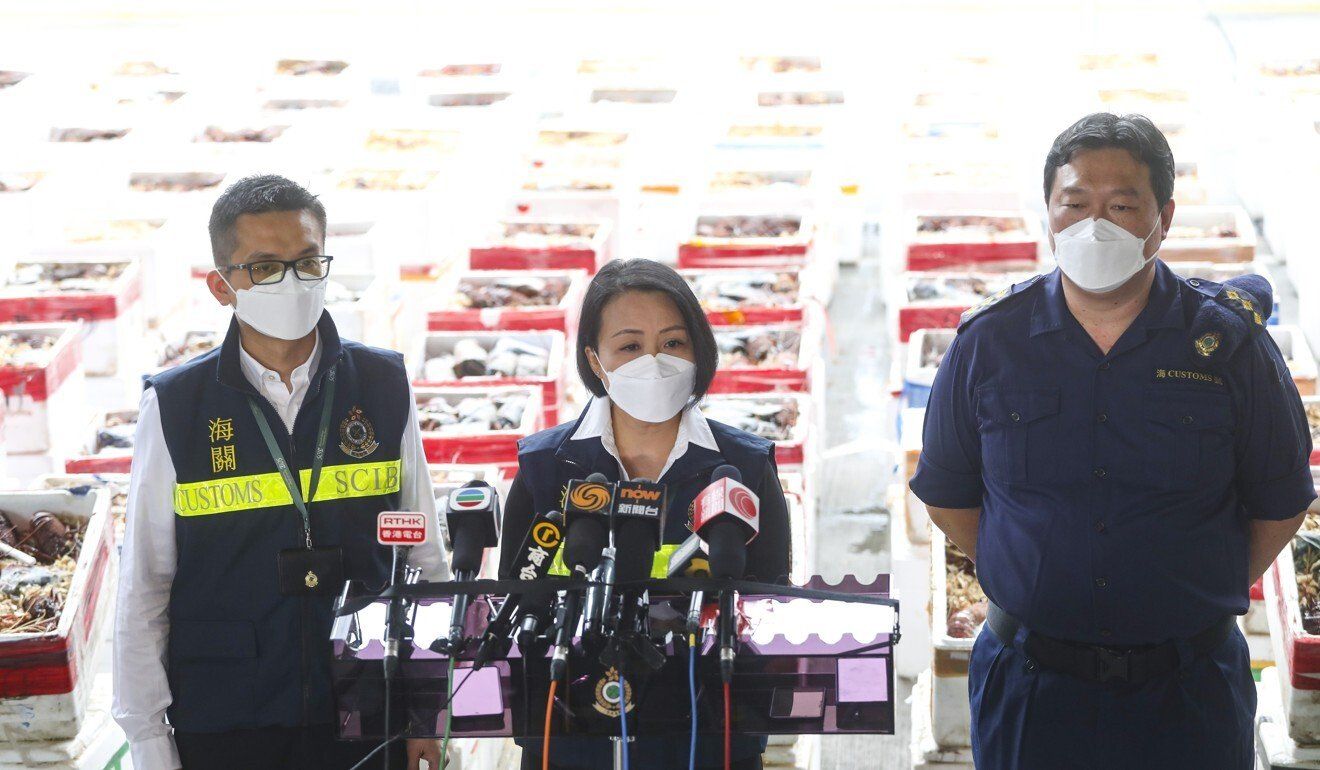 Senior customs officers Thomas Wong (from left), Rita Li and Alan Wong.

"These importers were only set up after Australia ceased exporting lobsters to China in November last year. Most of them are shell companies without actual business operations," she said.

The suspects were believed to be masterminds of smuggling syndicates, said Thomas Wong, the bureau's divisional commander.

Li said the operation was launched in light of a drastic rise in the volume of Australian lobsters brought into Hong Kong, after the mainland imposed an unofficial ban on their imports in October last year.

"In the past, Hong Kong imported about 120 tonnes of Australian lobsters a month. But since the new rules kicked in, the figure has jumped to 260 tonnes a month ... The number of lobster importers has also increased from 50 to the present 80," she said.

"This increase is very unusual and we doubt this import volume is for local consumption only. We suspect that some people have taken the advantage of the new rules to reap a big profit from smuggling Australian lobsters into China."

Li said the short supply of Australian lobsters on the mainland – where they were sold at HK$2,000 per kilogram – made smuggling them from Hong Kong very lucrative.

In contrast, the retail price for these lobsters in the city is HK$800 per kilogram.

She said customs was still investigating the destinations of the imported lobsters and the reasons for the incomplete declarations.

Separately, in a joint operation code-named "JL" with the mainland customs authorities from July to September, officers arrested 13 men, aged 25 to 61, in connection with three maritime smuggling cases. About 5.3 tonnes of suspected smuggled lobsters from Australia worth about HK$4.2 million were seized.

Wong said the three cases involved two syndicates which used either fishing vessels or speedboats to smuggle the lobsters to the mainland via Cheung Sha Wan pier.

"The smugglers first transported the lobsters to the pier pretending to put them up for sale locally. But at night they secretly moved the goods to the vessel or speedboat for transporting them to the mainland," he said.

Li warned those found smuggling illegal goods would face a fine of up to HK$2 million and imprisonment of seven years.

The mainland's unofficial ban on Australian lobster imports came in October last year after Canberra pushed for an international inquiry into the origin of the coronavirus without first consulting Beijing.

Before the conflict, the mainland had been Australia's main market for fresh and live rock lobsters. In 2019, more than 90 per cent of Australian rock lobsters were exported there, with the market worth about A$750 million (US$553.7 million) a year, according to the Australian agriculture department.

In April this year, Hong Kong imported 157,978kg of Australian rock lobsters – about 50 times the amount imported in October, just before the ban took effect.