The five put out three picture books on sheep defending their turf from wolves and were accused of portraying Beijing as a 'totalitarian and ruthless' regime.
Five speech therapists behind a series of children's books containing provocative depictions of mainland China were convicted on Wednesday of the production and distribution of publications that breached Hong Kong's colonial-era sedition law.

A District Court judge approved by the city's leader to adjudicate national security cases upheld the constitutionality of the 1938 law.

Judge Kwok Wai-kin said it was an "important tool" to mend the city's constitutional order, restore national unity and prevent civil unrest similar to that in the summer of 2019 from happening again.

He also dismissed the defence's assertion that the 1938 legislation contravened freedom of speech and highlighted that people could still criticise Beijing and the Hong Kong government as long as they did not demean or damage the legitimacy of the authorities.

The defendants face two years in jail, although they have been remanded in custody on national security grounds for more than a year.

Amnesty International said the convictions were "an absurd example of the disintegration of human rights in the city", and slammed the Hong Kong government for "weaponising" archaic sedition legislation to crack down on freedom of expression.

The five, convicted on a joint count of "conspiracy to print, publish, distribute, display and/or reproduce seditious publications", are former executive members of the defunct General Union of Hong Kong Speech Therapists.

They are former chairwoman Lorie Lai Man-ling, 25, deputy chairwoman Melody Yeung Yat-yee, 27, secretary Sidney Ng Hau-yi, 28, treasurer Samuel Chan Yuen-sum, 25, and committee member Marco Fong Tsz-ho, 26.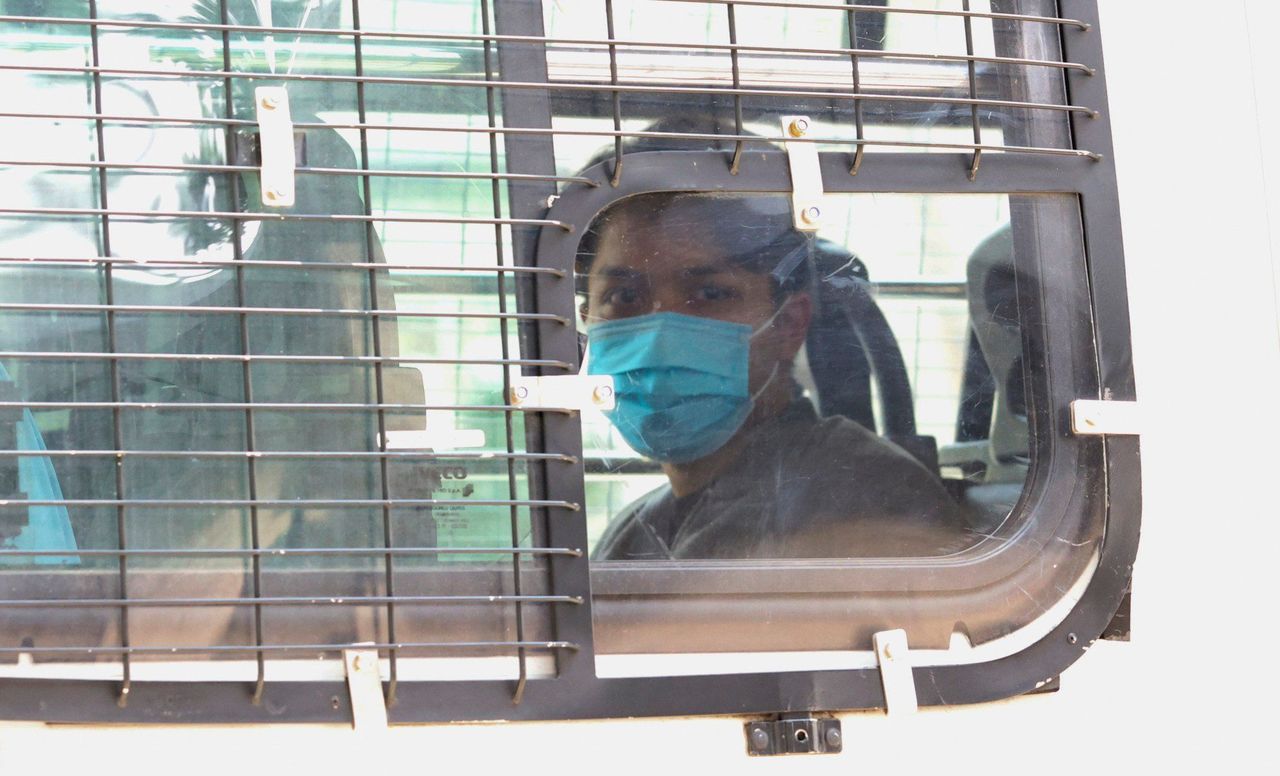 Defendant Samuel Chan, a former member of the defunct General Union of Hong Kong Speech Therapists, was among those charged with sedition on Wednesday.

The five were accused of publishing three picture books with a view to undermining national security with a portrayal of Beijing as a "cold-blooded, totalitarian and ruthless" regime.

The book series, published between June 2020 and March last year, focused on the struggles between a village of sheep and a group of intruding wolves.

Prosecutors said the five, by producing the books and organising study groups to advocating their political stance at street booths and during media interviews, had been persistent in vilifying Beijing and the Hong Kong government using offensive analogies.

But defence lawyers contended the restrictions the sedition law placed on speech and expression exceeded what was necessary to protect national security and public order.

Kwok, however, said that a nation's integrity or independence could be threatened by "rumours, misinformation and disinformation" and that they could stir up animosity towards the government and result in serious social unrest.

"In this sense, making sedition an offence should be even a more important tool for protection of national security rather than holding it unconstitutional," Kwok wrote in his 67-page judgment.

"At all material times of this alleged offence up till now, [Hong Kong] has a wounded constitutional order to heal and a detached national unity to restore."

Kwok found that the publications contained insinuations that Beijing, represented in the books as the "evil" wolves, exercised sovereignty over Hong Kong, depicted as the "kind" sheep, with the intention of "taking away their home and ruining their happy life".

"The publishers of the books clearly refuse to recognise that the People's Republic of China has resumed exercising sovereignty over Hong Kong, nor do they recognise the new constitutional order in the region, and lead the children to think that what the authorities both in mainland China and Hong Kong have done is wrong and illegitimate," he said.

But Gwen Lee, Amnesty International's China campaigner, said the prosecution of activists, journalists and writers by reviving a colonial-era law was "a brazen act of repression".

She added that the five had been "unjustly detained" and should be released immediately.

"Writing books for children is not a crime and attempting to educate children about recent events in Hong Kong's history does not constitute an attempt to incite rebellion," Lee said.