Theatre actor, four students must have taken part in demonstrations given their black outfits and protest equipment in their possession, judge rules.
A theatre actor and four students have been convicted of rioting and resisting police on National Day during Hong Kong's anti-government protests two years ago.

The District Court verdict on Friday was in line with the legal principles set down by the city's top court last month, which confirmed prosecutors' wide power of indicting riot and unlawful assembly suspects who took part by "abetting" others to commit the crime with their attire and presence at the scene.

The charges arose from the clashes on a thoroughfare in Wong Tai Sin district on October 1, 2019, which marked the 70th anniversary of the founding of the People's Republic of China.


Protesters set up barricades during a demonstration in Wong Tai Sin on October 1, 2019.

Official celebrations and events that day were overshadowed by citywide demonstrations linked to a now-scrapped extradition bill, which would have allowed the transfer of fugitives to mainland China, among other jurisdictions. The social unrest later evolved into a wider anti-government movement.

Hundreds of protesters, most of them masked and wearing helmets, barricaded a section of Lung Cheung Road near Wong Tai Sin MTR station from 3pm and confronted police in what the judge called a guerilla-style battle. A dozen motorcycles were set alight at the height of the conflict.

Theatre actor Kwok Siu-kit, 30, and student Cheung Kai-cheong, 22, were seen trying to climb over an iron fence on the roadside in an attempt to flee after police gave chase. Three others – Ho Man-him, 27, Wan Tsz-lam, 19, and Mak Ho-wai, 24 – were intercepted and subdued nearby.

Despite a lack of evidence pointing to actual participation, Judge Ernest Michael Lin Kam-hung ruled they must have taken part given their black outfits and protest equipment in their possession.

He accepted that those who were merely there to "monitor the exercise of police power" or "witness a historical moment" could not be held liable for the riot in question. This was in reference to a point made by another judge, who had ruled in a separate case last year that black clothing and protective gear were not proof of participation when he acquitted seven people of rioting.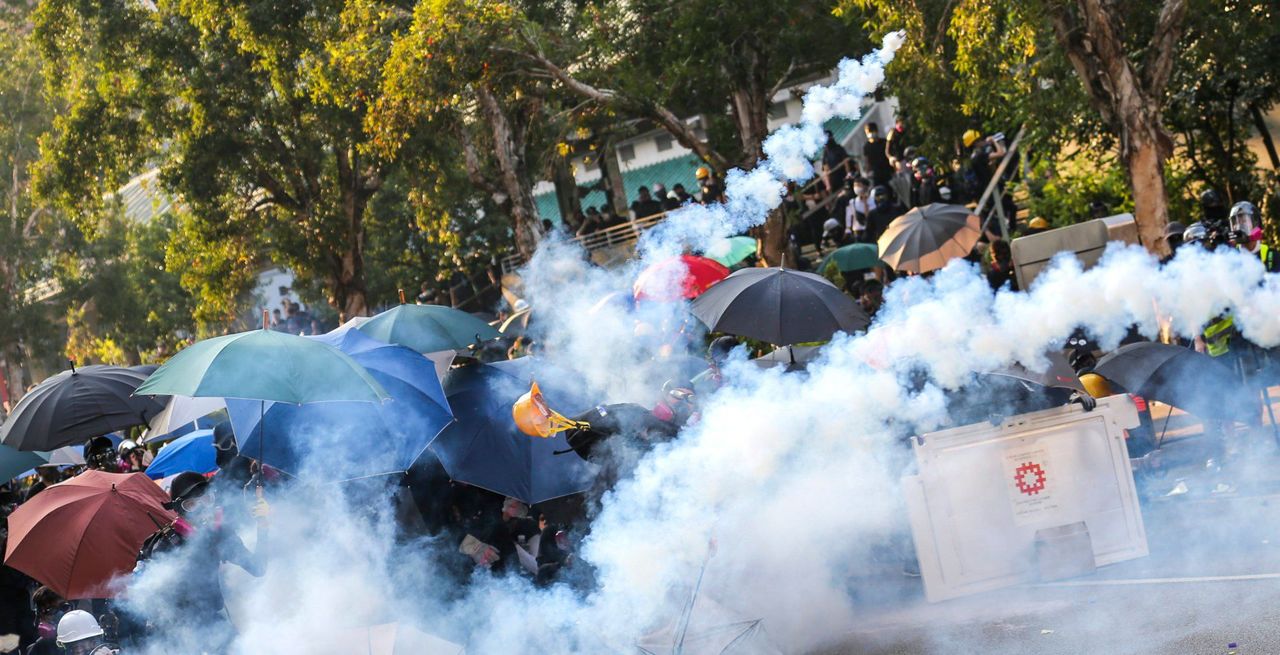 Riot police fire tear gas at protesters in Wong Tai Sin on October 1, 2019.

But Lin found none of the defendants had reasonable excuses to remain on the scene. Instead, their presence had bolstered protesters' confidence in resisting law enforcement actions.

"A person who is unfortunately trapped while walking past, or is just being nosy, or wishes to discharge the so-called civil responsibility to monitor the exercise of police power in person, or even witness the so-called rare and special historical moment, does not need to wear outfits similar to protesters, nor carry items commonly used by them and situate themselves in the eye of the storm," Lin said.

The judge also dismissed the suggestion that Mak, who was found with first aid items after his arrest, might have gone there as a voluntary paramedic, saying he did not have any medical qualification and would have had no reason to flee.

All five were each found guilty of rioting and resisting a police officer, punishable by up to seven years and two years in jail at the District Court respectively. They were remanded in custody pending sentencing on February 11.