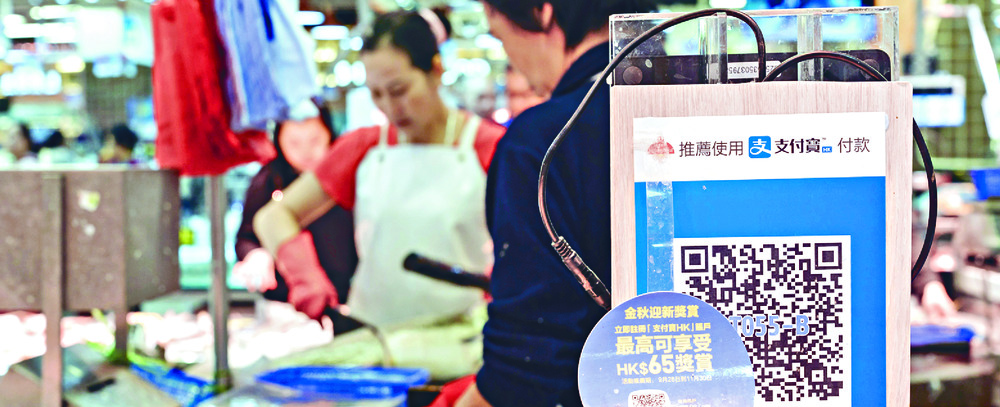 $5,000 subsidy for wet market vendors to buy into e-payments
Wet market vendors and hawkers will be given a HK$5,000 subsidy to install electronic payment machines under a new scheme that starts accepting applications today.
This comes as the rollout of HK$5,000 consumption vouchers is set for summer via four platforms: Octopus, TapNGo, Alipay HK and WeChat Pay HK.

Officials said yesterday applications for the second round of a subsidy scheme to promote contactless payments in public markets open today, with the scope extended to cover licensed hawkers.

The scheme will provide a one-off subsidy to tenants of public markets and licensed hawkers to promote contactless payments and protect public health.

The Food and Environmental Hygiene Department will dispense the subsidy to tenants of its market stalls and hawkers, with a spokesman saying: "The subsidy should be used to meet initial set-up costs, as well as service and other fees in relation to provision of at least one contactless payment means."

Market stall tenants and hawkers are required to submit an application to the FEHD and obtain approval in principle before signing service contracts.

Applicants will also have to produce a valid service contract with a duration of no less than two years and the FEHD will conduct inspections to ensure the completion of installation before disbursing the subsidy.

This came a day after the lawmakers passed this year's budget and Financial Secretary Paul Chan Mo-po saying he expected the HK$5,000 consumption vouchers for Hongkongers to be open for registration this summer.

Octopus Cards also announced this week that the stored value limit of its cards has been increased to HK$3,000 from HK$1,000 starting yesterday.

Octopus Card users will have the stored value limit automatically increasing to HK$3,000 upon using designated services, which includes performing cash top-ups or collecting the public transport fare subsidy.