Blaze breaks out shortly before 2am at flat in Kwong Ming Court in Tseung Kwan O, resulting in about 220 residents fleeing building.
Four people were sent to hospital on Saturday after an early morning fire gutted a flat in Hong Kong.

The blaze broke out shortly before 2am at Kwong Ming Court in Tseung Kwan O, resulting in about 220 residents fleeing the building before rescue services arrived.

Firefighters used a water jet on the flames and deployed a rescue team equipped with breathing apparatus. It took about 30 minutes to extinguish the blaze.

Affected residents were then allowed to return to their homes.

"An initial investigation indicated an electronic appliance in the flat was believed to have caused the fire," a police spokeswoman said, adding no suspicious circumstances were found.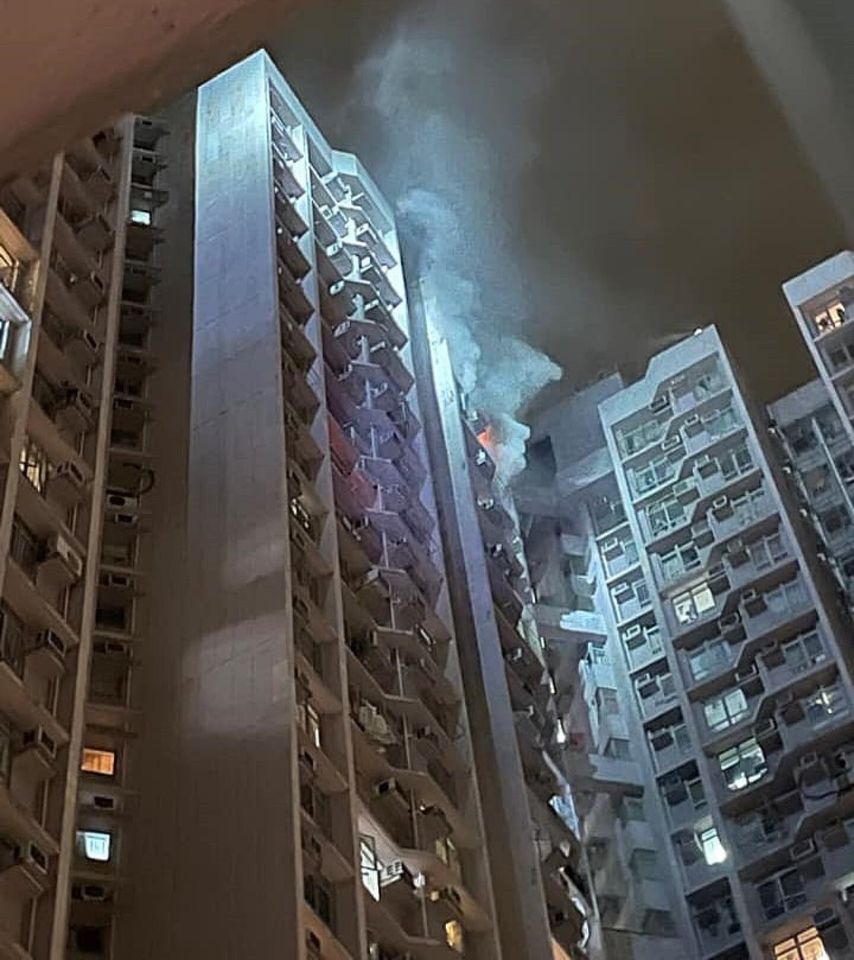 Fire breaks out at the flat in the Tseung Kwan O high-rise.

Police said a 74-year-old man who lived in the flat suffered injuries to his hands and legs and complained of feeling unwell after inhaling smoke. He was taken to United Christian Hospital in Kwun Tong for treatment.

His daughter, 48, was sent to Tseung Kwan O Hospital along with two neighbours, a man, 56, and woman, 52, after all three complained of smoke inhalation.

In Kwun Tong, meanwhile, a fire broke out in a public housing flat at about the same time.

Residents of Yee On House on Wo Lok Estate managed to put out the blaze before firefighters arrived. About 50 people in the block had evacuated themselves. No one was injured.

An initial investigation pointed to electronic appliances as the cause of the fire.

In a separate incident, a tin-sheeted structure on the rooftop of a building in Aberdeen also caught fire at about 1pm on Saturday.

Some 90 residents of the On Fai Building on 82 Old Main Street were evacuated before firefighters tackled the blaze. No one was hurt in the incident although three people felt unwell after inhaling smoke.

A preliminary investigation found that the flat owner had forgotten to turn off the stove before she left home, police said.

In December, a 62-year-old woman and her two pets were killed in a fire at her 23rd floor flat in Kwai Ching House on Kwai Fong Estate before daybreak. A short circuit was suspected to have sparked the fire.

A total of 33,891 fire calls were received last year, a rise of 0.8 per cent compared with 2020, authorities said. Twenty-three fatalities were reported in the incidents while 11,434 people were rescued.