Hong Kong Housing Society has launched its third residence project for the elderly, two decades after the completion of the first two.
More than 300 flats will be offered to Hong Kong's middle-income elderly under a "lease for life" model with tenants paying a lump sum of at least HK$1.2 million.

The Hong Kong Housing Society, a non-profit builder, on Tuesday launched its third residence project for the elderly, two decades after the completion of the first two.

The 312 flats in the 29-storey "Blissful Place" in Hung Hom are for lease only, with tenants paying a lump sum contribution ranging from HK$1.2 million to HK$2.65 million for lifelong residency. There is no rent but a monthly service charge must be paid.

"Depending on the flat size and tenancy period, the service charge of a studio flat is around HK$2,000 and that of a one-bedroom flat HK$3,000," said Carmen Ng Ka-man, the society's general manager.
The project has various amenities for residents.

More than half of the homes in the project, located on Lee Kung Street, are one-bedroom flats of between 375 and 403 sq ft. The rest are studio flats from 235 to 256 sq ft. A maximum of two people are allowed to live in one flat.

All three projects under the society's Senior Citizen Residences Scheme share the same housing queue, which had around 500 applications as of Tuesday, of which 200 had been reviewed.

While all flats in the other two projects were let in general, the society expected the first intake of tenants in "Blissful Place" in July or August.

Completed in 2003 and 2004 respectively, "Jolly Place" in Tseung Kwan O offers 243 flats while "Cheerful Court" in Ngau Tau Kok provides 333.

Applicants must be aged 60 or above and meet certain financial criteria. A single applicant aged 60-69 must have a total income and assets of HK$4.65 million to HK$8.27 million, while for those aged 70 or above, the range is HK$3.68 million to HK$7.6 million.

For couples or applicants who share a flat, the combined financial threshold for those who are aged 60-69 is HK$6.98 million to HK$12.41 million. For those aged 70 or above it is HK$5.52 million to HK$11.4 million.
Studio or one-bedroom flats are on offer.

These flats for the elderly are designed with age-friendly and safety features, including non-slip tiles and handrails in the toilet, and a flameless stove and fire alarm light.

Doors are also equipped with a system which alerts the operator about tenants who may need help.

"For example, if residents haven't opened their doors for 24 hours, the system will receive a signal. Staff will contact them to find out if they are travelling abroad, or if they have an urgent need, we will provide emergency support," Ng said.

The site also features a residential care home for the elderly, a medical and rehabilitation centre to provide physical check-ups and counselling for tenants, as well as an outdoor sky garden of more than 10,000 sq ft with fitness equipment.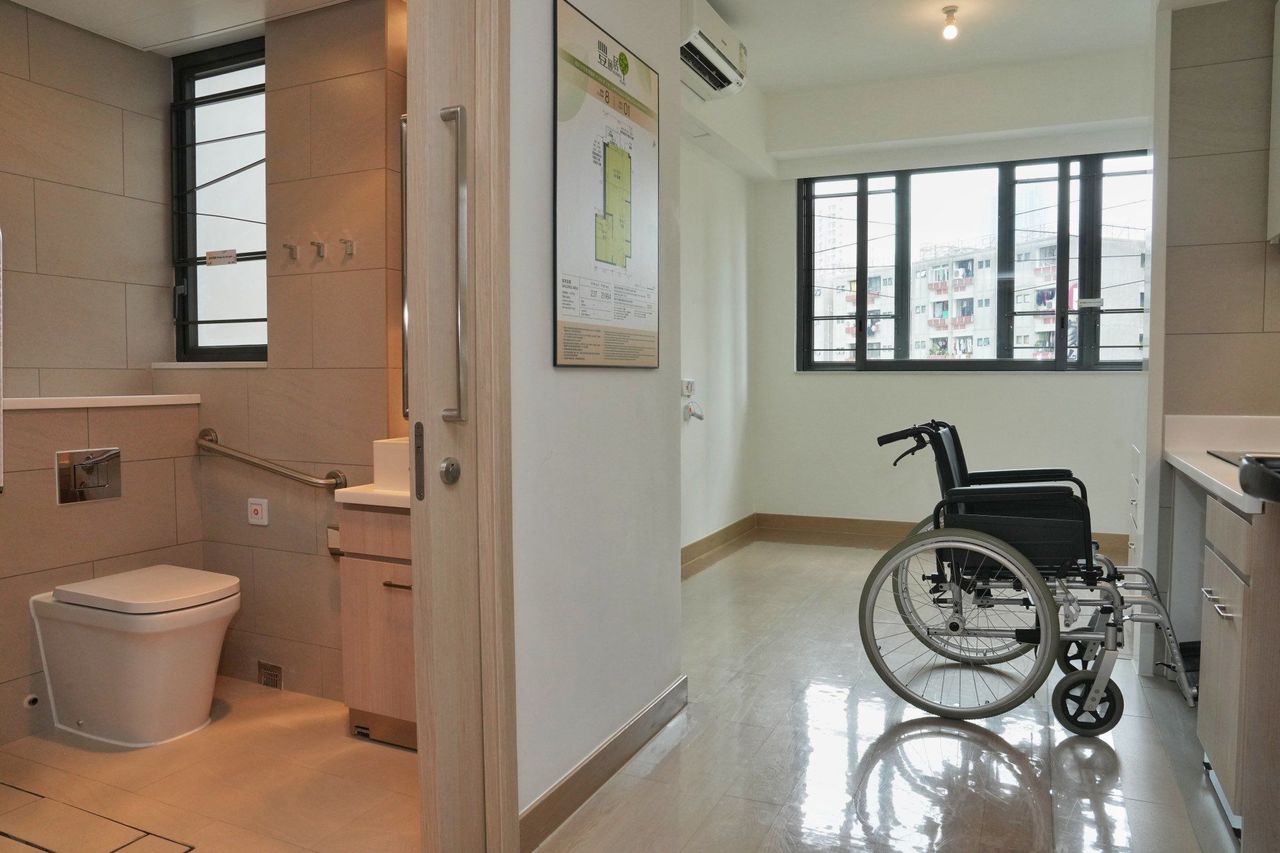 The flats come with safety features such as handrails in the toilets.

The city is also set to get its first youth hostel operated in a hotel under a subsidised government scheme.

The 97 rooms in the "BeLIVING Youth Hub" dormitory, located on Morrison Hill Road in Causeway Bay, will become home for 194 tenants.

Room sizes range from 176 to 324 sq ft with rent between HK$3,800 and HK$4,800. Tenants will sign two-year contracts and must serve the community for 200 hours each year.

Applicants must be Hong Kong permanent residents aged 18 to 30 who are not full-time students. Income and asset limits for single applicants are HK$25,000 and HK$380,000 respectively, with the figures doubled for joint applicants. The application deadline is April 28.

Operator Hong Kong United Youth Association said it would provide social outreach activities and services related to career planning and entrepreneurship.