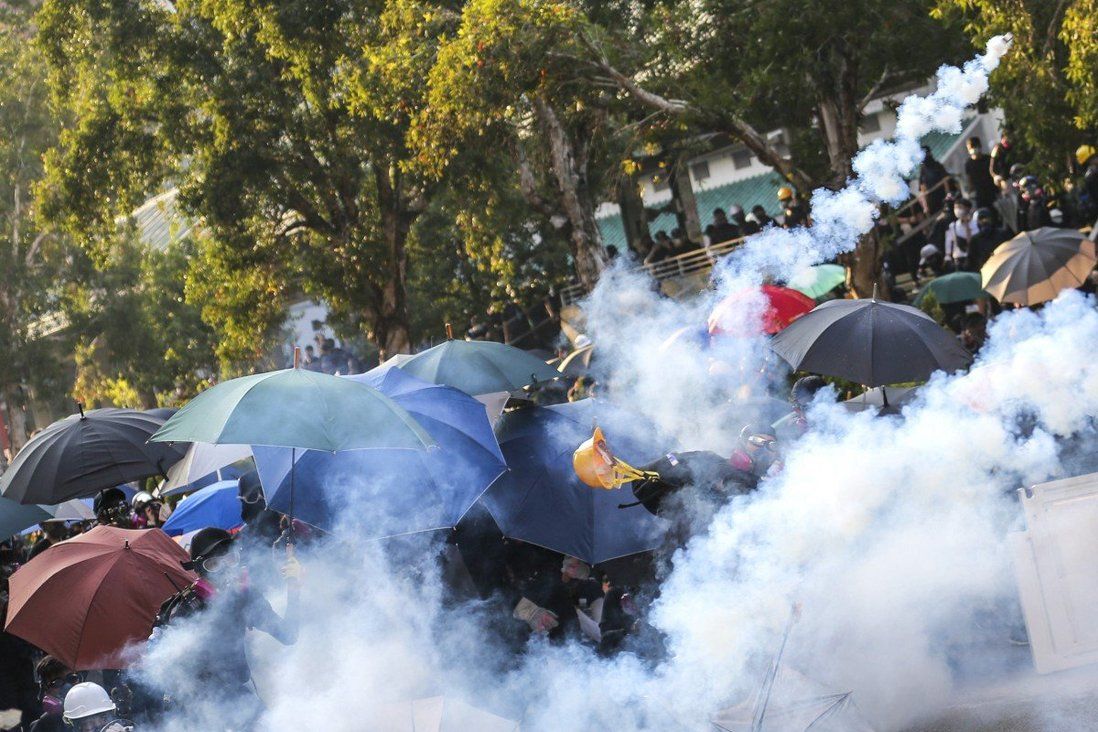 3 jailed for rioting during Hong Kong protests on National Day in 2019
Three men received up to 4½ years in jail, while two accomplices were sentenced to correctional training.
Three men have received up to 4½ years in jail for rioting and resisting police on National Day during Hong Kong's anti-government ­protests more than two years ago, while two accomplices have been sentenced to correctional training.

Judge Ernest Lin Kam-hung said while imposing the penalties on the five defendants at the District Court on Monday that protesters had turned the city into a "battlefield" and tarnished Hong Kong's reputation as a peaceful metropolis through their violent actions on October 1, 2019.

Lin also denounced the unlawful demonstrations that gripped the city for over half a year after June of 2019, saying protesters had used an extradition bill that was already withdrawn as a pretext to force their political ideals on others and stifle perspectives that did not sit well with them.

"The democracy and freedom pursued by protesters descended into a form of autocracy," the judge said. "Violence killed off any room for impartial and rational discussions. Hong Kong people's freedom was diminished by those who purported to strive for such freedom."

The charges arose from clashes on a thoroughfare in Wong Tai Sin district on National Day, marking the 70th anniversary of the founding of the People's Republic of China.

Protesters barricaded major roads and confronted police across the city in response to online calls for demonstrations to "blossom everywhere" against the backdrop of official celebrations and events.

While Chief Executive Carrie Lam Cheng Yuet-ngor had withdrawn the contentious extradition bill that would have allowed for the transfer of fugitives to mainland China a month before, aggrieved residents continued to take to the streets, accusing police of using excessive force during prior protests against the legislation.

The demonstration in Wong Tai Sin saw hundreds of protesters, most of them masked and clad in black, barricading a section of Lung Cheung Road near an MTR station from 3pm and confronting police in what the judge called a guerilla-style battle. A dozen motorcycles were set alight at the height of the conflict.

Police arrested theatre actor Kwok Siu-kit, 30, and veterinary assistant Cheung Kai-cheong, 22, after the pair had failed to climb over an iron fence on the roadside. Three others – office worker Ho Man-him, 27, and students Wan Tsz-lam and Mak Ho-wai, aged 19 and 24, respectively – were ­intercepted and subdued nearby.

Lin convicted each of the five suspects of rioting and resisting a police officer after a trial last year. Despite a lack of evidence pointing to actual participation, the judge cited a landmark ruling by the city's top court in finding the five had displayed "participatory intent" in the protest and "abetted" others to commit the crime with their black outfits and the protest equipment in their possession.

Lin spared Cheung and Wan jail on Monday, noting the pair's relatively young age and remorse for their actions. Instead, they will receive correctional training for one and three years, respectively.

But the judge refused to offer the same leniency to the remaining defendants, as they either maintained they had not taken part in the demonstrations or had questioned the fairness of the court's verdict after their convictions.

Ho and Mak were each jailed for 4½ years, whereas Kwok was given a three-month deduction in his sentence for a total of 51 months due to his ill health.

Rioting is punishable by up to 10 years imprisonment but capped at seven years when the case is tried at the District Court. Resisting a police officer carries a maximum jail sentence of six months under the Police Force Ordinance.