Customs inspector warns young people against joining drug trade and urges them to ignore promises of easy money.
Three Hong Kong teenagers have been arrested in connection with the seizure of narcotics worth HK$3 million (US$382,743), prompting a customs official to warn youths against involving themselves in the drug trade based on promises of easy money.

Two of the suspects were brothers, aged 14 and 15, while the third boy was a classmate of the younger sibling, the Customs and Excise Department said on Wednesday.

Authorities launched an investigation after they discovered 1.5kg of heroin concealed in four kicking pads at the airport's cargo terminal on January 22. The parcel had been declared as cosmetics airmailed from Thailand.

Plain-clothes customs officers on Tuesday carried out a sting operation at a logistics company office in Kwai Chung, where the two 14-year-olds turned up and the younger brother signed for the parcel.

The undercover officers followed the duo to a flat at a public housing estate in Sau Mau Ping where the two brothers lived.

Inspector Michael Shum of customs' drug investigation bureau said the teenagers were arrested after officers discovered 3kg of suspected methamphetamine, also known as Ice, and packaging equipment in the flat.

The overall haul had an estimated street value of HK$3 million, he said. The inspector added that officers were investigating the source of the drugs and seeking to uncover the distribution network.
The three suspects were still being held for questioning as of Wednesday afternoon.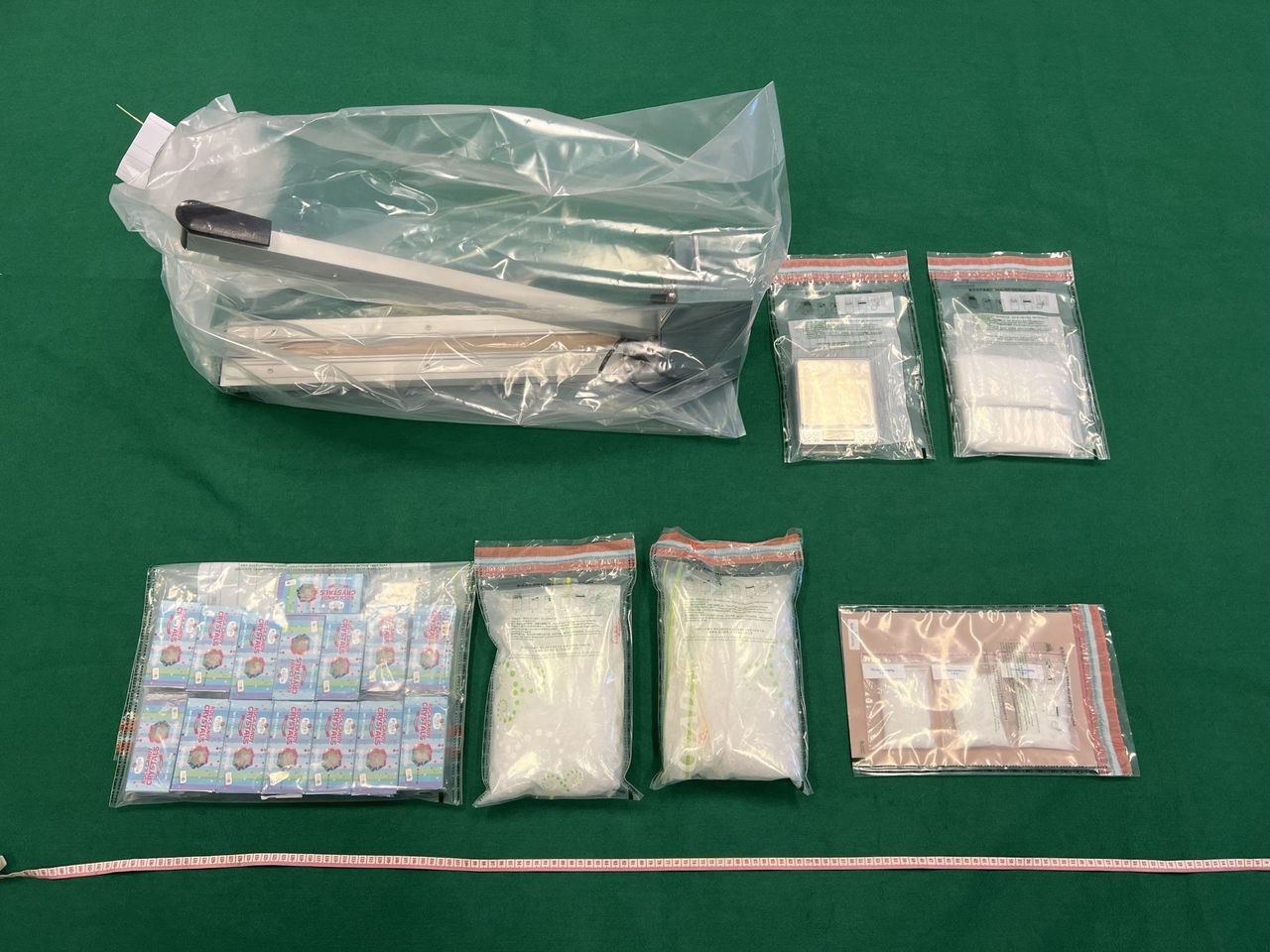 Part of the narcotics haul discovered by customs at the public housing flat in Sau Mau
Early findings suggested the younger brother was paid HK$15,000 for his role in the alleged drug trafficking, Shum said.
The inspector also warned young people against involving themselves in drug trafficking and stressed such serious offences carried a maximum punishment of life in jail and a HK$5 million fine.
Shum called on parents, teachers and social workers to pay more attention to youths and prevent them from taking part in criminal activities.
In the first 10 months of last year, 257 people aged 10 to 20 were apprehended in connection with serious drug offences in the city.
Secretary for Security Chris Tang Ping-keung last month told a Legislative Council meeting that peer pressure and the promise of "quick cash" could lure young people to engage in illegal activities.
The minister also stressed that police would step up intelligence-led enforcement actions, especially against lawbreakers manipulating young people into committing crimes on their behalf.
Separately, police on Tuesday arrested a 22-year-old business owner after officers found HK$57 million worth of crystal meth at his convenience store on the Laguna City housing estate in Kwun Tong.
Inspector Chu Siu-lun of the force's narcotics bureau said the investigation suggested the haul was for local consumption, with officers still searching for the source of the drugs.
The suspect was likely to be charged with drug trafficking and brought before Kwun Tong Court on Thursday, he added.