Independent Commission Against Corruption accuses two men and one woman of reposting an online message which incited the public to cast blank votes on December 19.
Hong Kong's anti-graft agency has detained three people for allegedly urging others to cast invalid ballots in the coming Legislative Council election, taking to six the number of arrests over the offence.

Independent Commission Against Corruption (ICAC) officers on Thursday arrested two men and one woman, aged 22 to 57, on suspicion of breaching the Elections (Corrupt and Illegal Conduct) Ordinance by "inciting another person not to vote, or to cast invalid vote, by activity in public during [an] election period".

The trio are accused of reposting an online message which incited members of the public to cast blank votes in the Legco election on December 19.

"During the operation, the ICAC seized a number of mobile phones. All arrestees have been released on ICAC bail," the agency said, adding further law enforcement action was possible as the investigation was ongoing.

In early November, ICAC officers arrested two men and a woman on the same grounds.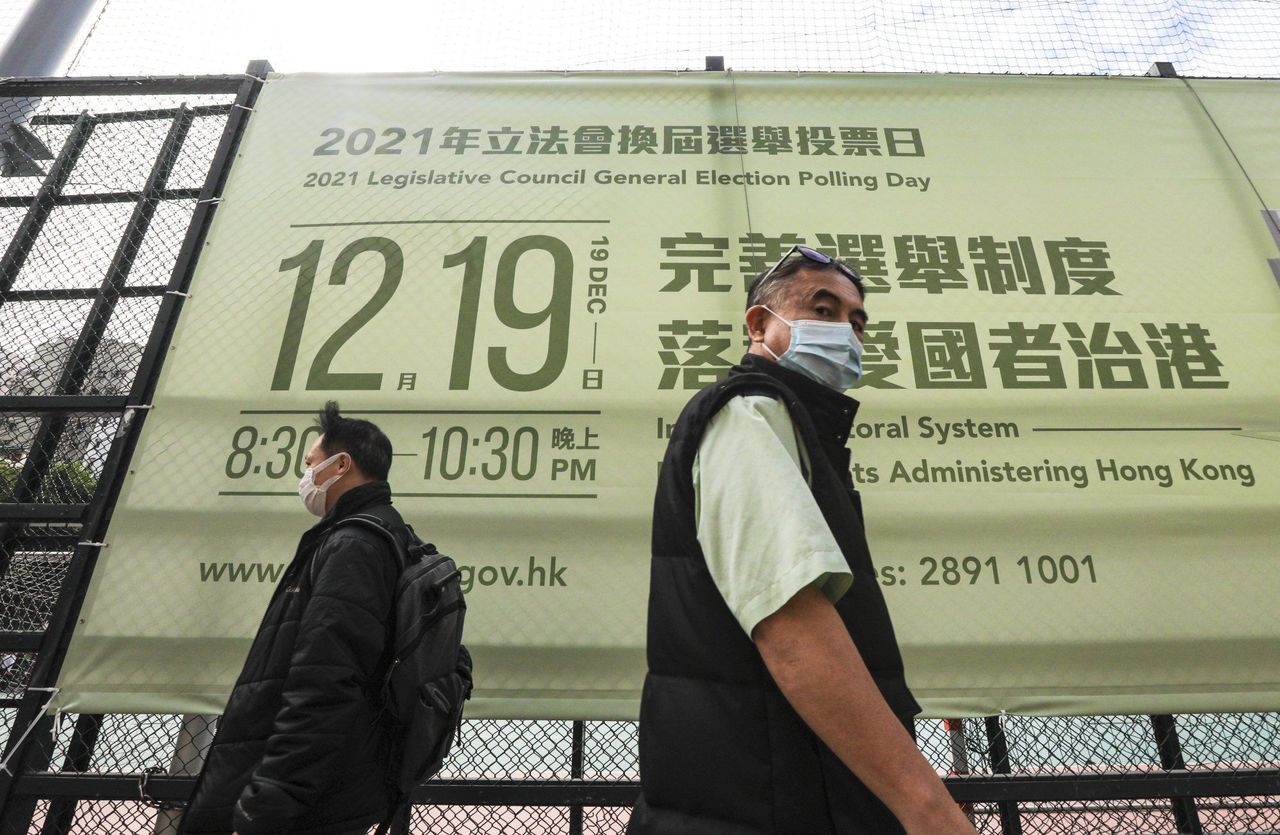 A banner on the Legislative Council election in Sham Shui Po.

The Legco race will be the first since Beijing revamped the city's political system, expanding the lawmaking body from 70 to 90 seats, and slashing the number of directly elected members from 35 to 20.

Nominations for the race opened on October 30, making that the date on which the "election period" is deemed to have started under the ordinance.

Publicly inciting another person not to vote or to cast an invalid ballot during an election period is punishable by up to three years in prison and a maximum fine of HK$200,000 (US$25,700).

About 800 ICAC officers will help man polling and vote-counting stations, monitor the internet for any activity that breaches the election law and staff an inquiry hotline by which people can register complaints about the balloting.

Separately, police arrested four people on Wednesday for allegedly inciting others on Telegram to join citywide strikes and cause destruction in protest against Covid-19 vaccinations and the use of tracing apps.

The four suspects, two men and two women aged between 29 and 41, were the administrators and members of the Telegram group that was created in mid-November and had about 500 subscribers.

Superintendent Wilson Tam Wai-shun of the cybersecurity and technology crime bureau said the group allegedly urged members to join the strikes on November 20 and December 9, which failed to materialise.

"The suspects appealed to others to join an unlawful assembly and strikes so as to urge the public not to get Covid-19 vaccinations," Tam said.

The four, who claimed to be a media production worker, an online media reporter, a housewife and unemployed, were detained on suspicion of inciting others to join the unlawful assembly and cause criminal damage.

Officers seized nine phones and a computer during the operation.

Tam said group members allegedly appealed to others to boycott the coming Legco election by different means, such as casting invalid or blank votes. Police do not rule out further arrests.