Hong Kong customs officers impound millions of untaxed cigarettes in a single month.
Hong Kong customs officers have seized black market cigarettes worth HK$80 million (US$10.2 million) and arrested 90 people in a month-long crackdown that pushed the haul of contraband tobacco products so far this year to more than HK$460 million.

About 21 million untaxed cigarettes and 530,000 smoking alternatives, such as e-cigarettes, were impounded in 241 separate incidents last month as customs officers bolstered enforcement against the smuggling, storage and sale of illegal tobacco products.

The seizures were made in support of the "Quit in June" anti-smoking campaign launched by the Department of Health.

A law enforcement source on Tuesday said that some of the contraband was hidden in fake transformers, bogus drinking water dispensing machines or mixed with other goods such as food in a bid to avoid discovery.

"It is an indication that smugglers are resorting to different concealment methods in an attempt to avoid detection," he said.

Customs officers found nearly HK$10 million worth of contraband tobacco products in a house in the upmarket Hong Lok Yuen area of Tai Po on June 9. The source said it was very rare a luxury house was used for contraband storage.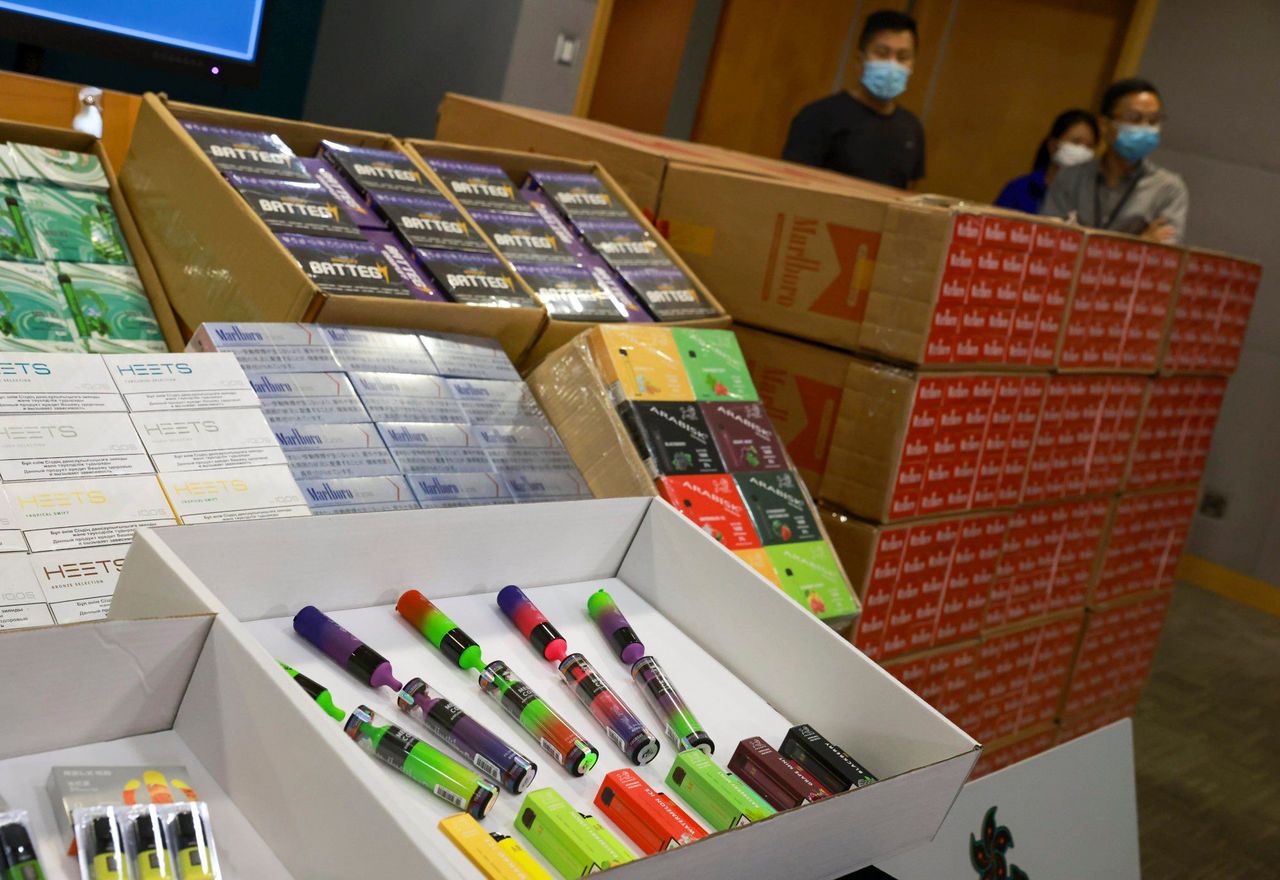 Hong Kong customs officials with some of the tobacco products and e-cigarettes impounded during a month-long blitz on smugglers.

He explained container yards, warehouses or flats in the New Territories were normally used as storage centres.

"Vehicles, such as delivery vans, were also used as mobile storage facilities and left in the car parks of public housing estates to avoid our detection," the source said.

He explained the investigation discovered the kingpins behind the transport of untaxed cigarettes delivered illicit tobacco products to frontline peddlers in remote areas such as the Wo Hop Shek public cemetery in Fanling to avoid attention.

The Customs and Excise Department said the biggest consignment seized in the operation was 10 million cigarettes with an estimated street value of HK$28.5 million impounded on June 28.

The cigarettes arrived on a ship from Thailand which was en route to a Central American island.

Customs officers also confiscated about 530,000 smoking alternatives worth HK$18 million, including e-cigarettes and heated tobacco products.

The source said most of the smoking alternatives were discovered at the airport's cargo terminal and had been flown into the city from a variety of countries or found hidden in seaborne cargo at container terminals.

The suspects arrested in the operation included peddlers, buyers and people involved in storage, as well as those behind the illegal trade.

Dealing with, possession of, selling or buying illicit cigarettes is punishable by up to two years in jail and a HK$1 million fine under the Dutiable Commodities Ordinance.

Assistant Superintendent Joanne Cheung Wai-man of the customs revenue crimes investigation bureau appealed to young people not to be tempted to get involved in illegal trade of contraband products – such as delivery work – to earn extra cash over the summer holidays.

The latest figures show customs officers confiscated HK$462 million worth of illicit cigarettes in the first six months of this year. The service seized a total of HK$1.2 billion worth of contraband goods in 2021.