Salesman Chan Kin-man, office assistant Alice Leung convicted for sharing online post calling for voters to cast blank ballots in 2021 Legislative Council poll.
A Hong Kong court has imposed suspended jail sentences on the first pair of defendants to be convicted of violating a law introduced last year that prohibits the act of inciting others to boycott an election.

Salesman Chan Kin-man, 36, and office assistant Alice Leung Yuet-sheung, 65, returned to Kwun Tong Court on Tuesday after admitting in February to reposting a fugitive politician's message online calling on voters to cast blank ballots in last year's Legislative Council poll.

Principal Magistrate Bina Chainrai refused the defence's request to substitute jail sentences with community service, citing the serious nature of the offence under Section 27A of the Elections (Corrupt and Illegal Conduct) Ordinance.

Chainrai jailed the pair for two months but suspended their jail terms for 1½ years and ordered them to each pay HK$1,000 (US$127) towards the cost of the proceedings.

Section 27A was introduced in May 2021 as part of a broader Beijing-led electoral overhaul aimed at ensuring only "patriots" held power in the city.

Other reforms included slashing the number of directly-elected seats and ensuring more pro-Beijing representation in the legislature, as well as granting police and government officials the power to vet political candidates.

Critics have warned the overhaul goes against Beijing's promises of implementing universal suffrage in Hong Kong as enshrined in the Basic Law, the city's mini-constitution.

During last year's election, Chan and Leung responded to online calls by former opposition lawmaker Ted Hui Chi-fung to "counter" the overhauled system by aiming for a record number of invalid votes in the Legco poll on December 19.

The poll, which was shunned by members of the mainstream opposition, resulted in the already dominant pro-establishment camp winning all but one seat in the legislature amid a record low turnout of only 30.2 per cent.

In Tuesday's mitigation, defence lawyers said both defendants were remorseful and had immediately removed the social media posts in question after their arrest.

Leung's lawyer said the office worker had gone a step further by deleting her Facebook account, adding that she had committed the offence out of ignorance and had a very low chance of reoffending.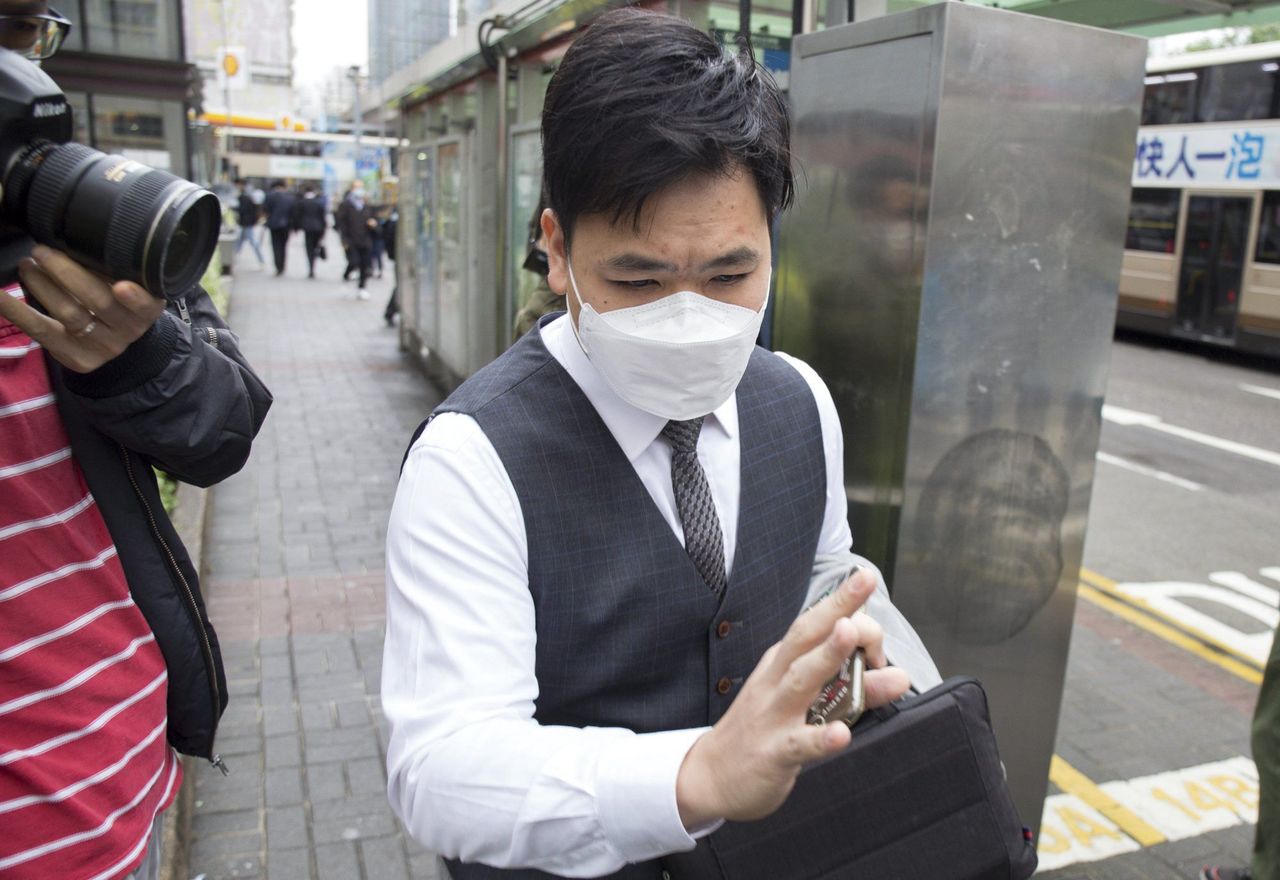 Salesman Chan Kin-man.

Chan's counsel urged the court to impose a community service order on the salesman in light of his low culpability, but the magistrate disagreed, noting such a move was "not appropriate" after taking into account all relevant considerations.

Tuesday's court session will set the benchmark for the sentencing of a third defendant next month who pleaded guilty to the same offence.

Products manager Victor Chou Wing-tat, 57, pleaded guilty last Wednesday after he used Facebook to call for a protest against the new electoral regime and paid tribute to the "truly brave people" who cast invalid votes in the December 19 poll.

Chou will return to West Kowloon Court on May 4 for sentencing.

The offence is punishable by up to one year in prison and a HK$50,000 (US$6,375) fine if the case is tried before a magistrate.