Secretary for Labour and Welfare Chris Sun coy over details of two firms involved, but says they will offer 'tailor-made assistance'.
Two firms have been recruited to cater to the needs of the increasing number of young Hongkongers working in the Greater Bay Area, the city's labour chief has said at the launch of a job fair that drew hundreds eyeing opportunities in Guangdong.

Secretary for Labour and Welfare Chris Sun Yuk-han revealed the new arrangement on Thursday at the opening ceremony of the government's Greater Bay Area Youth Employment Scheme, which featured booths from more than 20 companies offering jobs under the initiative.

The bay area is Beijing's plan to turn Hong Kong, Macau and nine cities in southern mainland China into an economic powerhouse.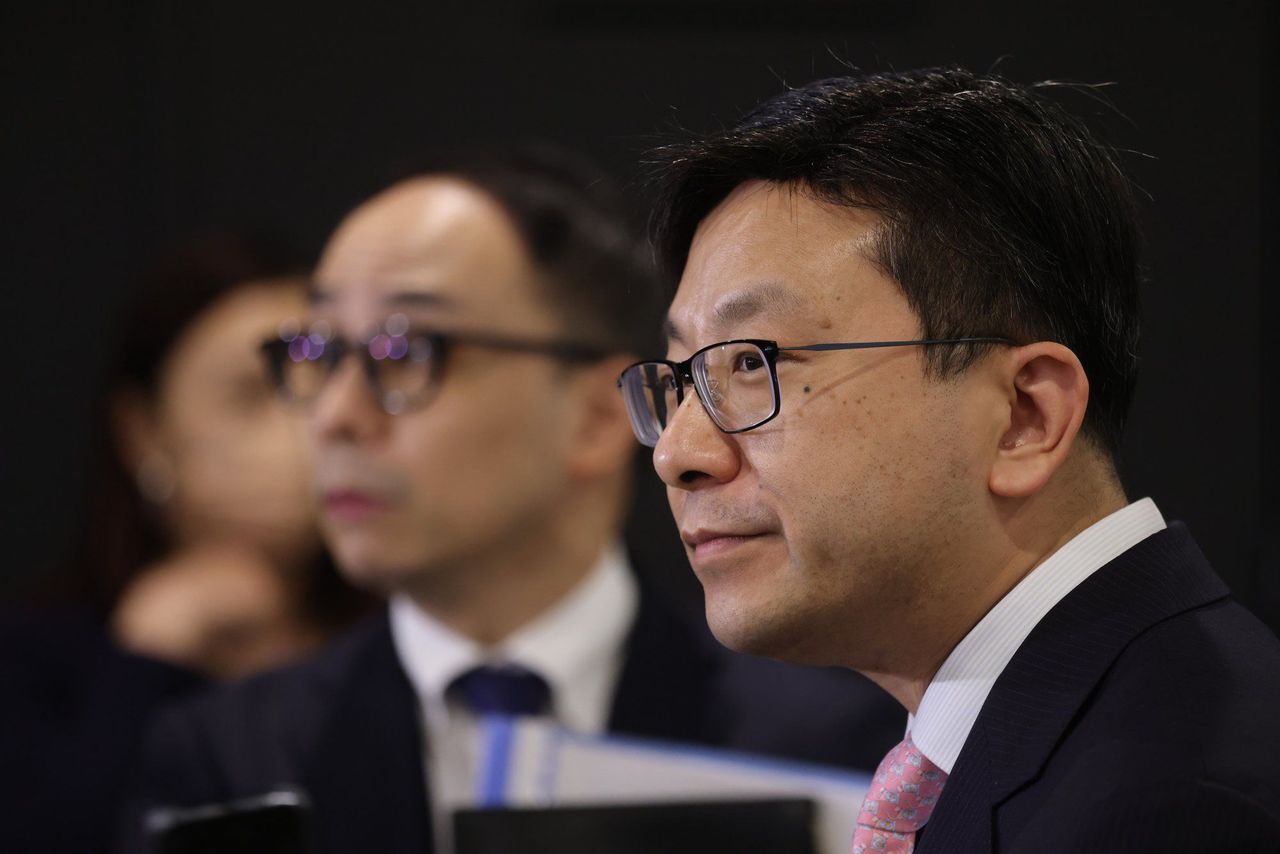 Secretary for Labour and Welfare Chris Sun at the opening ceremony.

Sun said the two firms, which were not named, would provide targeted services to the city's youth working across the border.

"This is a new arrangement under the scheme, which aims to provide more focused and tailor-made assistance to the youth who start their careers in the bay area's mainland cities," he said.

But the labour chief did not provide further details about the two organisations or what services they would offer.

Labour officer William Ng Wai-lim, who also attended the ceremony, said the government was likely to build an additional phone hotline on the mainland in collaboration with the two firms. Currently, only one hotline, operated by the Guangdong government, is available for young Hongkongers living there.

The scheme, launched as a pilot project in January 2021, became an annual initiative this year. More than 1,000 Hong Kong graduates enrolled in the scheme in its inaugural edition, according to authorities.

Under the project, enterprises provide eligible Hong Kong graduates with an 18-month contract for jobs based on the mainland with monthly salaries of no less than HK$18,000 (US$2,290). The Hong Kong government covers HK$10,000 of the wage.

Sun said this year's scheme, which is open for registration until September 30, had already attracted more than 80 companies, offering over 800 jobs, since its launch on March 1. In 2021, the scheme welcomed more than 400 firms with nearly 3,500 vacancies.

"I am happy to see many who were enrolled in the scheme's first edition choose to come back to Hong Kong. Some of them stay with their original employers. They can contribute to Hong Kong's economy after gaining experience from working on the mainland," Sun said.

The sectors covered by the 24 companies at the job fair ranged from finance and real estate to creative industries and technology and innovation. The firms were offering roles as engineers, business intelligence analysts, news editors and banking operations officers, among others.

Joanne Chu, associate director of human resources at PwC Hong Kong, said the company had received more than 100 résumés for their Guangzhou and Shenzhen-based jobs in half a day.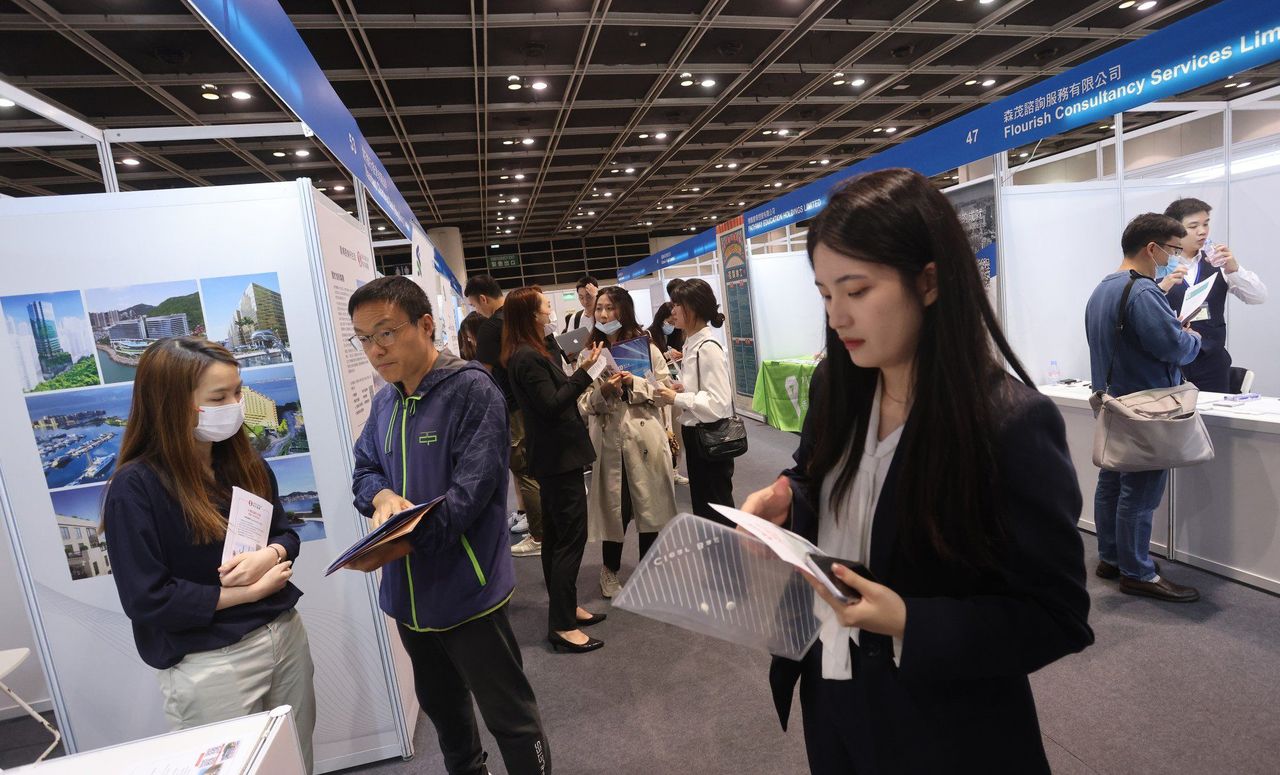 Attendees meet potential employers at the one-day job fair.

"We hired 120 graduates under the 2021 scheme and all have voiced their intention to stay with the company after the 18-month contract," said Chu, adding 40 of them had chosen to return to Hong Kong.

Six graduates the Post approached at the fair were all Hong Kong residents who studied at mainland universities. The salary under the scheme and familiar work environment were attractive to them, they said.

Yuki Tsang, 24, a graduate from Jinan University in Guangzhou who works as a human resources officer in the provincial capital, said wage was a major factor for signing up.

"You cannot find a job on the mainland that offers such a competitive salary. Most of my classmates in Guangzhou are earning around 7,000 yuan (US$1,018) monthly," Tsang said.

Jackson To Chun-yin, who was hired by the Bank of China in 2021 to work in Shenzhen, chose to return to Hong Kong after his 16-month stint across the border.

But the City University graduate said he was adamant that his exposure to the bay area would benefit his career development.

Chief Executive John Lee Ka-chiu will lead a delegation to the bay area comprising lawmakers and officials in the third week of April.

They are expected to meet local officials and visit facilities targeting the areas of innovation, environmental protection, youth development, culture, arts and sports during their stay, according to a government paper submitted to the city's legislature on Thursday.