Tour group from mainland e-commerce company Yobesta say they plan to hit high-end stores for luxury items.
Hong Kong has welcomed a 2,000-strong tour group from mainland China, the second largest since restriction-free travel returned in February, with an itinerary including entertainment from city pop star William So Wing-hong, a shopping spree and other attractions.

Members of the group told the Post it included people from "all over" the mainland who work for Yobesta, an e-commerce company established in 2020.

The visitors arrived in the city through the Heung Yuen Wai Control point in two groups of around 1,000 people on Tuesday morning.

Their first stop was a half-hour lunch stop with poon choi, a traditional Cantonese feast dish, in Sha Tau Kok.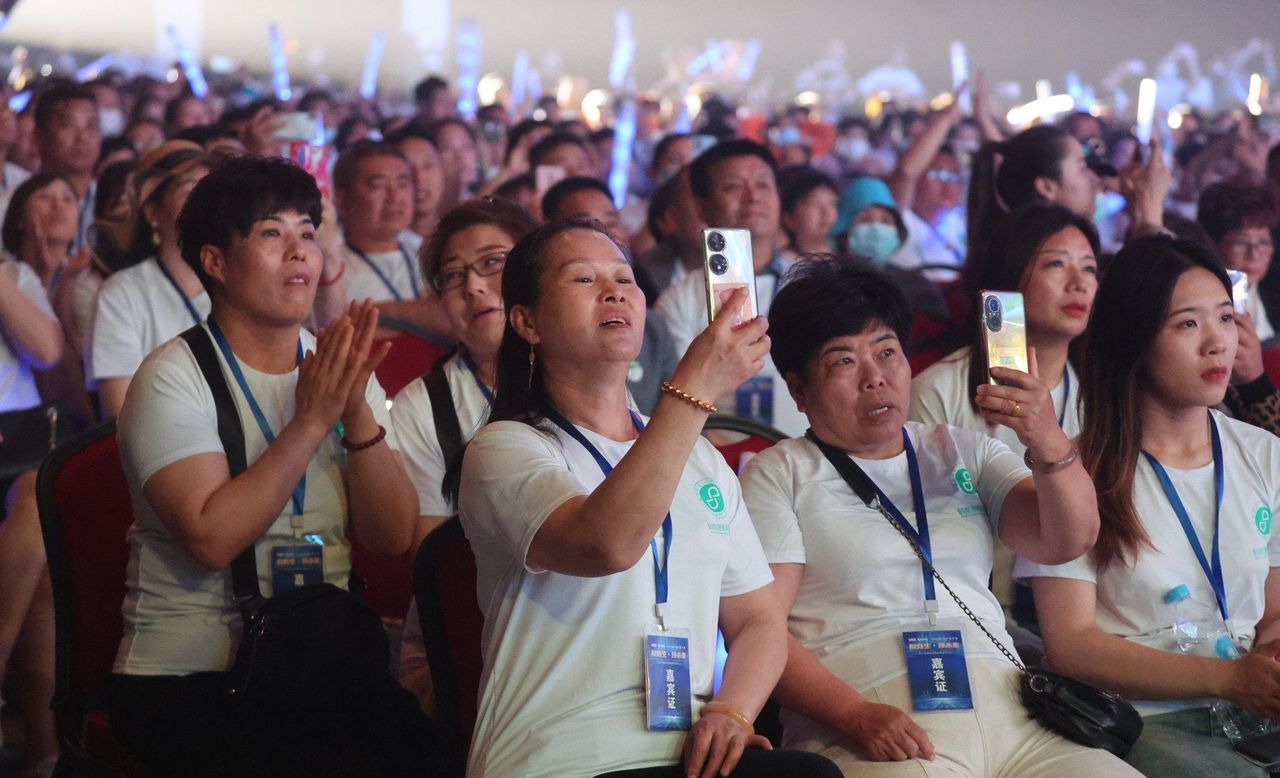 Employees of mainland e-commerce group Yobesta take in a concert at AsiaWorld-Expo as part of their visit to Hong Kong.

"The service in Hong Kong is great, although I found the poon choi a little bland," Xu Lan, from Hubei, said. "I am used to our cuisine, which is spicy – this was too sweet for my liking."

She added she most looked forward to hitting the shops in Hong Kong and wanted to buy "the stuff all women like" such as luxury cosmetics and handbags, as well as practical items such as pharmaceuticals.

Wang Zhenbing, also from Hubei, said he expected to spend about HK$100,000 (US$12,760) shopping in Hong Kong on luxury items such as gold, jade and handbags.

He added Yobesta planned to expand into the global market, with Hong Kong considered a springboard.

Wang said the company planned another trip to Hong Kong and a visit to Thailand later this year.

A source said the huge group was met by a city travel agency and split into groups of around 40 before they were whisked off in about 50 coaches.

The source told the Post the visitors were scheduled to take turns visiting various landmarks in the smaller groups.

The visitors were taken to the AsiaWorld-Expo in Chek Lap Kok for a four-hour business conference, which consisted of speeches by company executives, a talk by a marketing expert guest speaker and a contract signing ceremony with a Korean company.

So, who performed some of his best-known songs, wrapped up the event.

The visitors will spend the night in Hong Kong hotels before they leave for Macau on Wednesday.

The visitors, in line with an itinerary seen by the Post, are expected to have meals in To Kwa Wan and a restaurant near Kai Ching Estate in Kowloon City.

The two areas have become controversial stop-offs after residents complained about crowds and disrupted lives because of their popularity with tour groups.

Timothy Chui Ting-pong, director of the Hong Kong Travel Industry Council, who also attended parts of the AsiaWorld-Expo conference, said the city should aim to welcome all types of visitors, whether it was "high quality" tourists with spending power such as the Yobesta tour, or lower-budget trips.

He added the industry was still recovering from a manpower shortage caused by the Covid-19 pandemic and the situation was particularly bad in the transport sector.

"We are still lacking around 500 to 600 coach drivers," he said.

But Gianna Hsu Wong Mei-lun, the chairwoman of the council, said on Monday she believed the city would be able to handle such large groups such as the Yobesta tour.

"It is true that we are currently short staffed, industry-wide," she said. "But with the May 1 'golden week' holiday having just passed, we are not considered in a peak period right now."

But Hsu said tour groups on the scale of the Yobesta visit preferred to visit the city in quieter periods in any case.

A 3,000-strong tour group visited the city in February.